Access options
Buy single article
Instant access to the full article PDF.
USD 39.95
Price includes VAT (USA)
Tax calculation will be finalised during checkout.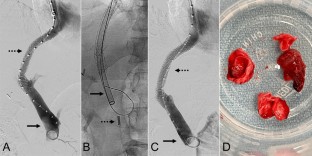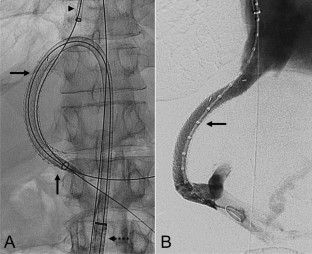 References
1.

Condat B, Pessione F, Helene Denninger M, Hillaire S, Valla D. Recent portal or mesenteric venous thrombosis: increased recognition and frequent recanalization on anticoagulant therapy. Hepatology. 2000;32(3):466–70.

2.

Hollingshead M, Burke CT, Mauro MA, Weeks SM, Dixon RG, Jaques PF. Transcatheter thrombolytic therapy for acute mesenteric and portal vein thrombosis. J Vasc Interv Radiol. 2005;16(5):651–61.

3.

Tu T, Toma C, Tapson VF, Adams C, Jaber WA, Silver M, Khandhar S, Amin R, Weinberg M, Engelhardt T, Hunter M, Holmes D, Hoots G, Hamdalla H, Maholic RL, Lilly SM, Ouriel K, Rosenfield K; FLARE Investigators. A Prospective, Single-Arm, Multicenter Trial of Catheter-Directed Mechanical Thrombectomy for Intermediate-Risk Acute Pulmonary Embolism: The FLARE Study. JACC Cardiovasc Interv. 2019. 12(9):859–869

4.

Shah NG, Wible BC, Paulisin JA, Zaki M, Lamparello P, Sista A, Sadek M, Jacobowitz GR, Maldonado TS. Management of inferior vena cava thrombosis with the flowtriever and clottriever systems. J Vasc Surg Venous Lymphat Disord. 2021;9(3):615–20.
Ethics declarations
Conflict of interest
E.J.M. is a scientific advisor and speaker for Biogen. J.F.B.C. is a consultant and speaker for Inari Medical, Guerbet, C. R. Bard, Argon Medical Devices, and Boston Scientific. None of the other authors have identified a conflict of interest.
Human and Animal Rights
All procedures performed in studies involving human participants were in accordance with the ethical standards of the institutional or national research committee and with the 1964 Helsinki Declaration and its later amendments or comparable ethical standards.
Informed Consent
This study was Institutional Review Board-approved and the need for informed consent was waived.
Additional information
Publisher's Note
Springer Nature remains neutral with regard to jurisdictional claims in published maps and institutional affiliations.
Supplementary Information
Below is the link to the electronic supplementary material.
About this article
Cite this article
Shin, D.S., Monroe, E.J., Bertino, F.J. et al. Portomesenteric Venous Thrombectomy Using Inari Triever Aspiration Catheter (FlowTriever). Cardiovasc Intervent Radiol (2021). https://doi.org/10.1007/s00270-021-02955-6
Received:

Accepted:

Published: