Access options
Buy single article
Instant access to the full article PDF.
US$ 39.95
Tax calculation will be finalised during checkout.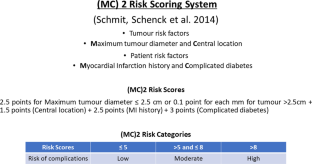 References
1.

Kutikov A, Uzzo RG. The R.E.N.A.L. nephrometry score: a comprehensive standardized system for quantitating renal tumor size, location and depth. J Urol. 2009;182:844–53.

2.

Schmit GD, Thompson RH, Kurup AN, et al. Usefulness of R.E.N.A.L. nephrometry scoring system for predicting outcomes and complications of percutaneous ablation of 751 renal tumors. J Urol. 2013;189:30–5.

3.

Seideman CA, Gahan J, Weaver M, et al. Renal tumour nephrometry score does not correlate with the risk of radiofrequency ablation complications. BJU Int. 2013;112:1121–4.

4.

Schmit GD, Schenck LA, Thompson RH, et al. Predicting renal cryoablation complications: new risk score based on tumor size and location and patient history. Radiology. 2014;272:903–10.

5.

McCafferty BJ, Huang JJ, El Khudari H, et al. External validation of the renal ablation-specific (MC)2 risk scoring system in predicting complications from percutaneous renal cryoablation. Cardiovasc Intervent Radiol. 2021. https://doi.org/10.1007/s00270-021-02929-8.
Ethics declarations
Conflict of interest
Research grant from Boston Scientific and an education grant from Angiodynamics.
Additional information
Publisher's Note
Springer Nature remains neutral with regard to jurisdictional claims in published maps and institutional affiliations.
About this article
Cite this article
Wah, T.M. The Development and Validation of Dedicated Risk Scoring System in Image-Guided Renal Ablation—Where Are We Now?. Cardiovasc Intervent Radiol (2021). https://doi.org/10.1007/s00270-021-02952-9
Received:

Accepted:

Published: