Abstract
Purposes
The primary objective of this study (STEP trial) was to compare the efficacy of the polymer-based FemoSeal® vascular closure device (VCD) and the suture-based ProGlide® VCD in achieving hemostasis at the femoral access site after lower-limb arterial endovascular revascularization.
Materials and Methods
STEP was a multicenter randomized clinical trial including patients undergoing lower-limb arterial endovascular revascularization. The primary endpoint was technical success 5 h after the VCD intervention, defined as achievement of hemostasis without the need for a follow-up intervention at the access site and without a 2-g/dL drop in hemoglobin.
Results
Between December 2017 and April 2019, 113 patients were assigned to the FemoSeal® group (FS) and 117 to the ProGlide® group (PG). VCD interventions were technically successful for 90 FS patients (80%) and 58 PG patients (50%) (odds ratio, 3.98; 95% CI, 2.22 to 7.14; p < 0.0001). This difference in success rates between FS and PG is partly explained by more frequent recourse to manual compression (FS: n = 19; PG: n = 45) and an additional VCD (FS: n = 0; PG: n = 23) in the latter group. After 5 h, 87% of FS patients and 69% of PG patients resumed ambulation (odds ratio: 3.07; 95% CI: 1.93 to 6.15; p = 0.0016).
Conclusions
In patients undergoing lower-limb arterial endovascular revascularization, FemoSeal® was superior to ProGlide® in terms of technical success.
Clinical Trial Registration
Step trial was registered on http://ClinicalTrials.gov (NCT03192033).
Access options
Buy single article
Instant access to the full article PDF.
USD 39.95
Price includes VAT (USA)
Tax calculation will be finalised during checkout.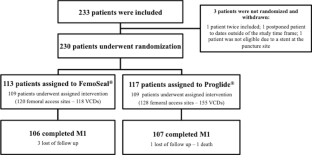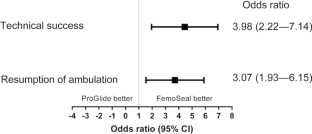 Abbreviations
FS:

= FemoSeal study arm

MC:

Manual Compression

PG:

ProGlide study arm

VCD:

Vascular Closure Device
References
1.

Hvelplund A, Galatius S, Madsen M, Rasmussen JN, Sorensen R, Fosbol EL, et al. Influence of distance from home to invasive centre on invasive treatment after acute coronary syndrome: a nationwide study of 24 910 patients. Heart. 2011;97(1):27–32. https://doi.org/10.1136/hrt.2010.203901.

2.

Steffenino G, Dellavalle A, Ribichini F, Russo P, Conte L, Dutto S, et al. Ambulation three hours after elective cardiac catheterisation through the femoral artery. Heart. 1996;75(5):477–80. https://doi.org/10.1136/hrt.75.5.477.

3.

Ward SR, Casale P, Raymond R, Kussmaul WG 3rd, Simpfendorfer C. Efficacy and safety of a hemostatic puncture closure device with early ambulation after coronary angiography. Angio-Seal Invest Am J Cardiol. 1998;81(5):569–72. https://doi.org/10.1016/s0002-9149(97)00970-3.

4.

Burns P, Gough S, Bradbury AW. Management of peripheral arterial disease in primary care. BMJ. 2003;326(7389):584–8. https://doi.org/10.1136/bmj.326.7389.584.

5.

Noori VJ, Eldrup-Jorgensen J. A systematic review of vascular closure devices for femoral artery puncture sites. J Vasc Surg. 2018;68(3):887–99. https://doi.org/10.1016/j.jvs.2018.05.019.

6.

Davaine JM, Quillard T, Chatelais M, Guilbaud F, Brion R, Guyomarch B, et al. Bone like arterial calcification in femoral atherosclerotic lesions: prevalence and role of osteoprotegerin and pericytes. Eur J Vasc Endovasc Surg. 2015. https://doi.org/10.1016/j.ejvs.2015.10.004.

7.

Herisson F, Heymann MF, Chetiveaux M, Charrier C, Battaglia S, Pilet P, et al. Carotid and femoral atherosclerotic plaques show different morphology. Atherosclerosis. 2011;216(2):348–54. https://doi.org/10.1016/j.atherosclerosis.2011.02.004.

8.

Moher D, Hopewell S, Schulz KF, Montori V, Gotzsche PC, Devereaux PJ, et al. CONSORT 2010 explanation and elaboration: updated guidelines for reporting parallel group randomised trials. BMJ. 2010;340: c869. https://doi.org/10.1136/bmj.c869.

9.

EuroQol G. EuroQol–a new facility for the measurement of health-related quality of life. Health Policy. 1990;16(3):199–208. https://doi.org/10.1016/0168-8510(90)90421-9.

10.

Kara K, Mahabadi AA, Rothe H, Muller P, Kruger J, Neubauer H, et al. Safety and effectiveness of a novel vascular closure device: a prospective study of the ExoSeal compared to the Angio-Seal and ProGlide. J Endovasc Ther. 2014;21(6):822–8. https://doi.org/10.1583/14-4744MR.1.

11.

Wilde NT, Bungay P, Johnson L, Asquith J, Butterfield JS, Ashleigh RJ. Outpatient angioplasty and stenting facilitated by percutaneous arterial suture closure devices. Clin Radiol. 2006;61(12):1035–40. https://doi.org/10.1016/j.crad.2006.07.008.

12.

Kasthuri R, Karunaratne D, Andrew H, Sumner J, Chalmers N. Day-case peripheral angioplasty using nurse-led admission, discharge, and follow-up procedures: arterial closure devices are not necessary. Clin Radiol. 2007;62(12):1202–5. https://doi.org/10.1016/j.crad.2007.05.016.

13.

Kirchhof C, Schickel S, Schmidt-Lucke C, Schmidt-Lucke JA. Local vascular complications after use of the hemostatic puncture closure device Angio-Seal. Vasa. 2002;31(2):101–6. https://doi.org/10.1024/0301-1526.31.2.101.

14.

Sharma R, Vamanan K, Gupta K. Treatment of Angio-Seal(R) vascular closure device-induced acute femoral artery occlusion with SilverHawk(R) directional atherectomy. Cureus. 2016;8(12): e910. https://doi.org/10.7759/cureus.910.

15.

Ketterle J, Rittger H, Helmig I, Klinghammer L, Zimmermann S, Hohenforst-Schmidt W, et al. Comparison of Exo-Seal((R)) and Angio-Seal ((R)) for arterial puncture site closure: a randomized, multicenter, single-blind trial. Herz. 2015;40(5):809–16. https://doi.org/10.1007/s00059-015-4306-3.

16.

Schulz-Schupke S, Helde S, Gewalt S, Ibrahim T, Linhardt M, Haas K, et al. Comparison of vascular closure devices vs manual compression after femoral artery puncture: the ISAR-CLOSURE randomized clinical trial. JAMA. 2014;312(19):1981–7. https://doi.org/10.1001/jama.2014.15305.

17.

Robertson L, Andras A, Colgan F, Jackson R. Vascular closure devices for femoral arterial puncture site haemostasis. Cochrane Database Syst Rev. 2016;3:CD09541. https://doi.org/10.1002/14651858.CD009541.pub2.

18

Hattab M. A randomized trial comparing two vascular closure devices: PROGLIDE and the novel EXOSEAL aIer percutaneous femoral procedures. J Am Coll Cardiol. 2012;60(17):B112.

19.

Martin JL, Pratsos A, Magargee E, Mayhew K, Pensyl C, Nunn M, et al. A randomized trial comparing compression, Perclose Proglide and Angio-Seal VIP for arterial closure following percutaneous coronary intervention: the CAP trial. Catheter Cardiovasc Interv. 2008;71(1):1–5. https://doi.org/10.1002/ccd.21333.

20.

Park Y, Roh HG, Choo SW, Lee SH, Shin SW, Do YS, et al. Prospective comparison of collagen plug (Angio-Seal) and suture-mediated (the Closer S) closure devices at femoral access sites. Korean J Radiol. 2005;6(4):248–55. https://doi.org/10.3348/kjr.2005.6.4.248.

21.

Jensen J, Saleh N, Jensen U, Svane B, Jonsson A, Tornvall P. The inflammatory response to femoral arterial closure devices: a randomized comparison among FemoStop, AngioSeal, and Perclose. Cardiovasc Intervent Radiol. 2008;31(4):751–5. https://doi.org/10.1007/s00270-008-9323-7.

22.

Tagliaferro FB, Orgera G, Mascagni L, Laurino F, Tipaldi MA, Cariati M, et al. FemoSeal((R)) vascular closure device for antegrade common femoral artery access: Safety and technical notes. J Vasc Access. 2020;21(1):79–85. https://doi.org/10.1177/1129729819854593.

23.

Meertens MM, de Haan MW, Schurink GWH, Mees BME. A stopped pilot study of the ProGlide closure device after transbrachial endovascular interventions. J Endovasc Ther. 2019;26(5):727–31. https://doi.org/10.1177/1526602819862775.
Acknowledgments
We would like to thank clinical research assistants Patrice Chauveau, Sandrine Renaud, and Julie Jaulin for their excellent technical support in monitoring data. Language editing of the first version of this manuscript was provided by Jason Miller of SQUID Translation, funded by the Center Hospitalier Universitaire de Nantes (Nantes teaching hospital).
Funding
This study was funded by a grant from the French Ministry of Health (PHRC-IR 2017-A00894-49; ref: RC16_0466). The funder of the study had no role in study design; data collection, analysis, or interpretation; or drafting of this report.
Ethics declarations
Ethical Approval
All procedures performed in studies involving human participants were in accordance with the ethical standards of the institutional and/or national research committee and with the 1964 Helsinki declaration and its later amendments or comparable ethical standards.
Informed Consent
Informed consent was obtained from all individual participants included in the study. Consent for publication was obtained for every individual person's data included in the study.
Additional information
Publisher's Note
Springer Nature remains neutral with regard to jurisdictional claims in published maps and institutional affiliations.
About this article
Cite this article
Gouëffic, Y., Picquet, J., Schneider, F. et al. A Randomized Trial Comparing Polymer Versus Suture-Based Vascular Closure Devices for Arterial Closure Following Lower-Limb Arterial Endovascular Revascularization. Cardiovasc Intervent Radiol 44, 1883–1892 (2021). https://doi.org/10.1007/s00270-021-02940-z
Received:

Accepted:

Published:

Issue Date:
Keywords
Vascular closure device

Peripheral arterial disease

Endovascular

FemoSeal

ProGlide