Access options
Buy single article
Instant access to the full article PDF.
USD 39.95
Price includes VAT (USA)
Tax calculation will be finalised during checkout.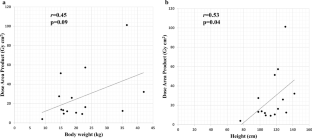 References
1.

Kathuria R, Srivastava A, Yachha SK, Poddar U, Baijal SS. Budd-Chiari syndrome in children: clinical features, percutaneous radiological intervention, and outcome. Eur J Gastroenterol Hepatol. 2014;26:1030–8.

2.

Miraglia R, Maruzzelli L, Cortis K, D'Amico M, Floridia G, Gallo G, et al. Radiation exposure in transjugular intrahepatic portosystemic shunt creation. Cardiovasc Intervent Radiol. 2016;39:210–7.

3.

Vasconcelos-Filho JM, Pereira AH, Pitta GBB, Leitão-Batista L, Castro AA, Souza-Leão AR, et al. Measurements between the hepatic veins and portal venous system, in human cirrhotic liver: a cast study. Surg Radiol Anat. 2018;40:395–400.

4.

Morcillo AB, Alejo L, Huerga C, Bayón J, Obesso A, Corredoira E, et al. Local diagnostic reference levels for paediatric non-cardiac interventional radiology procedures. Phys Med. 2020;72:1–6.

5.

Farah J, Pariente D, Esaki A, Deleuze C, Adamsbaum C, Franchi-Abella S. Establishing local diagnostic reference levels for pediatric percutaneous transhepatic cholangiography interventions and optimizing the routine practice. Pediatr Radiol. 2020;50:827–32.
Funding
This study was not supported by any funding.
Ethics declarations
Conflict of Interest
The authors declare that they have no conflict of interest.
Human and Animal Rights
All procedures performed in studies involving human participants were in accordance with the ethical standards of the institutional and/or national research committee and with the 1964 Helsinki Declaration and its later amendments or comparable ethical standards.
Informed Consent
This study has obtained IRB approval from (indicate the relevant board) and the need for informed consent was waived.
Consent for Publication
Consent for publication was obtained for every individual person's data included in the study.
Additional information
Publisher's Note
Springer Nature remains neutral with regard to jurisdictional claims in published maps and institutional affiliations.
About this article
Cite this article
Madhusudhan, K.S., Malik, R., Chouhan, P. et al. Radiation Exposure During Direct Intrahepatic Portosystemic Shunt in Pediatric Budd–Chiari Syndrome: Initial Experience from a Tertiary Care Center. Cardiovasc Intervent Radiol 44, 1839–1840 (2021). https://doi.org/10.1007/s00270-021-02932-z
Received:

Accepted:

Published:

Issue Date: