Abstract
Purpose
The (MC)2 score is a renal ablation-specific risk scoring system to predict major complications from percutaneous renal cryoablation (PRCA). However, it is untested in an external population of patients. The purpose of this study is to validate the ability of the (MC)2 score to predict major complications after PRCA in an external population.
Materials and Methods
Retrospective review of patients who underwent PRCA from 2004 to 2019. Patient demographics, medical histories, and tumor characteristics were collected. The (MC)2 score was calculated and patients were assigned to low risk (< 5), moderate risk (5–8) and high-risk (> 8) groups. Complications were recorded. Major complications were classified according to CIRSE guidelines.
Results
Two hundred and one patients [M = 116; F = 85; median age = 65 (range 27–90)] met inclusion criteria. Eleven patients (5.5%) developed major complications and 50 patients (24.9%) developed minor complications. Of patients with major complications, mean tumor diameter was 39 mm (± 10.4), seven patients (63.6%) had a central tumor, four patients (36.4%) had complicated diabetes, and one patient (9.1%) had a prior MI. Major complication rates were 2.1%, 14%, and 14.3% in the (MC)2 low risk, moderate risk, and high risk groups, respectively. The mean (MC)2 score for patients with major complications [6.2 (± 2.4)] was higher than the mean score for patients with minor complications [4.7 (± 2.4) (p = 0.07)] and no complications [3.9 (± 1.9) (p < 0.01)]. The area under the ROC curve to predict major complications was 0.78.
Conclusion
The (MC)2 risk scoring system appropriately identifies patients at risk for major complications from PRCA in this external patient population.
Access options
Buy single article
Instant access to the full article PDF.
US$ 39.95
Tax calculation will be finalised during checkout.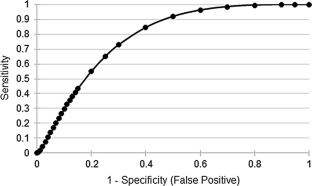 References
1.

Znaor A, Lortet-Tieulent J, Laversanne M, Jemal A, Bray F. International variations and trends in renal cell carcinoma incidence and mortality. Eur Urol. 2015;67(3):519–30.

2.

Siegel RL, Miller KD, Jemal A. Cancer statistics, 2018. CA Cancer J Clin. 2018;68:7–30.

3.

Siegel RL, Miller KD, Jemal A. Cancer statistics, 2020. CA Cancer J Clin. 2020;70(1):7–30.

4.

Campbell SC, Novick AC, Belldegrun A, et al. Guideline for management of the clinical T1 renal mass. J Urol. 2009;182(4):1271–9.

5.

Campbell S, Uzzo RG, Allaf ME, et al. Renal mass and localized renal cancer: AUA guideline. J Urol. 2017;198(3):520–9.

6.

Motzer RJ, Jonasch E, Agarwal N, et al. NCCN Guidelines Insights: Kidney Cancer, Version 1.2021). https://www.nccn.org/professionals/physician_gls/pdf/kidney.pdf. Accessed October 9, 2020.

7.

Rivero JR, De la Cerda J, Wang H, et al. Partial nephrectomy versus thermal ablation for clinical stage T1 renal masses: systematic review and meta-analysis of more than 3900 patients. J Vasc Interv Radiol. 2018;29(1):18–29.

8.

Zhou W, Herwald SE, Mccarthy C, Uppot RN, Arellano RS. Radiofrequency ablation, cryoablation, and microwave ablation for T1a renal cell carcinoma: a comparative evaluation of therapeutic and renal function outcomes. J Vasc Interv Radiol. 2019;30(7):1035–42.

9.

Georgiades CS, Rodriguez R. Efficacy and safety of percutaneous cryoablation for stage 1A/B renal cell carcinoma: results of a prospective, single-arm, 5-year study. Cardiovasc Intervent Radiol. 2014;37(6):1494–9.

10.

Breen DJ, King AJ, Patel N, Lockyer R, Hayes M. Image-guided cryoablation for sporadic renal cell carcinoma: Three- and 5-year outcomes in 220 patients with biopsy-proven renal cell carcinoma. Radiology. 2018;289(2):554–61.

11.

Haddad MM, Schmit GD, Kurup AN, et al. Percutaneous cryoablation of solitary, sporadic renal cell carcinoma: outcome analysis based on clear-cell versus papillary subtypes. J Vasc Interv Radiol. 2018;29(8):1122–6.

12.

Kutikov A, Uzzo RG. The R.E.N.A.L. nephrometry score: a comprehensive standardized system for quantitating renal tumor size, location and depth. J Urol. 2009;182(3):844–53.

13.

Ficarra V, Novara G, Secco S, et al. Preoperative aspects and dimensions used for an anatomical (PADUA) classification of renal tumours in patients who are candidates for nephron-sparing surgery. Eur Urol. 2009;56(5):786–93.

14.

Schmit GD, et al. Usefulness of RENAL nephrometry scoring system for predicting outcomes and complications of percutaneous ablation of 751 tumors. J Urol. 2013;189(1):30–5.

15.

Sisul DM, Liss MA, Palazzi KL, et al. RENAL nephrometry score is associated with complications after renal cryoablation: a multicenter analysis. Urology. 2013;81(4):775–80.

16.

Schmit GD, Schenck LA, Thompson RH, et al. Predicting renal cryoablation complications: new risk score based on tumor size and location and patient history. Radiology. 2014;272(3):903–10.

17.

Gunn AJ, Mullenbach BJ, Poundstone MM, Gordetsky JB, Underwood ES, Rais-Bahrami S. Trans-arterial embolization of renal cell carcinoma prior to percutaneous ablation: technical aspects, institutional experience, and brief review of the literature. Curr Urol. 2018;12(1):43–9.

18.

Venkatesan AM, Kundu S, Sacks D, Wallace MJ, Wojak JC, Rose SC, Clark TW, d'Othee BJ, Itkin M, Jones RS, Miller DL, Owens CA, Rajan DK, Stokes LS, Swan TL, Towbin RB, Cardella JF. Practice guideline for adult antibiotic prophylaxis during vascular and interventional radiology procedures. J Vasc Interv Radiol. 2010;21:1611–30.

19.

Gunn AJ, Parikh NS, Bhatia S. Society of interventional radiology quality improvement standards on percutaneous ablation in renal cell carcinoma. J Vasc Interv Radiol. 2020;31(2):195-201.e3.

20.

Mauri G, Nicosia L, Varano GM, et al. Tips and tricks for a safe and effective image-guided percutaneous renal tumour ablation. Insights Imagin. 2017;8(3):357–63.

21.

Filippiadis DK, Binkert C, Pellerin O, Hoffmann RT, Krajina A, Pereira PL. CIRSE quality assurance document and standards for classification of complications: the CIRSE classification system. Cardiovasc Interv Radiol. 2017;40(8):1146–8.

22.

Mouli SK, McDevitt JL, Su Y-K, Ragin AB, Gao Y, Nemcek AA, et al. Analysis of the renal and mrenal scores and the relative importance of their components in the prediction of complications and local progression after percutaneous renal cryoablation. J Vasc Interv Radiol. 2017;28(6):860–7.

23.

Camacho JC, Kokabi N, Xing M, Master VA, Pattaras JG, Mittal PK, et al. R.E.N.A.L. (Radius, exophytic/endophytic, nearness to collecting system or sinus, anterior/posterior, and location relative to polar lines) nephrometry score predicts early tumor recurrence and complications after percutaneous ablative therapies for renal cell carcinoma: a 5-year experience. J Vasc Interv Radiol. 2015;26(5):686–93.

24.

Seideman CA, Gahan J, Weaver M, Olweny EO, Richter M, Chan D, et al. Renal tumour nephrometry score does not correlate with the risk of radiofrequency ablation complications. BJU Int. 2013;112(8):1121–4.

25.

Maxwell AWP, Baird GL, Iannuccilli JD, Mayo-Smith WW, Dupuy DE. Renal cell carcinoma: comparison of renal nephrometry and padua scores with maximum tumor diameter for prediction of local recurrence after thermal ablation. Radiology. 2017;283(2):590–7.

26.

Mansilla AV, Bivins EE Jr, Contreras F, Hernandez MA, Kohler N, Pepe JW. CT–guided microwave ablation of 45 renal tumors: analysis of procedure complexity utilizing a percutaneous renal ablation complexity scoring system. J Vasc Interv Radiol. 2017;28(2):222–9.

27.

Oberweis BS, Nukala S, Rosenberg A, et al. Thrombotic and bleeding complications after orthopedic surgery. Am Heart J. 2013;165(3):427–33.

28.

Bower WF, Jin L, Underwood MJ, et al. Overt diabetes mellitus adversely affects surgical outcomes of noncardiovascular patients. Surgery. 2010;147(5):670–5.

29.

Rayfield EJ, Ault MJ, Keusch GT, Brothers MJ, Nechemias C, Smith H. Infection and diabetes: the case for glucose control. Am J Med. 1982;72(3):439–50.

30.

Wukich DK, Lowery NJ, McMillen RL, Frykberg RG. Postoperative infection rates in foot and ankle surgery: a comparison of patients with and without diabetes mellitus. J Bone Joint Surg Am. 2010;92(2):287–95.

31.

De Berardis G, Lucisano G, D'Ettorre A, et al. Association of aspirin use with major bleeding in patients with and without diabetes. JAMA. 2012;307(21):2286–94.
Funding
This study was not supported by any funding.
Ethics declarations
Conflict of interest
Dr. Gunn is speaker and consultant for Boston Scientific, a speaker for Terumo, a consultant for Varian, and receives research support from Penumbra. None of the other authors report a potential conflict of interest associated with this work and there is no grant support associated with this work.
Consent for Publication
For this type of study, consent for publication is not required.
Ethical Approval
All procedures performed in studies involving human participants were in accordance with the ethical standards of the institutional and/or national research committee and with the 1964 Helsinki declaration and its later amendments or comparable ethical standards. For this type of study, formal consent is not required. This study was approved by the Institutional Review Board (IRB) of the University of Alabama at Birmingham.
Informed Consent
For this type of study informed consent is not required.
Additional information
Publisher's Note
Springer Nature remains neutral with regard to jurisdictional claims in published maps and institutional affiliations.
About this article
Cite this article
McCafferty, B.J., Huang, J.J., El Khudari, H. et al. External Validation of the Renal Ablation-Specific (MC)2 Risk Scoring System in Predicting Complications from Percutaneous Renal Cryoablation. Cardiovasc Intervent Radiol (2021). https://doi.org/10.1007/s00270-021-02929-8
Received:

Accepted:

Published:
Keywords
Cryoablation

Risk stratification

Renal cell carcinoma

(MC)2 score