Abstract
Purpose
The management of Renal cell carcinoma (RCC) patients with liver metastases is challenging. Liver-directed therapy, such as Transarterial radioembolization (TARE), is a reasonable option for these patients; however, its safety and efficacy are not well characterized. This study evaluated the safety and efficacy of TARE in patients with liver-dominant metastatic RCC.
Materials and Methods
This is a retrospective, single-center study. Thirty-eight patients' medical records were reviewed who underwent TARE between January 1, 2009, and December 31, 2019, in a tertiary cancer center. Two were excluded from further analysis. Thirty-six patients received 51 TARE treatments. Median follow-up time was 18.2 months. Imaging data were evaluated using mRECIST or RECIST 1.1 criteria. Toxicities, treatment responses, liver progression-free survival (LPFS), and median overall survival (OS) were calculated. Univariate and multivariate analyses were conducted to reveal predictors of OS.
Results
Median OS from TARE was 19.3 months (95% CI, 22.6–47.4) and from diagnosis of liver metastases was 36.5 months (95% CI: 26.4–49.8). Mild, grade 1 or 2, biochemical toxicity developed in 27 patients (75%). Grade 3–4 toxicity was noted in two patients (5.5%). The objective response rate was 89%; the disease control rate was 94% (21 complete response, 11 partial response, two stable disease, and two progressive disease). Univariate and multivariate analyses showed longer survival in patients who had objective response, lower lung shunt fraction, and better baseline liver function.
Conclusions
TARE is safe and effective and led to promising overall survival in patients with liver-dominant metastatic RCC.
Level of Evidence: Level 3, retrospective cohort study.
Access options
Buy single article
Instant access to the full article PDF.
US$ 39.95
Tax calculation will be finalised during checkout.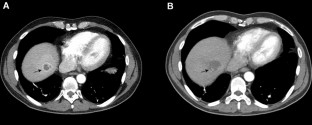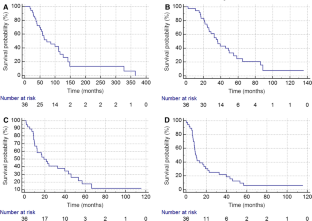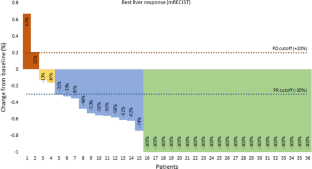 References
1.

Capitanio U, Bensalah K, Bex A, Boorjian SA, Bray F, Coleman J, et al. Epidemiology of Renal Cell Carcinoma. Eur Urol. 2019;75:74–84.

2.

Capitanio U, Montorsi F. Renal cancer Lancet Lond Engl. 2016;387:894–906.

3.

Bianchi M, Sun M, Jeldres C, Shariat SF, Trinh Q-D, Briganti A, et al. Distribution of metastatic sites in renal cell carcinoma: a population-based analysis. Ann Oncol. 2012;23:973–80.

4.

Hamada S, Ito K, Kuroda K, Sato A, Asakuma J, Horiguchi A, et al. Clinical characteristics and prognosis of patients with renal cell carcinoma and liver metastasis. Mol Clin Oncol. 2015;3:63–8.

5.

Staehler MD, Kruse J, Haseke N, Stadler T, Roosen A, Karl A, et al. Liver resection for metastatic disease prolongs survival in renal cell carcinoma: 12-year results from a retrospective comparative analysis. World J Urol. 2010;28:543–7.

6.

Kis B, Shah J, Choi J, El-Haddad G, Sweeney J, Biebel B, et al. Transarterial Yttrium-90 Radioembolization Treatment of Patients with Liver-Dominant Metastatic Renal Cell Carcinoma. J Vasc Interv Radiol. 2017;28:254–9.

7.

Heng DYC, Xie W, Regan MM, Harshman LC, Bjarnason GA, Vaishampayan UN, et al. External validation and comparison with other models of the International Metastatic Renal-Cell Carcinoma Database Consortium prognostic model: a population-based study. Lancet Oncol. 2013;14:141–8.

8.

Heng DYC, Xie W, Regan MM, Warren MA, Golshayan AR, Sahi C, et al. Prognostic factors for overall survival in patients with metastatic renal cell carcinoma treated with vascular endothelial growth factor-targeted agents: results from a large, multicenter study. J Clin Oncol Off J Am Soc Clin Oncol. 2009;27:5794–9.

9.

Lencioni R, Llovet JM. Modified RECIST (mRECIST) assessment for hepatocellular carcinoma. Semin Liver Dis. 2010;30:52–60.

10.

Radosa CG, Radosa JC, Grosche-Schlee S, Zöphel K, Plodeck V, Kühn JP, et al. Holmium-166 radioembolization in hepatocellular carcinoma: Feasibility and safety of a new treatment option in clinical practice. Cardiovasc Intervent Radiol. 2019;42:405–12.

11.

Kamath PS, Wiesner RH, Malinchoc M, Kremers W, Therneau TM, Kosberg CL, et al. A model to predict survival in patients with end-stage liver disease. Hepatol Baltim Md. 2001;33:464–70.

12.

Vouche M, Habib A, Ward TJ, Kim E, Kulik L, Ganger D, et al. Unresectable solitary hepatocellular carcinoma not amenable to radiofrequency ablation: multicenter radiology-pathology correlation and survival of radiation segmentectomy. Hepatol Baltim Md. 2014;60:192–201.

13.

Naito S, Yamamoto N, Takayama T, Muramoto M, Shinohara N, Nishiyama K, et al. Prognosis of Japanese metastatic renal cell carcinoma patients in the cytokine era: a cooperative group report of 1463 patients. Eur Urol. 2010;57:317–25.

14.

Amato RJ. Chemotherapy for renal cell carcinoma. Semin Oncol. 2000;27:177–86.

15.

Schullian P, Putzer D, Eberle G, Laimer G, Bale R. Simultaneous Stereotactic Radiofrequency Ablation of Multiple (≥ 4) Liver Tumors: Feasibility, Safety, and Efficacy. J Vasc Interv Radiol. 2020;31:943–52.

16.

Jonasch E. NCCN Guidelines Updates: Management of Metastatic Kidney Cancer. J Natl Compr Cancer Netw JNCCN. 2019;17:587–9.

17.

Motzer RJ, Tannir NM, McDermott DF, Frontera OA, Melichar B, Choueiri TK, et al. Nivolumab plus Ipilimumab versus Sunitinib in Advanced Renal-Cell Carcinoma. N Engl J Med. 2018;378:1277–90.

18.

Rini BI, Plimack ER, Stus V, Gafanov R, Hawkins R, Nosov D, et al. Pembrolizumab plus Axitinib versus Sunitinib for Advanced Renal-Cell Carcinoma. N Engl J Med. 2019;380:1116–27.

19.

Motzer RJ, Penkov K, Haanen J, Rini B, Albiges L, Campbell MT, et al. Avelumab plus Axitinib versus Sunitinib for advanced renal-cell carcinoma. N Engl J Med. 2019. https://doi.org/10.1056/NEJMoa1816047.

20.

Nabil M, Gruber T, Yakoub D, Ackermann H, Zangos S, Vogl TJ. Repetitive transarterial chemoembolization (TACE) of liver metastases from renal cell carcinoma: local control and survival results. Eur Radiol. 2008;18:1456–63.

21.

Adashek JJ, Salgia M, Dizman N, Kessler J, Pal SK. Concomitant radioembolization and immune checkpoint inhibition in metastatic renal cell carcinoma. Case Rep Oncol. 2018;11:276–80.

22.

Abdelmaksoud MHK, Louie JD, Hwang GL, Kothary N, Minor DR, Sze DY. Yttrium-90 radioembolization of renal cell carcinoma metastatic to the liver. J Vasc Interv Radiol. 2012;23:323-330.e1.

23.

Riaz A, Awais R, Salem R. Side Effects of Yttrium-90 Radioembolization. Front Oncol [Internet]. 2014 [cited 2020 Nov 23];4. Available from: https://www.ncbi.nlm.nih.gov/pmc/articles/PMC4114299/.

24.

Atassi B, Bangash AK, Lewandowski RJ, Ibrahim S, Kulik L, Mulcahy MF, et al. Biliary Sequelae following Radioembolization with Yttrium-90 Microspheres. J Vasc Interv Radiol Elsevier. 2008;19:691–7.

25.

Spina JC, Hume I, Pelaez A, Peralta O, Quadrelli M, Garcia Monaco R. Expected and Unexpected Imaging Findings after 90Y Transarterial Radioembolization for Liver Tumors. Radiogr Rev Publ Radiol Soc N Am Inc. 2019;39(2): 578–95.

26.

Ferician O, Cimpean AM, Ceausu AR, Dema A, Raica M, Cumpanas A. Heterogeneous vascular patterns in renal cell carcinomas. Pol J Pathol Off J Pol Soc Pathol. 2016;67:46–53.
Funding
This study was not supported by any funding.
Ethics declarations
Conflict of interest
The authors declare that they have no conflict of interest.
Formal Consent
For this type of study formal consent is not required.
Informed Consent
Informed consent was obtained from all individual patients included in the study.
Publication Consent
For this type of study, consent for publication is not required.
Additional information
Publisher's Note
Springer Nature remains neutral with regard to jurisdictional claims in published maps and institutional affiliations.
About this article
Cite this article
Bibok, A., Mhaskar, R., Jain, R. et al. Role of Radioembolization in the Management of Liver-Dominant Metastatic Renal Cell Carcinoma: A Single-Center, Retrospective Study. Cardiovasc Intervent Radiol (2021). https://doi.org/10.1007/s00270-021-02925-y
Received:

Accepted:

Published:
Keywords
Interventional radiology

Hepatic neoplasms

Therapeutic embolization

Renal cell carcinoma

Yttrium radioisotopes