Abstract
As the field of interventional radiology assumes a larger role in patient care, the specialty has a growing responsibility to recognize and understand ethical dilemmas within the field. We present a case-based primer on common ethical issues in IR, including requests for potentially inappropriate procedures, surrogate decision making, informed consent, and managing conflicts of interest and procedural complications. This primer is intended to be used as a guide for discussion-based training in ethics in IR while inspiring further research in applied ethics in IR.
Access options
Buy single article
Instant access to the full article PDF.
US$ 39.95
Tax calculation will be finalised during checkout.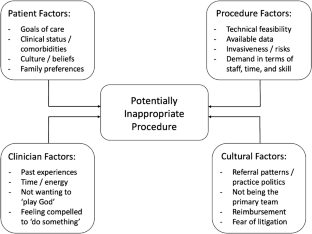 Notes
1.

Reprinted by permission from Springer Nature: Springer Nature CardioVascular and Interventional Radiology "Perceptions of Futility in Interventional Radiology: A Multipractice Systematic Qualitative Analysis," Keller, E.J., Rabei, R., Heller, M., et al., Copyright 2020.

2.

The Society of Critical Care Medicine (SCCM) Ethics Committee established a framework for approaching potentially inappropriate interventions in the critical care setting. The committee recommends the following approach to manage such cases, which may provide some helpful guidance: (1) enlisting expert consultation to continue negotiation during the dispute-resolution process; (2) giving notice of the process to surrogates; (3) obtaining a second medical opinion; (4) obtaining review by an interdisciplinary hospital committee; (5) offering surrogates the opportunity to transfer the patient to an alternate institution; (6) informing surrogates of the opportunity to pursue extramural appeal; and (7) implementing the decision of the resolution process [9].

3.

e.g., a physician may exercise therapeutic non-disclosure to protect the patient from the emotional harms that may result from learning certain information about his medical indication and/or treatment if such harms are a salient threat.
References
1.

Keller EJ, Vogelzang RL. Who we are and what we can become: the anthropology of IR and challenges of forming a new specialty. J Vasc Interv Radiol. 2018;29(12):1703–4.

2.

Carrese JA, et al. The essential role of medical ethics education in achieving professionalism: the Romanell Report. Acad Med. 2015;90(6):744–52.

3.

Keller EJ. Reflect and remember: the ethics of complications in interventional radiology. Semin Intervent Radiol. 2019;36(2):104–7.

4.

Keller EJ, et al. Physicians' professional identities: a roadmap to understanding "value" in cardiovascular imaging. J Cardiovasc Magn Reson. 2016;18(1):52.

5.

Kon AA, et al. Defining futile and potentially inappropriate interventions: a policy statement from the society of critical care medicine ethics committee. Crit Care Med. 2016;44(9):1769–74.

6.

Clark PA. Medical futility: legal and ethical analysis. Virtual Mentor. 2007;9(5):375–83.

7.

Keller EJ, et al. Perceptions of futility in interventional radiology: a multipractice systematic qualitative analysis. Cardiovasc Intervent Radiol. 2021;44(1):127–33.

8.

Shnayder MM, Keller EJ, Makary MS. COVID-19 ethics: what interventional radiologists need to know. J Vasc Interv Radiol. 2020;31(10):1720–3.

9.

Bosslet GT, et al. An official ATS/AACN/ACCP/ESICM/SCCM policy statement: responding to requests for potentially inappropriate treatments in intensive care units. Am J Respir Crit Care Med. 2015;191(11):1318–30.

10.

Fumis RRL, et al. Moral distress and its contribution to the development of burnout syndrome among critical care providers. Ann Intensive Care. 2017;7(1):71.

11.

Sabatino CP. The legal and functional status of the medical proxy: suggestions for statutory reform. J Law Med Ethics. 1999;27(1):52–68.

12.

DeMartino ES, et al. Who decides when a patient can't? Statutes on alternate decision makers. N Engl J Med. 2017;376(15):1478–82.

13.

Chaet DH. AMA code of medical ethics' opinions on patient decision-making capacity and competence and surrogate decision making. AMA J Ethics. 2017;19(7):675–7.

14.

Blaney-Koen L. Patient education: informed consent. J Patient Saf. 2008;4(3):213. https://doi.org/10.1097/PTS.0b013e3181873901

15.

Keller EJ, Perez AW, Makary MS. Informed consent: beating a dead horse or an opportunity for quality improvement? J Vasc Interv Radiol. 2020;31(1):139–40.

16.

Brach C. Making informed consent and informed choice. Health Aff. 2019. https://doi.org/10.1377/hblog20190403.965852

17.

Pugh J. Autonomy, rationality, and contemporary bioethics. Oxford: Oxford University Press; 2020. https://doi.org/10.1093/oso/9780198858584.001.0001

18.

McKneally MF, et al. The leap to trust: perspective of cholecystectomy patients on informed decision making and consent. J Am Coll Surg. 2004;199(1):51–7.

19.

Stacey D, et al. Decision aids for people facing health treatment or screening decisions. Cochrane Database Syst Rev. 2017;4:CD001431. https://doi.org/10.1002/14651858.CD001431.pub5

20.

Clark JM, et al. Understanding bias: a look at conflicts of interest in IR. J Vasc Interv Radiol. 2019;30(5):765–6.

21.

Grundy Q, et al. Prevalence of disclosed conflicts of interest in biomedical research and associations with journal impact factors and altmetric scores. JAMA. 2018;319(4):408–9.

22.

Bozorghadad S, et al. Research ethics in IR: the intersection between care and progress. J Vasc Interv Radiol. 2020;31(5):846–8.

23.

Levinson W, et al. Physician-patient communication. The relationship with malpractice claims among primary care physicians and surgeons. JAMA. 1997. https://doi.org/10.1001/jama.1997.03540310051034.

24.

SIR Code of Ethics. 2018 [cited 2020 December 28]; Available from: https://www.sirweb.org/globalassets/aasociety-of-interventional-radiology-home-page/about-us/governance/sir-code-of-ethics_approved-november-2018.pdf.

25.

Bellomo TR, Hwang C, Corriere MA. Scope and prevalence of conflicts of interest among highly cited peripheral artery disease research studies. J Vasc Surg. 2018;69(1):E7–8.

26.

Chugh D, Bazerman MH, Banaji MR. Bounded ethicality as a psychological barrier to recognizing conflicts of interest. In: Moore DA, Cain DM, Loewenstein G, Bazerman MH, editors. Conflicts of interest: challenges and solutions in business, law, medicine, and public policy. Cambridge, MA: Cambridge University Press; 2005. p. 74–95. https://doi.org/10.1017/CBO9780511610332.006

27.

Cain DM, Loewenstein G, Moore DA. The dirt on coming clean: perverse effects of disclosing conflicts of interest. J Leg Stud. 2005;34(1):1–25.

28.

Sah S, Fagerlin A, Ubel P. Effect of physician disclosure of specialty bias on patient trust and treatment choice. Proc Natl Acad Sci U S A. 2016;113(27):7465–9.

29.

Pearson SD, et al. A trial of disclosing physicians' financial incentives to patients. Arch Intern Med. 2006;166(6):623–8.

30.

Menikoff J. Law and bioethics: an introduction. Washington DC: Gorgetown University Press; 2001.
Acknowledgements
This work was supported by the Society of Interventional Radiology's Applied Ethics Committee, the Society of Interventional Oncology's Applied Ethics Task Force, and the Interventional Initiative.
Ethics declarations
Conflict of interest
On behalf of all authors, the corresponding author states that there is no conflict of interest.
Ethical Approval
No IRB approval was needed for the creation of this work. All cases presented are fictionalized.
Additional information
Publisher's Note
Springer Nature remains neutral with regard to jurisdictional claims in published maps and institutional affiliations.
About this article
Cite this article
Silberstein, S., Shnayder-Adams, M.M., Keller, E.J. et al. Ethics in Interventional Radiology: A Case-Based Primer. Cardiovasc Intervent Radiol 44, 1510–1517 (2021). https://doi.org/10.1007/s00270-021-02894-2
Received:

Accepted:

Published:

Issue Date:
Keywords
Ethics

Futility

Informed consent

Conflict of interest

Complications

Interventional radiology