Abstract
Purpose
To evaluate hepatocellular carcinoma (HCC) treatment allocation, deviation from BCLC first-treatment recommendation, and outcomes following multidisciplinary, individualized approach.
Methods
Treatment-naïve HCC discussed at multidisciplinary tumor board (MDT) between 2010 and 2013 were included to allow minimum 5 years of follow-up. MDT first-treatment recommendation (resection, transplant, ablation, transarterial radioembolization (Y90), transarterial chemoembolization, sorafenib, palliation) was documented, as were subsequent treatments. Overall survival (OS) analyses were performed on an intention-to-treat (ITT) basis, stratified by BCLC stage.
Results
Three hundred and twenty-one patients were treated in the 4-year period. Median age was 62 years, predominantly male (73%), hepatitis C (41%), and Y90 initial treatment (52%). There was a 76% rate of BCLC-discordant first-treatment. Median OS was not reached (57% alive at 10 years), 51.0 months, 25.4 months and 13.4 months for BCLC stages A, B, C and D, respectively.
Conclusion
Deviation from BCLC guidelines was very common when individualized, MDT treatment recommendations were made. This approach yielded expected OS in BCLC A, and exceeded general guideline expectations for BCLC B, C and D. These results suggest that while guidelines are helpful, implementing a more personalized approach that incorporates center expertise, patient-specific characteristics, and the known multi-directional treatment allocation process, improves patient outcomes.
Access options
Buy single article
Instant access to the full article PDF.
USD 39.95
Price excludes VAT (USA)
Tax calculation will be finalised during checkout.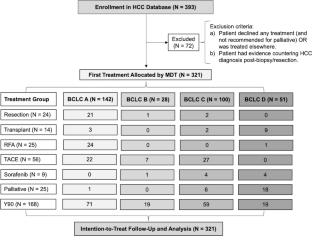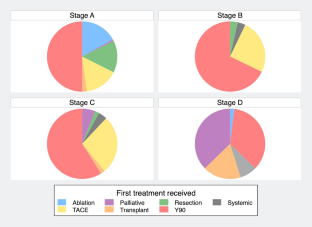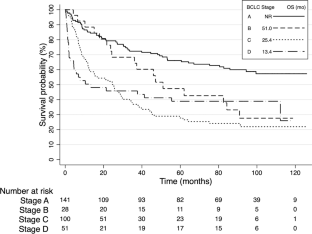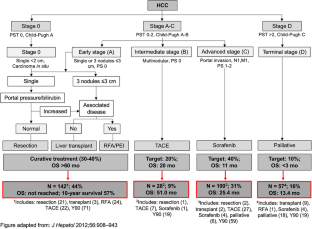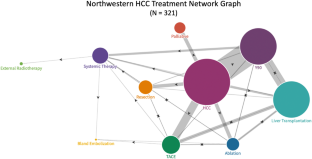 Abbreviations
HCC:

Hepatocellular carcinoma

LT:

Liver transplantation

Y90:

Yttrium-90 radioembolization

BCLC:

Barcelona Clinic Liver Cancer

CP:

Child–Pugh

IQR:

Inter quartile range

CI:

95% Confidence interval

ECOG-PS:

Eastern Cooperative Oncology Group performance status

HCV:

Hepatitis C Virus

HBV:

Hepatitis B virus

RFA:

Radiofrequency ablation

TACE:

Transarterial chemoembolization

ALBI:

Albumin-bilirubin

ITT:

Intention-to-treat

OS:

Overall survival

LRT:

Locoregional therapy

MDT:

Multidisciplinary tumour board

RCT:

Randomized control trial

KM:

Kaplan–Meier
References
Yu SJ. A concise review of updated guidelines regarding the management of hepatocellular carcinoma around the world: 2010–2016. Clin Mol Hepatol. 2016;22(1):7–17.

Benson AB, Dangelica MI, Abbott DE, Abrams TA, Alberts SR, Saenz DA, et al. NCCN guidelines insights: hepatobiliary cancers, version 1.2017. J Nat Compr Cancer Netw. 2017;15(5):563–73.

Bruix J, Sherman M. Management of hepatocellular carcinoma: an update. Hepatology. 2011;53(3):1020–2.

Llovet JM, Real MI, Montaña X, Planas R, Coll S, Aponte J, et al. Arterial embolisation or chemoembolisation versus symptomatic treatment in patients with unresectable hepatocellular carcinoma: a randomised controlled trial. Lancet. 2002;359(9319):1734–9.

Lo CM, Ngan H, Tso WK, Liu CL, Lam CM, Poon RP, et al. Randomized controlled trial of transarterial lipiodol chemoembolization for unresectable hepatocellular carcinoma. Hepatology. 2002;35(5):1164–71.

Yang T, Lau W-Y, Zhang H, Huang B, Lu J-H, Wu M-C. Grey zone in the barcelona clinic liver cancer classification for hepatocellular carcinoma: surgeons' perspective. World J Gastroenterol. 2015;21(27):8256–61.

Selby LKE, Tay RXY, Woon WWL, Low JK, Bei W, Shelat VG, et al. Validity of the Barcelona Clinic Liver Cancer and Hong Kong Liver Cancer staging systems for hepatocellular carcinoma in Singapore. J Hepato Biliary Pancreatic Sci. 2017;24(3):143–52.

Harada N, Shirabe K, Maeda T, Kayashima H, Takaki S, Maehara Y. Comparison of the outcomes of patients with hepatocellular carcinoma and portal hypertension after liver resection versus radiofrequency ablation. World J Surg. 2016;40(7):1709–19.

Liu P-H, Lee Y-H, Hsia C-Y, Hsu C-Y, Huang Y-H, Chiou Y-Y, et al. Surgical resection versus transarterial chemoembolization for hepatocellular carcinoma with portal vein tumor thrombosis: a propensity score analysis. Ann Surg Oncol. 2014;21(6):1825–33.

Shah NH, Dar FS, Bhatti ABH, Rana A, Salih M. Assigning treatment to HCC patients for transplantation: utility of a new decision-making tool. Ann Transplant. 2016;21:668–74.

Salem R, Gabr A, Riaz A, Mora R, Ali R, Abecassis M, et al. Institutional decision to adopt Y90 as primary treatment for hepatocellular carcinoma informed by a 1,000-patient 15-year experience. Hepatology. 2017;68:1429–40.

Llovet JM, Di Bisceglie AM, Bruix J, Kramer BS, Lencioni R, Zhu AX, et al. Design and endpoints of clinical trials in hepatocellular carcinoma. J Nat Cancer Inst. 2008;100(10):698–711.

Aljumah AA, Kuriry H, Alzunaitan M, Al Ghobain M, Al Muaikeel M, Al Olayan A, et al. clinical presentation, risk factors, and treatment modalities of hepatocellular carcinoma: a single tertiary care center experience. Gastroenterol Res Prac. 2016;2016:1989045.

Salem R, Gordon AC, Mouli S, Hickey R, Kallini J, Gabr A, et al. Y90 radioembolization significantly prolongs time to progression compared with chemoembolization in patients with hepatocellular carcinoma. Gastroenterology. 2016;151(6):1155–63.

Abouchaleh N, Gabr A, Ali R, Al-Asadi A, Mora RA, Kallini JR, et al. (90)Y radioembolization for locally advanced hepatocellular carcinoma with portal vein thrombosis: long-term outcomes in a 185-patient cohort. J Nucl Med. 2018;59(7):1042–8.

Gordon AC, Gabr A, Riaz A, Uddin OM, Abouchaleh N, Ali R, et al. Radioembolization super survivors: extended survival in non-operative hepatocellular carcinoma. Cardiovasc Intervent Radiol. 2018;41(10):1557–65.

Gabr A, Abouchaleh N, Ali R, Baker T, Caicedo J, Katariya N, et al. Outcomes of surgical resection after radioembolization for hepatocellular carcinoma. J Vasc Interven Radiol. 2018;29(11):1502–10.

Guidelines E-E. Management of hepatocellular carcinoma. Eur J Cancer. 2012;48(5):599–641.

Sohn JH, Duran R, Zhao Y, Fleckenstein F, Chapiro J, Sahu S, et al. Validation of the Hong Kong liver cancer staging system in determining prognosis of the North American patients following intra-arterial therapy. Clin Gastroenterol Hepatol. 2017;15(5):746–55.

Burrel M, Reig M, Forner A, Barrufet M, De Lope CR, Tremosini S, et al. Survival of patients with hepatocellular carcinoma treated by transarterial chemoembolisation (Tace) using drug eluting beads. Implications for clinical practice and trial design. J Hepatol. 2012;56(6):1330–5.

Kudo M, Ueshima K, Chan S, Minami T, Chishina H, Aoki T, et al. Lenvatinib as an initial treatment in patients with intermediate-stage hepatocellular carcinoma beyond up-to-seven criteria and Child-pugh a liver function: a proof-of-concept study. Cancers. 2019;11(8):1084.

Mao K, Yan Y, Zhang J, Wang J, Wang R, Ling X, et al. The impact of liver resection on survival outcomes of hepatocellular carcinoma patients with extrahepatic metastases: a propensity score matching study. Cancer Med. 2018;7(9):4475–84.

Hsu C-Y, Liu P-H, Hsia C-Y, Lee Y-H, Nagaria TS, Lee R-C, et al. A new treatment-integrated prognostic nomogram of the barcelona clinic liver cancer system for hepatocellular carcinoma. Sci Reports. 2017;7(1):7914.

Vilgrain V, Pereira H, Assenat E, Guiu B, Ilonca AD, Pageaux GP, et al. Efficacy and safety of selective internal radiotherapy with yttrium-90 resin microspheres compared with sorafenib in locally advanced and inoperable hepatocellular carcinoma (Sarah): an open-label randomised controlled phase 3 trial. Lancet Oncol. 2017;18(12):1624–36.

Garin E, Tselikas L, Guiu B, Chalaye J, Edeline J, De Baere T, et al. Personalised versus standard dosimetry approach of selective internal radiation therapy in patients with locally advanced hepatocellular carcinoma (Dosisphere-01): a randomised, multicentre, open-label phase 2 trial. Lancet Gastroenterol Hepatol. 2021;6(1):17–29.

Garcia-Vidal C, Sanjuan G, Puerta-Alcalde P, Moreno-García E, Soriano A. Artificial intelligence to support clinical decision-making processes. Ebiomedicine. 2019;46:27–9.

Munoz-Schuffenegger P, Barry A, Atenafu EG, Kim J, Brierley J, Ringash J, et al. Stereotactic body radiation therapy for hepatocellular carcinoma with macrovascular invasion. Radiother Oncol. 2020;156:120–6.

Reig M, Bruix J. Pattern of tumor progression in liver cancer: the missing partner in trial design. Hepatology. 2015;62(3):674–6.

Senthilnathan S, Memon K, Lewandowski RJ, Kulik L, Mulcahy MF, Riaz A, et al. Extrahepatic metastases occur in a minority of hepatocellular carcinoma patients treated with locoregional therapies: analyzing patterns of progression in 285 patients. Hepatology. 2012;55(5):1432–42.

Salem R, Johnson GE, Kim E, Riaz A, Bishay V, Boucher E, et al. Yttrium-90 radioembolization for the treatment of solitary, unresectable hepatocellular carcinoma: the LEGACY study. Hepatology. 2021. https://doi.org/10.1002/hep.31819.
Funding
This study was not supported by any funding.
Ethics declarations
Conflict of interest
SM, AR, KD, RH, are consultants to Boston Scientific. LK is a consultant to Eisai, Bayer, Merck and Exelixis. AK is a consultant to Eisai, Exelixis, Boston Scientific, QED Therapeutics, BMS and Incyte. RJL is a consultant to Boston Scientific, Becton Dickinson, ABT and Siemens. RS is a consultant to Boston Scientific, Sirtex, Eisai, Genentech, Astrazeneca, Exelixis, Cook, Siemens and Becton Dickinson.
Consent for Application
Consent for procedures was obtained for every individual person's data included in the study.
Ethical Approval
All procedures performed in studies involving human participants were in accordance with the ethical standards of the institutional and/or national research committee and with the 1964 Helsinki Declaration and its later amendments or comparable ethical standards. Institutional IRB Approval for this study was obtained.
Informed Consent
Informed consent was obtained from all individual participants included in the study.
Additional information
Publisher's Note
Springer Nature remains neutral with regard to jurisdictional claims in published maps and institutional affiliations.
Monica M. Matsumoto and Samdeep Mouli share co-first authorship.
About this article
Cite this article
Matsumoto, M.M., Mouli, S., Saxena, P. et al. Comparing Real World, Personalized, Multidisciplinary Tumor Board Recommendations with BCLC Algorithm: 321-Patient Analysis. Cardiovasc Intervent Radiol 44, 1070–1080 (2021). https://doi.org/10.1007/s00270-021-02810-8
Received:

Accepted:

Published:

Issue Date:

DOI: https://doi.org/10.1007/s00270-021-02810-8
Keywords
BCLC

Personalized care

Hepatocellular carcinoma

Multi-disciplinary tumor board