Abstract
Introduction
To evaluate the efficacy and clinical safety of bariatric arterial embolization (BAE) in adults with body mass index (BMI) between 30 and 39.9 kg/m2 and metabolic syndrome (MS).
Materials and methods
Between March and August 2018, ten female participants between 21 and 48-years-old, median BMI of 36.37 ± 2.58 kg/m2 and MS were enrolled in this prospective trial. We embolized the fundal branches from the left gastric and other artery sources, which resulted in embolization of at least two arteries in 9 out 10 participants. Six months after bariatric embolization, efficacy was assessed by changes in total body weight (TBW), ghrelin and Homeostatic Model Assessment—Insulin Resistance (HOMA-IR) levels and by changes in quality of life (QOL) and in binge eating scale (BES) scores. Safety was assessed by the identification of any related complications, including gastric ulcers, screened by gastrointestinal endoscopy, performed before and one week and one month after BAE.
Results
Six months after embolization, TBW decreased by 6.8% (6.22 kg ± 3.6;p = .01), serum ghrelin dropped from 25.39 pg/ml ± 10.63 to 17.1 ± 8.07 (p = 0.01), and HOMA-IR decreased from 7.29 ± 5.66 to 3.73 ± 1.99 (p = 0.01). The QOL scores improved from 59.64 ± 5.59 to 69.02 ± 11.97 (p < 0.05) and in the BES from 21.50 ± 8.89 to 9.60 ± 4.40 (p = 0.01). Endoscopy revealed symptomatic gastric ulcers in two participants, which had healed without sequelae. In one participant, ultrasound revealed an asymptomatic focal arterial thrombus at the left distal radial artery puncture site.
Conclusion
BAE is effective in reducing weight, insulin resistance and ghrelin levels and improving BES and QOL scores in patients with class I and II obesity and MS, with no major complications.
Access options
Buy single article
Instant access to the full article PDF.
USD 39.95
Price excludes VAT (USA)
Tax calculation will be finalised during checkout.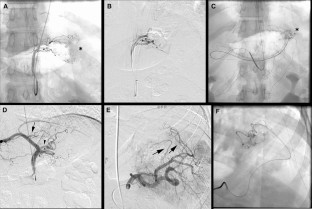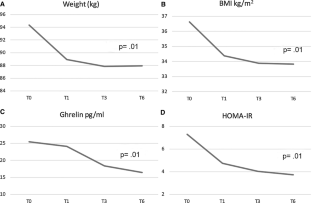 Abbreviations
AH:

Arterial hypertension

BAE:

Bariatric arterial embolization

BES:

Binge Eating Scale

BMI:

Body mass index

CVD:

Cardiovascular disease

Hba1c:

Glycated hemoglobin

HDL:

High-density lipoprotein

HOMA-IR:

Homeostatic Model Assessment-Insulin Resistance

IDF:

International Diabetes Federation

MS:

Metabolic Syndrome

PPI:

Proton pump inhibitor

TBW:

Total body weight

TC:

Triglycerides

T2D:

Type 2 diabetes

GI:

Gastrointestinal

QOL:

Quality of Life
References
Swinburn BA, Sacks G, Hall KD, McPherson K, Finegood DT, Moodie ML, et al. The global obesity pandemic: shaped by global drivers and local environments. Lancet. 2011;378(9793):804–14.

NCD Risk Factor Collaboration (NCD-RisC). Trends in adult body-mass index in 200 countries from 1975 to 2014: a pooled analysis of 1698 population-based measurement studies with 19•2 million participants. Lancet. 1975;2016(387):1377–96.

Brazilian Ministry of Health. Vigitel Brasil 2019: surveillance of risk and protective factors for chronic diseases by telephone survey. https://www.gov.br/saude/pt-br/centrais-de-conteudo/vigitel-brasil-2019-vigilancia-fatores-risco-pdf/view. Accessed September 10; 2020.

Prospective Studies Collaboration. Body-mass index and cause-specific mortality in 900 000 adults: collaborative analyses of 57 prospective studies. Lancet. 2009;373:1083–96.

Sjöström L, Lindroos AK, Peltonen M, Torgerson J, Bouchard C, Carlsson B, et al. Lifestyle, diabetes, and cardiovascular risk factors 10 years after bariatric surgery. N Engl J Med. 2004;351:2683–93.

U.S. Food and Drug Administration. Guidance for industry developing products for weight management.https://wayback.archiveit.org/7993/20170404224223/https://www.fda.gov/downloads/Drugs/GuidanceComplianceRegulatoryInformation/Guidances/UCM071612.pdf. Accessed September 7; 2018.

Gracia J, Martínez M, Elia M, Aguilella V, Royo P, Jiménez A, et al. Obesity surgery results depending on technique performed: long-term outcome. Obes Surg. 2009;19:432–8.

SAGES Guidelines Committee. SAGES guideline for clinical application of laparoscopic bariatric surgery. Surg Obes Relat Dis. 2009;5:387–405.

Beckman LM, Beckman TR, Earthman CP. Changes in gastrointestinal hormones and leptin after Roux-en-Y gastric bypass procedure: a review. J Am Diet Assoc. 2010;110(4):571–84.

Chandarana K, Batterham RL. Shedding pounds after going under the knife: metabolic insights from cutting the gut. Nat Med. 2012;18(5):668–9.

Wren AM, Seal LJ, Cohen MA, et al. Ghrelin enhances appetite and increases food intake in humans. J Clin Endocrinol Metab. 2001;86:5992.

Alamri BN, Shin K, Chappe V, Anini Y. The role of ghrelin in the regulation of glucose homeostasis. Horm Mol Biol Clin Invest. 2016;26(1):3–11.

Bai ZB, Qin YL, Deng G, Zhao GF, Zhong BY, Teng GJ. Bariatric embolization of the left gastric arteries for the treatment of obesity: 9-month data in 5 patients. Obes Surg. 2018;28:907–15.

Kipshidze N, Archvadze A, Bertog S, Leon MB, Sievert H. Endovascular bariatrics: first in humans study of gastric artery embolization for weight loss. JACC Cardiovasc Interv. 2015;8:1641–4.

Syed MI, Morar K, Shaikh A, Craig P, Khan O, Patel S, Khabiri H. Gastric artery embolization trial for the lessening of appetite nonsurgically (GET LEAN): six-month preliminary data. J Vasc Interv Radiol. 2016;27:1502–8.

Elens S, Roger T, Elens M, Rommens J, Sarafidis A, Capelluto E, Delcour C. Gastric embolization as treatment for overweight patients: efficacy and safety. Cardiovasc Intervent Radiol. 2019;42:513–9.

Weiss CR, Abiola GO, Fischman AM, Cheskin J, Vairavamurthy J, Holly BP, Akinwande O, Nwoke F, Paudel K, Belmustakov S, Hong K, Patel RS, Shin EJ, Steele KE, Moran TH, Thompson RE, Dunklin T, Ziessman H, Kraitchman DL, Arepally A. Bariatric Embolization of Arteries for the Treatment of Obesity (BEAT Obesity) Trial: results at 1 year. Radiology. 2019;291:792–800.

Pirlet C, Ruzsa Z, Costerousse O, Nemes B, Merkely B, Poirier P, Bertrand OF. Transradial left gastric artery embolization to treat severe obesity: a pilot study. Catheter Cardiovasc Interv. 2019;93:365–70.

Zaitoun M, Basha M, Hassan F, Elsayed S, Farag A, Amer M, Aly S, Zaitoun N. Left gastric artery embolization in obese, prediabetic patients: a pilot study. J Vasc Interv Radiol. 2019;30:790–6.

Hafezi-Nejad N, Bailey CR, Gunn AJ, Weiss CR. Weight loss after left gastric artery embolization: a systematic review and meta-analysis. J Vasc Interv Radiol. 2019;30(10):1593–603.

Clavien PA, Barkun J, de Oliveira ML, Vauthey JN, Dindo D, Schulick RD, de Santibañes E, Pekolj J, Slankamenac K, Bassi C, Graf R, Vonlanthen R, Padbury R, Cameron JL, Makuuchi M. The Clavien–Dindo classification of surgical complications: five-year experience. Ann Surg. 2009;250(2):187–96.

Freitas S, Lopes CS, Coutinho W e Appolinário JC. Tradução e adaptação para o português da Escala de Compulsão Alimentar Periódica. Revista Brasileira de Psiquiatria. 2001;23(4):215–22.

Fleck MPA, Louzada S, Xavier M, Chachamovich E, Vieira G, Santos L, et al. Aplicação da versão em português do instrumento abreviado de avaliação da qualidade de vida "WHOQOL-bref." Saúde Pública. 2000;34(2):178–83.

Courie R, Gaillard M, Lainas P, et al. Weight outcome after 2 years of a diet that excludes six processed foods. exploratory study of the "1,2,3 diet" in a moderately obese population. Diabetes Metab Syndr Obes. 2018;11:345–55.
Funding
This study was not supported by any funding.
Ethics declarations
Conflict of interest
The authors declare that they have no conflict of interest.
Human and Animal Rights
All procedures performed in studies involving human participants were in accordance with the ethical standards of the institutional and/or national research committee and with the 1964.
Ethical Approval
HELSINKI declaration and its later amendments or comparable ethical standards.
Informed Consent
Informed consent was obtained from all individual participants included in the study. For this type of study, consent for publication is not required.
Additional information
Publisher's Note
Springer Nature remains neutral with regard to jurisdictional claims in published maps and institutional affiliations.
About this article
Cite this article
Levigard, R.B., Serrão, H., Castro, C. et al. Bariatric Embolization in the Treatment of Patients with a Body Mass Index Between 30 and 39.9 kg/m2 (Obesity Class I and II) and Metabolic Syndrome, a Pilot Study. Cardiovasc Intervent Radiol 44, 598–606 (2021). https://doi.org/10.1007/s00270-021-02776-7
Received:

Accepted:

Published:

Issue Date:

DOI: https://doi.org/10.1007/s00270-021-02776-7
Keywords
Bariatric embolization

Obesity

Ghrelin

Metabolic syndrome

Quality of life

Binge eating

Insulin resistance