Abstract
Background
Currently, there are no recommendations regarding the use of heparinized flush during endovascular thrombectomy (EVT) for acute ischemic stroke. Periprocedural heparin could, however, affect functional outcome and symptomatic intracranial hemorrhage (sICH). We surveyed protocols on heparin flush concentrations in Dutch EVT centers and assessed its effect on safety and efficacy outcomes.
Methods
Patients registered in the MR CLEAN Registry, from 2014 up to 2017 were included. We collected data on center protocols regarding heparin flush concentrations (IU/L) and grouped patients by their per protocol administered heparin flush concentration. We used a random effects model with random intercepts by EVT center and analyzed endpoints using regression models. Endpoints were sICH, mRS at 90 days, mortality and reperfusion rates.
Results
A total of 3157 patients were included of which 45% (6 centers) received no heparin in the flush fluids, 1.8% (1 center) received flush fluids containing 2000 IU/L heparin, 26% (4 centers) received 5000 IU/L, 22% (4 centers) received 10.000 IU/L and 5.6% (1 center) received 25.000 IU/L. Higher heparin concentration was associated with increased sICH (aOR 1.15; 95% CI 1.02–1.29), but not with functional outcome, mortality or reperfusion rates.
Conclusion
Effect of heparin in flush fluids should not be ignored by clinicians or researchers as higher concentrations may be associated with higher rates of ICH. The observed variation in protocols regarding heparin concentrations between EVT centers should encourage further studies, ideally in a controlled way, resulting in recommendations on heparin use in flush fluids in future guidelines.
Access options
Buy single article
Instant access to the full article PDF.
USD 39.95
Price excludes VAT (USA)
Tax calculation will be finalised during checkout.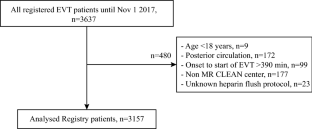 References
Choudhri TF. Reduced microvascular thrombosis and improved outcome in acute murine stroke by inhibiting GP IIb/IIIa receptor-mediated platelet aggregation. J Clin Invest. 1998;102(7):1301–10.

Del Zoppo GJ, et al. Experimental acute thrombotic stroke in baboons. Stroke. 1986;17(6):1254–65.

van de Graaf RA, et al. Periprocedural antithrombotic treatment during acute mechanical thrombectomy for ischemic stroke: a systematic review. Front Neurol. 2018;9:238.

Yang M, et al. Safety and efficacy of heparinization during mechanical thrombectomy in acute ischemic stroke. Front Neurol. 2019;10:299.

Liebeskind DS, et al. eTICI reperfusion: defining success in endovascular stroke therapy. J Neurointerv Surg. 2019;11(5):433–8.

Tan JC, et al. Systematic comparison of perfusion-CT and CT-angiography in acute stroke patients. Ann Neurol. 2007;61(6):533–43.

Ramesh VJ. An audit of fluid and heparin administration during interventional neuroradiologic procedures. J Neurosurg Anesthesiol. 2006;18(4):251–5.

Nahab F, et al. Safety of periprocedural heparin in acute ischemic stroke endovascular therapy: the multi MERCI trial. J Stroke Cerebrovasc Dis. 2012;21(8):790–3.

Winningham MJ, et al. Periprocedural heparin use in acute ischemic stroke endovascular therapy: the TREVO 2 trial. J Neurointerv Surg. 2018;10(7):611–4.

Pu Y, et al. Geographic and sex difference in the distribution of intracranial atherosclerosis in China. Stroke. 2013;44(8):2109–14.

Zhu F, et al. Periprocedural heparin during endovascular treatment of tandem lesions in patients with acute ischemic stroke: a propensity score analysis from TITAN registry. Cardiovasc Intervent Radiol. 2019;42(8):1160–7.

Farook N, et al. Role of heparin during endovascular therapy for acute ischemic stroke. Clin Neurol Neurosurg. 2016;145:64–7.
Funding
This study was not supported by any funding.
Ethics declarations
Conflict of interest
The authors declare that they have no conflict of interest.
Consent for Publication
For this type of study, consent for publication is not required.
Ethical Approval
For this type of study, formal consent is not required.
Informed Consent
For this type of study, informed consent is not required.
Additional information
Publisher's Note
Springer Nature remains neutral with regard to jurisdictional claims in published maps and institutional affiliations.
Faysal Benali and Wouter H. Hinsenveld: shared first author.
Supplementary Information
About this article
Cite this article
Benali, F., Hinsenveld, W.H., van der Leij, C. et al. Effect of Heparinized Flush Concentration on Safety and Efficacy During Endovascular Thrombectomy for Acute Ischemic Stroke: Results from the MR CLEAN Registry. Cardiovasc Intervent Radiol 44, 750–755 (2021). https://doi.org/10.1007/s00270-020-02726-9
Received:

Accepted:

Published:

Issue Date:

DOI: https://doi.org/10.1007/s00270-020-02726-9
Keywords
Ischemic stroke

Endovascular thrombectomy

Heparin

Heparin flush

Flush fluids

Functional outcome