Abstract
Purpose
To establish factors predictive of success prior to Prostate Artery Embolization (PAE) with MRI imaging.
Materials and Methods
A prospective cohort study of 50 patients with Benign Prostatic Hyperplasia (BPH) were treated with PAE in a single institution. Patients had moderate to severe symptoms of BPH refractory to medical management for at least 6 months. Patients were imaged with multiparametric MRI imaging pre-PAE and at 3 months, 12 months and 24 months post-PAE. Clinical success was measured with IPSS, IIEF and EQ-5D-5L quality of life questionnaires.
Results
The technical success was 48/50 (96%).The mean age of the group was 67 (range 54–83). The mean IPSS score pre-PAE was 21 and at 24 months was 8 (p < 0.001). There was no deterioration in erectile function. The mean volume of the prostate post-PAE was reduced at 3 and 12 months post-PAE but not significantly different at 24 months. This did not correlate with the IPSS score. Patients with median lobe enlargement has similar symptomatic improvement as those without median lobe enlargement. Internally within the prostate patients with adenomatous-dominant BPH initially did better than patients with stromal enlargement; however, at 24 months patients with stromal enlargement of the prostate improved greatest. Initial volume of the prostate was not a good predictor of clinical success.
Conclusion
PAE is a safe and effective treatment strategy for treating men with BPH. Patients with Adenomatous BPH clinically do better until 12 months but not at 24 months. Initial prostate volume does not affect outcome, and patients with median lobe enlargement do as well as those without.
Access options
Buy single article
Instant access to the full article PDF.
USD 39.95
Price excludes VAT (USA)
Tax calculation will be finalised during checkout.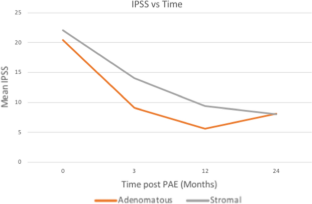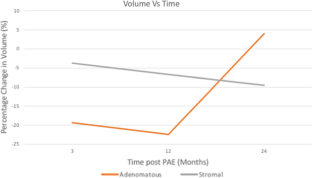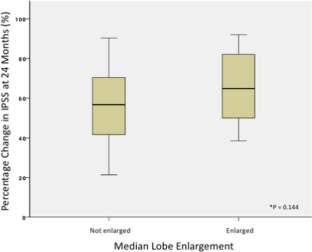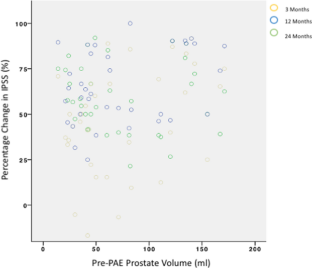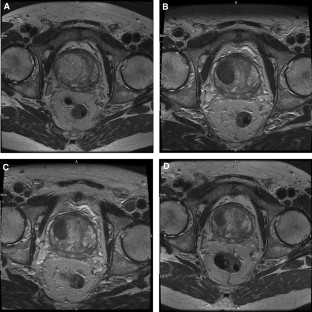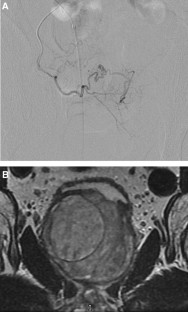 References
Pyo J-S, Cho WJ. Systematic review and meta-analysis of prostatic artery embolization for lower urinary tract symptoms related to benign prostatic hyperplasia. Clin Radiol. 2017;72:16–22.

NICE Guidance, Prostate artery embolization for lower urinary tract symptoms caused by benign prostatic hyperplasia interventional procedures guidance [IPG611] Published date: 25 April 2018

Cornelis FH, Bilhim T, Hacking N, Sapoval M, Tapping C, Carnevale F. CIRSE Standards of practice on prostatic artery embolization. Cardiovasc Intervent Radiol. 2020;43:176–85.

Hacking N, Vigneswaran G, Maclean D, et al. Technical and imaging outcomes from the UK registry of prostate artery embolization (UK-ROPE) study: focusing on predictors of clinical success. Cardiovasc Intervent Radiol. 2019;42:666–76.

Maclean D, Harris M, Drake T, et al. Factors predicting a good symptomatic outcome after prostate artery embolization (PAE). Cardiovasc Intervent Radiol. 2018;41:1152–9.

Rukstalis D, Rashid P, Bogache WK, Tutrone RF, Barkin J, Chin PT, Woo HH, Cantwell AL, Cowan BE, Bolton DM. 24-month durability after crossover to the prostatic urethral lift from randomised, blinded sham. BJU Int. 2016;3:14–22. https://doi.org/10.1111/bju.13666.

McVary KT, Roehrborn CG. Three-year outcomes of the prospective, randomized controlled Rezūm system study: convective radiofrequency thermal therapy for treatment of lower urinary tract symptoms due to benign prostatic hyperplasia. Urology. 2018;111:1–9.

Bhatia S. Meta-analysis of prostatic artery embolization for benign prostatic hyperplasia-review of 12-month outcomes data. J Vasc Interv Radiol. 2017;28:772.

Pisco J, Bilhim T, Pinheiro LC, et al. Prostate embolization as an alternative to open surgery in patients with large prostate and moderate to severe lower urinary tract symptoms. J Vasc Interv Radiol. 2016;27:700–8.

Little MW, Boardman P, Macdonald AC, et al. Adenomatous-dominant benign prostatic hyperplasia (AdBPH) as a predictor for clinical success following prostate artery embolization: an age-matched case-control study. Cardiovasc Intervent Radiol. 2017;40:682–9.
Acknowledgements
The authors wish to acknowledge the Royal College of Radiologists, UK, and Oxfordshire Health Services Research Committee (OHSRC) (Grant No. 1170) for funding the study. The results of this study were presented at CIRSE 2019 in Barcelona as an oral presentation.
Funding
This study was funded by a Royal College of Radiologists Pump Priming Grant, UK, and Oxfordshire Health Services Research Committee (OHSRC) Grant (No. 1170).
Ethics declarations
Conflict of interest
CRT has received honoraria from Merit Medical and Boston Scientific. Author MWL has received a research grants and honoraria from Merit Medical and Crannmed.
Consent for Publication
Consent for publication was obtained for every individual person's data included in the study
Ethical Approval
All procedures performed in studies involving human participants were in accordance with the ethical standards of the institutional and/or national research committee and with the 1964 Helsinki Declaration and its later amendments or comparable ethical standards. A statement on the Institutional Review Board (IRB) approval of your study must be also included in this section.
Informed Consent
Informed consent was obtained from all individual participants included in the study. For all research involving human subjects, informed consent to participate in the study should be obtained from participants (or their parent or legal guardian in the case of children under 16).
Additional information
Publisher's Note
Springer Nature remains neutral with regard to jurisdictional claims in published maps and institutional affiliations.
About this article
Cite this article
Tapping, C.R., Little, M.W., Macdonald, A. et al. The STREAM Trial (Prostatic Artery Embolization for the Treatment of Benign Prostatic Hyperplasia) 24-Month Clinical and Radiological Outcomes. Cardiovasc Intervent Radiol 44, 436–442 (2021). https://doi.org/10.1007/s00270-020-02702-3
Received:

Accepted:

Published:

Issue Date:

DOI: https://doi.org/10.1007/s00270-020-02702-3
Keywords
Prostate Artery Embolization

Benign prostatic hyperplasia