Abstract
Purpose
To report additional endpoints, including 2-year primary patency, patient outcomes, and safety results, as well as the initial assessment of hypoechogenic halo from the IMPERIAL Randomized Controlled Trial (RCT).
Materials and methods
IMPERIAL RCT is a prospective, randomized (2:1), multicenter study of patients with symptomatic femoropopliteal artery lesions (length 30–140 mm, Rutherford category 2–4) treated with the Eluvia paclitaxel-eluting nitinol stent or the Zilver PTX paclitaxel-coated stent. Two-year follow-up included patency, safety, and mortality assessments and core laboratory-reviewed B-mode ultrasound imaging to screen for hypoechogenic halo in the stented segment, and assess blood flow.
Results
At 24 months, all-cause mortality was 7.1% (21/295) for Eluvia and 8.3% (12/145) for Zilver PTX (P = 0.6649). The clinically driven target lesion revascularization rate was significantly less for patients treated with Eluvia vs Zilver PTX (12.7% vs 20.1%; P = 0.0495). The Kaplan–Meier estimate of primary patency at 24 months was 83.0% for Eluvia and 77.1% for Zilver PTX (log rank P = 0.1008). Transverse ultrasound imaging was implemented during the 24-month follow-up window and was evaluable for 27.5% (128/465) of patients. Hypoechogenic halo prevalence rates did not differ significantly between Eluvia and Zilver PTX study arms (33.7% [29/86] vs 21.4% [9/42]; P = 0.153). In no case was flow documented within the halo; no adverse events were associated with these ultrasound findings.
Conclusion
Two-year follow-up suggests a sustained advantage for Eluvia for avoiding target lesion revascularization. Initial hypoechogenic halo assessment showed no difference in prevalence between the study arms, no flow within the halo, and no associated adverse events.
Clinical trial Registration: clinicaltrials.gov identifier NCT02574481. Date of registration: October 14, 2015.
Level of evidence: Level 1; randomized controlled trial.
Access options
Buy single article
Instant access to the full article PDF.
USD 39.95
Price excludes VAT (USA)
Tax calculation will be finalised during checkout.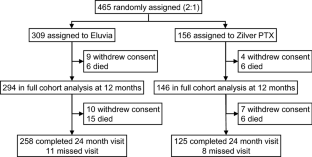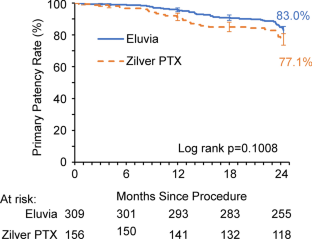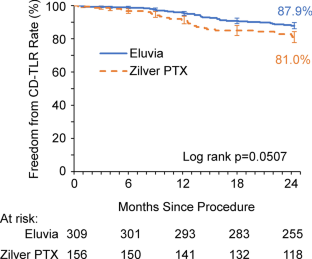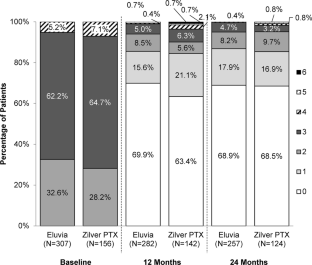 References
Malgor RD, Alahdab F, Elraiyah TA, et al. A systematic review of treatment of intermittent claudication in the lower extremities. J Vasc Surg. 2015;61:54S-73S.

Dake MD, Ansel GM, Jaff MR, et al. Durable clinical effectiveness with paclitaxel-eluting stents in the femoropopliteal artery: 5-year results of the zilver PTX randomized trial. Circulation. 2016;133:1472–83.

Gray WA, Keirse K, Soga Y, et al. A polymer-coated, paclitaxel-eluting stent (Eluvia) versus a polymer-free, paclitaxel-coated stent (Zilver PTX) for endovascular femoropopliteal intervention (IMPERIAL): a randomised, non-inferiority trial. Lancet. 2018;392:1541–51.

Golzar J, Soga Y, Babaev A, et al. Effectiveness and safety of a paclitaxel-eluting stent for superficial femoral artery lesions up to 190 mm: one-year outcomes of the single-arm IMPERIAL long lesion substudy of the eluvia drug-eluting stent. J Endovasc Ther. 2020;27:296–303.

Bisdas T, Beropoulis E, Argyriou A, Torsello G, Stavroulakis K. 1-year all-comers analysis of the eluvia drug-eluting stent for long femoropopliteal lesions after suboptimal angioplasty. JACC Cardiovasc Interv. 2018;11:957–66.

Laird JR, Schneider PA, Tepe G, et al. Durability of treatment effect using a drug-coated balloon for femoropopliteal lesions: 24-month results of IN.PACT SFA. J Am Coll Cardiol. 2015;66:2329–38.

Sridharan ND, Boitet A, Smith K, et al. Cost-effectiveness analysis of drug-coated therapies in the superficial femoral artery. J Vasc Surg. 2018;67:343–52.

Sartipy F, Sigvant B, Lundin F, Wahlberg E. Ten year mortality in different peripheral arterial disease stages: a population based observational study on outcome. Eur J Vasc Endovasc Surg. 2018;55:529–36.

Tato F, Hoffmann U. Clinical presentation and vascular imaging in giant cell arteritis of the femoropopliteal and tibioperoneal arteries. Analysis of four cases. J Vasc Surg. 2006;44:176–82.

Muller-Hulsbeck S, Link J, Schwarzenberg H, et al. MR imaging signal-intensity abnormalities after placement of arterial endoprostheses. AJR Am J Roentgenol. 1997;169:743–8.

D'Arrigo G, Giaquinta A, Virgilio C, Davi A, Pierfrancesco V, Veroux M. Nickel allergy in a patient with a nitinol stent in the superficial femoral artery. J Vasc Interv Radiol. 2014;25:1304–6.
Acknowledgements
Results from the 2-year analysis of the IMPERIAL RCT were presented at VIVA 2019, Nov 4-7, 2019, Las Vegas, NV, USA. The authors thank the following Boston Scientific employees for their assistance: Nicole Kilburn (clinical trial management), H. Terry Liao, PhD (statistical analysis plan design), and Elizabeth J. Davis, PhD (medical writing).
Funding
This study was funded by Boston Scientific Corporation, Marlborough, MA, USA. Employees of and consultants to the funding body were involved in the design of the study, analysis, and interpretation of data and in writing the manuscript.
Ethics declarations
Conflict of Interest
Stefan Müller-Hülsbeck, MD, PhD serves as a consultant and has received honoraria and travel grants from Boston Scientific, and has received fees from Terumo. Andrew Benko, MD reports receiving research funding from Medtronic and Soundbite Medical, is a shareholder in Soundbite Medical, and has received speaking fees from Medtronic, Cordis, and Boston Scientific. Yoshimitsu Soga, MD serves as an advisor to Boston Scientific. Masahiko Fujihara, MD reports consulting for Boston Scientific. Osamu Iida, MD reports consulting for Boston Scientific. Anvar Babaev, MD reports receiving honoraria for physician training from Boston Scientific, Abbott, Medtronic, and Cook. David O'Connor, MD reports receiving honoraria for physician training from Cardiovascular Systems Incorporated, Abbott, and Boston Scientific. Thomas Zeller, MD reports receiving honoraria from: Abbott Vascular, Veryan, Biotronik, Boston Scientific Corp., Cook Medical, Gore & Associates, Medtronic, Philips-Spectranetics, TriReme, Veryan, Shockwave, Biotronik, B. Braun, Efemoral, consulting for: Boston Scientific Corp., Cook Medical, Gore & Associates, Medtronic, Spectranetics, Veryan, Intact Vascular, Veryan. and holding common stock in: QT Medical. Daniel D. Dulas, MD declares that he has no conflict of interest. Juan Diaz-Cartelle, MD is an employee of and owns stock in Boston Scientific. William A. Gray, MD serves as an advisor to Boston Scientific.
Ethical Approval
All procedures performed in studies involving human participants were in accordance with the ethical standards of the institutional and/or national research committee and with the 1964 Helsinki declaration and its later amendments or comparable ethical standards. The study protocol was approved by the applicable Institutional Review Board (IRB), ethics committee, or research ethics board for each study site.
Informed Consent
Informed consent was obtained from all individual participants included in the study.
Consent for Publication
For this type of study, consent for publication is not required.
Additional information
Publisher's Note
Springer Nature remains neutral with regard to jurisdictional claims in published maps and institutional affiliations.
Electronic supplementary material
Below is the link to the electronic supplementary material.
About this article
Cite this article
Müller-Hülsbeck, S., Benko, A., Soga, Y. et al. Two-Year Efficacy and Safety Results from the IMPERIAL Randomized Study of the Eluvia Polymer-Coated Drug-Eluting Stent and the Zilver PTX Polymer-free Drug-Coated Stent. Cardiovasc Intervent Radiol 44, 368–375 (2021). https://doi.org/10.1007/s00270-020-02693-1
Received:

Accepted:

Published:

Issue Date:

DOI: https://doi.org/10.1007/s00270-020-02693-1
Keywords
Drug-eluting stent

Paclitaxel

Peripheral arterial disease

Superficial femoral artery

Vascular patency