Abstract
Background
Evidence supporting uterine artery embolisation (UAE) for giant fibroids (≥ 10 cm and/or uterine volume ≥ 700 CC) remains sparse. We performed a systemic review and meta-analysis of UAE outcomes for symptomatic giant versus non-giant fibroids.
Methods
The literature was systematically reviewed. Research studies of UAE as an adjunct to surgery, and those not using peri-operative MRI were excluded. Primary outcomes were fibroid size and uterine volume reduction, procedure time, length of hospital stay, reinterventions, patient symptom improvement/satisfaction and complications.
Results
We identified four observational studies (839 patients; giant = 163, non-giant = 676). Both groups demonstrated reduction in fibroid size and uterine volume after UAE, with equivocal difference in uterine volume reduction (Mean difference (MD) − 0.3 95% confidence interval (CI) − 3.8 to 3.1, p = 0.86) and greater reduction in non-giant dominant fibroid size (MD − 5.9 95% CI − 10.3 to − 1.5, p < 0.01). Giant fibroids were associated with 5.6 min longer mean operative time (MD 5.6 min 95% CI 2.6–8.6, p < 0.01) and 4.8 h longer mean hospital stay (MD 4.8 h 95% CI 1.1–8.6, p = 0.01). Patient symptoms/satisfaction outcomes were summarised, but too heterogeneous for meta-analysis. Major complication and reintervention rates were low, with a statistically higher rate of major complications (Odds ratio (OR) 4.7 95% CI 1.5–14.6, p < 0.01) and reinterventions (OR 3.6 95% CI 1.7–7.5, p < 0.01) in giant fibroids.
Conclusions
Current evidence shows UAE is a safe and effective option to treat giant fibroids. However, the limited available data indicate a relatively higher risk of complications and reinterventions when compared with non-giant fibroids. Patients should be selected, counselled and managed accordingly.
Level of Evidence
Level III, Systematic review of retrospective cohort studies.
Access options
Buy single article
Instant access to the full article PDF.
USD 39.95
Price includes VAT (USA)
Tax calculation will be finalised during checkout.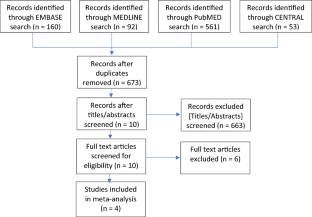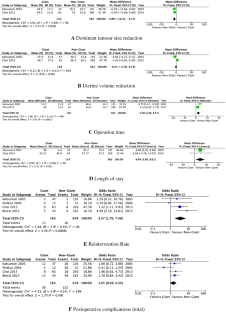 References
1.

Edwards RD, Moss JG, Lumsden MA, Wu O, Murray LS, Twaddle S, et al. Uterine-artery embolization versus surgery for symptomatic uterine fibroids. N Engl J Med. 2007;356(4):360–70.

2.

Narayan A, Lee AS, Kuo GP, Powe N, Kim HS. Uterine artery embolization versus abdominal myomectomy: a long-term clinical outcome comparison. J Vasc Interv Radiol. 2010;21(7):1011–7.

3.

Moss J, Cooper K, Khaund A, Murray L, Murray G, Wu O, et al. Randomised comparison of uterine artery embolisation (UAE) with surgical treatment in patients with symptomatic uterine fibroids (REST trial): 5-year results. BJOG Int J Obstet Gynaecol. 2011;118(8):936–44. https://doi.org/10.1111/j.1471-0528.2011.02952.x.

4.

de Bruijn AM, Ankum WM, Reekers JA, Birnie E, van der Kooij SM, Volkers NA, et al. Uterine artery embolization vs hysterectomy in the treatment of symptomatic uterine fibroids: 10-year outcomes from the randomized EMMY trial. Am J Obstet Gynecol. 2016;215(6):745.e1–12.

5.

Smeets AJ, Nijenhuis RJ, van Rooij WJ, Weimar EAM, Boekkooi PF, Lampmann LEH, et al. Uterine artery embolization in patients with a large fibroid burden: long-term clinical and MR follow-up. Cardiovasc Interv Radiol. 2010;33(5):943–8.

6.

Kim JJ, Kurita T, Bulun SE. Progesterone action in endometrial cancer, endometriosis, uterine fibroids, and breast cancer. Endocr Rev. 2013;34(1):130–62.

7.

Silberzweig JE, Powell DK, Matsumoto AH, Spies JB. Management of uterine fibroids: a focus on uterine-sparing interventional techniques. Radiology. 2016;280(3):675–92.

8.

Goodwin SC, McLucas B, Lee M, Chen G, Perrella R, Vedantham S, et al. Uterine artery embolization for the treatment of uterine leiomyomata midterm results. J Vasc Interv Radiol. 1999;10(9):1159–65.

9.

Pelage J-P, Le Dref O, Soyer P, Kardache M, Dahan H, Abitbol M, et al. Fibroid-related menorrhagia: treatment with superselective embolization of the uterine arteries and midterm follow-up. Radiology. 2000;215(2):428–31.

10.

Moher D, Liberati A, Tetzlaff J, Altman DG, Group TP. Preferred reporting items for systematic reviews and meta-analyses: the PRISMA statement. PLoS Med. 2009;6(7):e1000097.

11.

Khalilzadeh O, Baerlocher MO, Shyn PB, Connolly BL, Devane AM, Morris CS, et al. Proposal of a new adverse event classification by the society of interventional radiology standards of practice committee. J Vasc Interv Radiol. 2017;28(10):1432–7.

12.

Katsumori T, Nakajima K, Mihara T. Is a large fibroid a high-risk factor for uterine artery embolization? Am J Roentgenol. 2003;181(5):1309–14.

13.

Bérczi V, Valcseva É, Kozics D, Kalina I, Kaposi P, Sziller P, et al. Safety and effectiveness of UFE in fibroids larger than 10 cm. Cardiovasc Interv Radiol. 2015;38(5):1152–6.

14.

Choi HJ, Jeon GS, Kim MD, Lee JT, Yoon JH. Is uterine artery embolization for patients with large myomas safe and effective? A retrospective comparative study in 323 patients. J Vasc Interv Radiol. 2013;24(6):772–8.

15.

Prollius A, de Vries C, Loggenberg E, du Plessis A, Nel M, Wessels PH. Uterine artery embolisation for symptomatic fibroids: the effect of the large uterus on outcome. BJOG. 2004;111(3):239–42.

16.

Roth AR, Spies JB, Walsh SM, Wood BJ, Gomez-Jorge J, Levy EB. Pain after uterine artery embolization for leiomyomata: Can its severity be predicted and does severity predict outcome? J Vasc Interv Radiol. 2000;11(8):1047–52.

17.

Verma SK, Bergin D, Gonsalves CF, Mitchell DG, Lev-Toaff AS, Parker L. Submucosal fibroids becoming endocavitary following uterine artery embolization: risk assessment by MRI. Am J Roentgenol. 2008;190(5):1220–6.

18.

Burbank F. Are fibroids that become endocavitary after uterine artery embolization necessarily a complication? Am J Roentgenol. 2008;190(5):1227–30.

19.

Rajan DK, Beecroft JR, Clark TWI, Asch MR, Simons ME, Kachura JR, et al. Risk of intrauterine infectious complications after uterine artery embolization. J Vasc Interv Radiol. 2004;15(12):1415–21.

20.

Lai AC, Goodwin SC, Bonilla SM, Lai AP, Yegul T, Vott S, et al. Sexual dysfunction after uterine artery embolization. J Vasc Interv Radiol. 2000;11(6):755–8.

21.

Kovacsik HV, Herbreteau D, Bommart S, Beregi J-P, Bartoli J-M, Sapoval M, et al. Evaluation of changes in sexual function related to uterine fibroid embolization (UFE): results of the EFUZEN study. Cardiovasc Interv Radiol. 2017;40(8):1169–75.

22.

Spies JB, Coyne K, Guaou Guaou N, Boyle D, Skyrnarz-Murphy K, Gonzalves SM. The UFS-QOL, a new disease-specific symptom and health-related quality of life questionnaire for leiomyomata. Obstet Gynecol. 2002;99(2):290–300.
Acknowledgements
This research was supported by the National Institute for Health Research (NIHR) Biomedical Research Centre based at Imperial College Healthcare NHS Trust and Imperial College London. Thanks to Dr Jelena Savovic for statistical guidance and Dr Sarah McKeogh for assistance with data collection.
Funding
This study was not supported by any funding.
Ethics declarations
Conflict of interest
The authors declare that they have no conflict of interest.
Informed Consent
For this type of study, formal consent is not required. This article does not contain any studies with human participants or animals performed by any of the authors. For this type of study, informed consent is not required. For this type of study, consent for publication is not required.
Additional information
Publisher's Note
Springer Nature remains neutral with regard to jurisdictional claims in published maps and institutional affiliations.
Appendix 1: Search Strategy
Appendix 1: Search Strategy
| Search No. | Search strategy* |
| --- | --- |
| #1 | (fibroid emboli*ation).ti,ab |
| #2 | ("fibroid emboli*ation").ti,ab |
| #3 | ("uterine artery emboli*ation").ti,ab |
| #4 | (uterine artery emboli*ation).ti,ab |
| #5 | (ufe).ti,ab |
| #6 | (1 OR 2 OR 3 OR 4 OR 5) |
| #7 | (giant OR large OR massive).ti,ab |
| #8 | (non-giant OR small).ti,ab |
| #9 | (7 OR 8) |
| #10 | (fibroid*).ti,ab |
| #11 | LEIOMYOMA/ |
| #12 | (leiomyoma*).ti,ab |
| #13 | (10 OR 11 OR 12) |
| #14 | (9 AND 13) |
| #15 | (complication*).ti,ab |
| #16 | (reintervention).ti,ab |
| #17 | (reintervention).ti,ab |
| #18 | ("uterine volume").ti,ab |
| #19 | (devasculari*ation).ti,ab |
| #20 | (satisfaction).ti,ab |
| #21 | "PATIENT SATISFACTION"/ |
| #22 | "INTRAOPERATIVE COMPLICATIONS"/ |
| #23 | "POST-OPERATIVE COMPLICATIONS"/ |
| #24 | (15 OR 16 OR 17 OR 18 OR 19 OR 20 OR 21 OR 22 OR 23) |
| #25 | (6 AND 14 AND 24) |
About this article
Cite this article
Llewellyn, O., Patel, N.R., Mallon, D. et al. Uterine Artery Embolisation for Women with Giant Versus Non-giant Uterine Fibroids: A Systematic Review and Meta-analysis. Cardiovasc Intervent Radiol 43, 684–693 (2020). https://doi.org/10.1007/s00270-019-02359-7
Received:

Accepted:

Published:

Issue Date:
Keywords
Uterine

Leiomyoma

Fibroid

Embolisation

Giant

Non-giant