Abstract
Purpose
To develop, validate, and compare early warning models of the 30-day mortality risk for patients with malignant biliary obstruction (MBO) undergoing percutaneous transhepatic biliary stent placement (PTBS).
Materials and Methods
Between January 2013 and October 2018, this multicenter retrospective study included 299 patients with MBOs who underwent PTBS. The training set consisted of 166 patients from four cohorts, and another two independent cohorts were allocated as external validation sets A and B with 75 patients and 58 patients, respectively. A logistic model and an artificial neural network (ANN) model were developed to predict the risk of 30-day mortality after PTBS. The predictive performance of these two models was validated internally and externally.
Results
The ANN model had higher values of area under the curve than the logistic model in the training set (0.819 vs 0.797), especially in the validation sets A (0.802 vs 0.714) and B (0.732 vs 0.568). Both models had high accuracy in the three sets (75.9–83.1%). Along with a high specificity, the ANN model improved the sensitivity. The net reclassification improvement and integrated discrimination improvement also demonstrated that the ANN model led to improvements in predictive ability compared with the logistic model.
Conclusions
Early warning models were proposed to predict the risk of 30-day mortality after PTBS in patients with MBO. The ANN model has higher accuracy and better generalizability than the logistic model.
This is a preview of subscription content, log in to check access.
Access options
Buy single article
Instant access to the full article PDF.
US$ 39.95
Tax calculation will be finalised during checkout.
Subscribe to journal
Immediate online access to all issues from 2019. Subscription will auto renew annually.
US$ 79
Tax calculation will be finalised during checkout.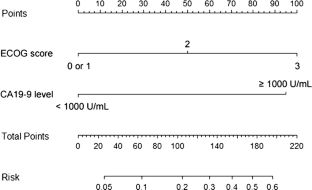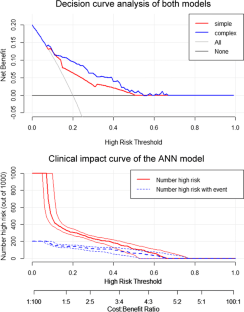 Abbreviations
ANN:

Artificial neural network

MBO:

Malignant biliary obstruction

PTBS:

Percutaneous transhepatic biliary stent placement

AUC:

Area under the curve

NRI:

Net reclassification improvement

IDI:

Integrated discrimination improvement

ECOG:

Eastern Cooperative Oncology Group

NLR:

Neutrophil-to-lymphocyte ratio

CA:

Cancer antigen

CEA:

Carcinoembryonic antigen

OR:

Odds ratio

CI:

Confidence interval
References
1.

Pu LZCT, Singh R, Loong CK, de Moura EGH. Malignant biliary obstruction: evidence for best practice. Gastroenterol Res Pract. 2016;2016(3296801):1–7.

2.

Kapoor BS, Mauri G, Lorenz JM. Management of biliary strictures: state-of-the-art review. Radiology. 2018;289(3):590–603.

3.

Riaz A, Pinkard JP, Salem R, Lewandowski RJ. Percutaneous management of malignant biliary disease. J Surg Oncol. 2019;120(1):45–56.

4.

Saad WEA, Wallace MJ, Wojak JC, Kundu S, Cardella JF. Quality improvement guidelines for percutaneous transhepatic cholangiography, biliary drainage, and percutaneous cholecystostomy. J Vasc Interv Radiol. 2010;21(6):789–95.

5.

Moole H, Dharmapuri S, Duvvuri A, et al. Endoscopic versus percutaneous biliary drainage in palliation of advanced malignant hilar obstruction: a meta-analysis and systematic review. Can J Gastroenterol Hepatol. 2016;2016(4726078):1–8.

6.

Enochsson L, Swahn F, Arnelo U, Nilsson M, Löhr M, Persson G. Nationwide, population-based data from 11,074 ERCP procedures from the Swedish Registry for Gallstone Surgery and ERCP. Gastrointest Endosc. 2010;72(6):1175–84.

7.

Bodger K, Bowering K, Sarkar S, Thompson E, Pearson MG. All-cause mortality after first ERCP in England: clinically guided analysis of hospital episode statistics with linkage to registry of death. Gastrointest Endosc. 2011;74(4):825–33.

8.

Leng J, Zhang N, Dong J. Percutaneous transhepatic and endoscopic biliary drainage for malignant biliary tract obstruction: a meta-analysis. World J Surg Oncol. 2014;12(1):272.

9.

Zhao X, Dong J, Jiang K, Huang X, Zhang W. Comparison of percutaneous transhepatic biliary drainage and endoscopic biliary drainage in the management of malignant biliary tract obstruction: a meta-analysis. Dig Endosc. 2015;27(1):137–45.

10.

Duan F, Cui L, Bai Y, Li X, Yan J, Liu X. Comparison of efficacy and complications of endoscopic and percutaneous biliary drainage in malignant obstructive jaundice: a systematic review and meta-analysis. Cancer Imaging. 2017;17(27):1–7.

11.

Uberoi R, Das N, Moss J, Robertson I. British society of interventional radiology: biliary drainage and stenting registry (BDSR). Cardiovasc Intervent Radiol. 2012;35(1):127–38.

12.

Rai R, Dick R, Doctor N, Dafnios N, Morris R, Davidson BR. Predicting early mortality following percutaneous stent insertion for malignant biliary obstruction: a multivariate risk factor analysis. Eur J Gastroenterol Hepatol. 2000;12(10):1095–100.

13.

Tapping CR, Byass OR, Cast JEI. Percutaneous transhepatic biliary drainage (PTBD) with or without stenting—complications, re-stent rate and a new risk stratification score. Eur Radiol. 2011;21(9):1948–55.

14.

Rajkomar A, Dean J, Kohane I. Machine learning in medicine. N Engl J Med. 2019;380(14):1347–58.

15.

Peduzzi P, Concato J, Kemper E, Holford TR, Feinstein AR. A simulation study of the number of events per variable in logistic regression analysis. J Clin Epidemiol. 1996;49(12):1373–9.

16.

Hanley JA, McNeil BJ. A method of comparing the areas under receiver operating characteristic curves derived from the same cases. Radiology. 1983;148(3):839–43.

17.

Obuchowski NA, McClish DK. Sample size determination for diagnostic accuracy studies involving binormal ROC curve indices. Stat Med. 1997;16(13):1529–42.

18.

Kerr KF, Brown MD, Zhu K, Janes H. Assessing the clinical impact of risk prediction models with decision curves: guidance for correct interpretation and appropriate use. J Clin Oncol. 2016;34(21):2534–40.

19.

Rerknimitr R, Angsuwatcharakon P, Ratanachu-ek T, et al. Asia-Pacific consensus recommendations for endoscopic and interventional management of hilar cholangiocarcinoma. J Gastroenterol Hepatol. 2013;28(4):593–607.

20.

Toll DB, Janssen KJM, Vergouwe Y, Moons KGM. Validation, updating and impact of clinical prediction rules: a review. J Clin Epidemiol. 2008;61(11):1085–94.

21.

Steyerberg E. Clinical prediction models. New York City, NY: Springer; 2009.

22.

Amin MB, Edge S, Greene F, et al. AJCC cancer staging manual. Berlin: Springer; 2017.

23.

Zhu HD, Guo JH, Huang M, et al. Irradiation stents vs. conventional metal stents for unresectable malignant biliary obstruction: a multicenter trial. J Hepatol. 2018;68(5):970–7.

24.

Matsumoto M, Nakabayashi Y, Fujiwara Y, et al. Duration of preoperative biliary drainage as a prognostic factor after pancreaticoduodenectomy for pancreatic head cancer. Anticancer Res. 2017;37(6):3215–9.

25.

Hyun H, Choi SY, Kim KA, Ko SB. Safety and efficacy of percutaneous biliary covered stent placement in patients with malignant biliary hilar obstruction; correlation with liver function. Cardiovasc Intervent Radiol. 2016;39(9):1298–305.

26.

Li M, Li K, Qi X, et al. Percutaneous transhepatic biliary stent implantation for obstructive jaundice of perihilar cholangiocarcinoma: a prospective study on predictors of stent patency and survival in 92 patients. J Vasc Interv Radiol. 2016;27(7):1047–55.

27.

Fujii T, Yamada S, Suenaga M, et al. Preoperative internal biliary drainage increases the risk of bile juice infection and pancreatic fistula after pancreatoduodenectomy: a prospective observational study. Pancreas. 2015;44(3):465–70.

28.

Jethwa P, Breuning E, Bhati C, Buckles J, Mirza D, Bremhall S. The microbiological impact of pre-operative biliary drainage on patients undergoing hepato-biliary-pancreatic (HPB) surgery. Aliment Pharmacol Ther. 2007;25(10):1175–80.

29.

Sugiura T, Okamura Y, Ito T, et al. Prognostic scoring system for patients who present with a gastric outlet obstruction caused by advanced pancreatic adenocarcinoma. World J Surg. 2017;41(10):2619–24.

30.

Ji JH, Song HN, Kim RB, et al. Natural history of metastatic biliary tract cancer (BTC) patients with good performance status (PS) who were treated with only best supportive care (BSC). Jpn J Clin Oncol. 2015;45(3):256–60.

31.

Tu JV. Advantages and disadvantages of using artificial neural networks versus logistic regression for predicting medical outcomes. J Clin Epidemiol. 1996;49(11):1225–311.

32.

Guerriere MR, Detsky AS. Neural networks: what are they? Ann Intern Med. 1991;115(11):906–7.

33.

Zhang Z, Beck MW, Winkler DA, et al. Opening the black box of neural networks: methods for interpreting neural network models in clinical applications. Ann Transl Med. 2018;6(11):216.
Acknowledgments
The authors thank Dr. Qi Zhang, Dr. Yong Wang, and Dr. Jun-Ying Wang from Zhongda Hospital, Southeast University, Nanjing, China, for their work in the management of patients. The authors thank Dr. Bo Peng from Yunnan Tumor Hospital, the Third Affiliated Hospital of Kunming Medical University, Kunming, China, Dr. Jing-Jing Song from Lishui Central Hospital, Wenzhou Medical University, Lishui, China, Dr. Dong Lu from Anhui Provincial Hospital, the First Affiliated Hospital of University of Science and Technology of China (USTC), Hefei, China, Dr. Wu-Jie Wang from the Second Hospital of Shandong University, Jinan, China, and Dr. Ning Wei from Affiliated Hospital of Xuzhou Medical University, Xuzhou, China, for their efforts in the follow-up of patients.
Funding
This study was supported by the National Key Scientific Instrument and Equipment Development Projects of China (81827805), Innovation Platform of Jiangsu Provincial Medical Center (YXZXA2016005), and National Natural Science Foundation of China (81520108015, 81671796). The funders had no role in study design, data collection and analysis, decision to publish, or preparation of the manuscript.
Ethics declarations
Conflict of interest
None.
Ethical Approval
All procedures performed in studies involving human participants were in accordance with the ethical standards of the institutional and/or national research committee and with the 1964 Helsinki Declaration and its later amendments or comparable ethical standards.
Informed Consent
The requirement to obtain informed consent was waived due to the retrospective nature of this study.
Additional information
Publisher's Note
Springer Nature remains neutral with regard to jurisdictional claims in published maps and institutional affiliations.
Electronic supplementary material
Below is the link to the electronic supplementary material.
About this article
Cite this article
Zhou, HF., Lu, J., Zhu, HD. et al. Early Warning Models to Estimate the 30-Day Mortality Risk After Stent Placement for Patients with Malignant Biliary Obstruction. Cardiovasc Intervent Radiol 42, 1751–1759 (2019). https://doi.org/10.1007/s00270-019-02331-5
Received:

Revised:

Accepted:

Published:

Issue Date:
Keywords
Malignant biliary obstruction

Biliary stent

30-Day mortality

Prediction

Artificial neural network