Abstract
Objective
This retrospective study evaluated interventional treatments (recanalization, balloon dilation, and/or stent placement) for Budd–Chiari syndrome (BCS), caused by combined obstruction of the inferior vena cava (IVC) and hepatic veins (HVs).
Methods
Before and after interventional therapy, patients with BCS (n = 162; asymptomatic 105.2 ± 103.3 mo; follow-up 15 [6–24] mo) underwent imaging studies (color Doppler ultrasound, CT, or MRI), and inferior vena cavography and manometry. Venous lesions were characterized by occlusion features, and presence of thrombosis and peripheral collateral vessels.
Results
One, 2, and 3 main HV occlusions were observed, respectively, in 25 (15.4%), 61 (37.7%), and 76 (46.9%) patients. Eighty-three (51.2%), 98 (60.5%), and 104 (64.2%) patients had, respectively, large accessory HVs, venous collaterals formed between the HVs, or venous communicating branches between the HV and the peritoneal veins. The middle, left, and right HV was patent in 32 (19.8%), 35 (21.6%), and 44 (27.2%) patients. Recanalization of both hepatic and caval occlusions was successful in 96% (51/53) of those attempted; recanalization of IVC occlusion was successful in 97% (106/109). Among 157 patients successfully treated, 146 were cured and 11 showed clinical improvement. Clinical symptoms were relieved in 82.4% after the initial intervention, and 94.2% after the second intervention.
Conclusion
Recanalization and balloon angioplasty was effective for the management of BCS with concurrent HV and IVC occlusions. The majority of patients required only IVC recanalization. The outcome of patients treated only by IVC intervention was similar to that of patients given combined HV and IVC intervention.
Access options
Buy single article
Instant access to the full article PDF.
US$ 39.95
Tax calculation will be finalised during checkout.
Subscribe to journal
Immediate online access to all issues from 2019. Subscription will auto renew annually.
US$ 79
Tax calculation will be finalised during checkout.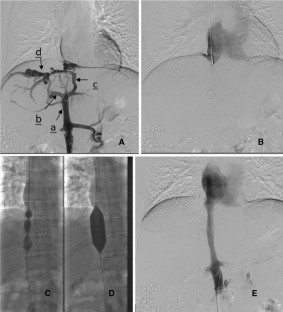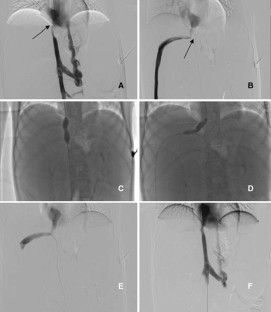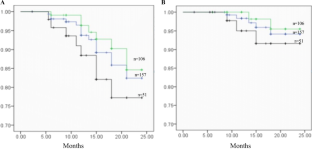 Abbreviations
BCS:

Budd–Chiari syndrome

CI:

Confidence interval

HV:

Hepatic vein

IVC:

Inferior vena cava

MRI:

Magnetic resonance imaging
References
1.

Valla DC. Primary Budd–Chiari syndrome. J Hepatol. 2009;50(1):195–203.

2.

Plessier A, Valla DC. Budd–Chiari syndrome. Semin Liver Dis. 2008;28(3):259–69.

3.

Cheng D, Xu H, Lu ZJ, Hua R, Qiu H, Du H, Xu X, Zhang J. Clinical features and etiology of Budd–Chiari syndrome in Chinese patients: a single-center study. J Gastroenterol Hepatol. 2013;28(6):1061–7.

4.

Zhou P, Ren J, Han X, Wu G, Zhang W, Ding P, Bi Y. Initial imaging analysis of Budd–Chiari syndrome in Henan province of China: most cases have combined inferior vena cava and HVs involvement. PLoS ONE. 2014;9(1):e85135.

5.

Qi X, Han G, Guo X, De Stefano V, Xu K, Lu Z, Xu H. Review article: the aetiology of primary Budd–Chiari syndrome—differences between the West and China. Aliment Pharmacol Ther. 2016;44(11–12):1152–67.

6.

Han G, Qi X, Zhang W, He C, Yin Z, Wang J, Xia J, Xu K, Guo W, Niu J, Wu K, Fan D. Percutaneous recanalization for Budd–Chiari syndrome: an 11-year retrospective study on patency and survival in 177 Chinese patients from a single center. Radiology. 2013;266(2):657–67.

7.

Yang XL, Cheng TO, Chen CR. Successful treatment by percutaneous balloon angioplasty of Budd–Chiari syndrome caused by membranous obstruction of inferior vena cava: 8-year follow-up study. J Am Coll Cardiol. 1996;28(7):1720–4.

8.

Wu T, Wang L, Xiao Q, Wang B, Li S, Li X, Zhang J. Percutaneous balloon angioplasty of inferior vena cava in Budd–Chiari syndrome-R1. Int J Cardiol. 2002;83(2):175–8.

9.

Huang Q, Shen B, Zhang Q, Xu H, Zu M, Gu Y, Wei N, Cui Y, Huang R. Comparison of long-term outcomes of endovascular management for membranous and segmental inferior vena cava obstruction in patients with primary Budd–Chiari syndrome. Circ Cardiovasc Interv. 2016;9(3):e003104.

10.

Ding PX, Li Z, Zhang SJ, Han XW, Wu Y, Wang ZG, Fu MT. Outcome of the Z-expandable metallic stent for Budd–Chiari syndrome and segmental obstruction of the inferior vena cava. Eur J Gastroenterol Hepatol. 2016;28(8):972–9.

11.

Cheng DL, Xu H, Hua R, Xu K, Lv W, Lu X, Du H, Zhang Q. Comparative study of MRI manifestations of acute and chronic Budd–Chiari syndrome. Abdom Imaging. 2015;40(1):76–84.

12.

Zhang QQ, Xu H, Zu MH, Gu YM, Shen B, Wei N, Xu W, Liu HT, Wang WL, Gao ZK. Strategy and long-term outcomes of endovascular treatment for Budd–Chiari syndrome complicated by inferior vena caval thrombosis. Eur J Vasc Endovasc Surg. 2014;47(5):550–7.

13.

Fan X, Liu K, Che Y, Wang S, Wu X, Cao J, Li J. Good clinical outcomes in Budd–Chiari syndrome with hepatic vein occlusion. Dig Dis Sci. 2016;61(10):3054–60.

14.

Tripathi D, Sunderraj L, Vemala V, Mehrzad Zia Z, Mangat K, West R, Chen F, Elias El, Olliff SP. Long-term outcomes following percutaneous hepatic vein recanalization for Budd–Chiari syndrome. Liver Int. 2017;37(1):111–20.

15.

Cui YF, Fu YF, Li DC, Xu H. Percutaneous recanalization for hepatic vein-type Budd–Chiari syndrome: long-term patency and survival. Hepatol Int. 2016;10(2):363–9.

16.

Bozorgmanesh A, Selvam DA, Caridi JG. Budd–Chiari syndrome: hepatic venous web outflow obstruction treated by percutaneous placement of hepatic vein stent. Semin Intervent Radiol. 2007;24(1):100–5.

17.

Li T, Zhai S, Pang Z, Ma X, Cao H, Bai W, Wang Z, Zhang WW. Feasibility and midterm outcomes of percutaneous transhepatic balloon angioplasty for symptomatic Budd–Chiari syndrome secondary to hepatic venous obstruction. J Vasc Surg. 2009;50(5):1079–84.

18.

Qi X, Tian Y, Zhang W, Yang Z, Guo X. Covered versus bare stents for transjugular intrahepatic portosystemic shunt: an updated meta-analysis of randomized controlled trials. Ther Adv Gastroenterol. 2017;10(1):32–41.

19.

Bureau C, Thabut D, Oberti F, Dharancy S, Carbonell N, Bouvier A, Mathurin P, Otal P, Cabarrou P, Péron JM, Vinel JP. Transjugular intrahepatic portosystemic shunts with covered stents increase transplant-free survival of patients with cirrhosis and recurrent ascites. Gastroenterology. 2017;152(1):157–63.

20.

Gandini R, Konda D, Simonetti G. Transjugular intrahepatic portosystemic shunt patency and clinical outcome in patients with Budd–Chiari syndrome: covered versus uncovered stents. Radidogy. 2006;241(1):298–305.

21.

Wang L, Xiao Z, Yue Z, Zhao H, Fan Z, Zhao M, He F, Dai S, Qiu B, Yao J, Lin Q, Dong X, Liu F. Efficacy of covered and bare stent in TIPS for cirrhotic portal hypertension: a single-center randomized trial. Sci Rep. 2016;6:21011.

22.

Li WD, Yu HY, Qian AM, Rong JJ, Zhang YQ, Li XQ. Risk factors for and causes and treatment of recurrence of inferior vena cava type of Budd–Chiari syndrome after stenting in China: a retrospective analysis of a large cohort. Eur Radiol. 2017;27(3):1227–37.
Acknowledgements
This project was supported by the Natural Science Foundation of Anhui Province (Grant No. 1708085QH218).
Ethics declarations
Conflict of interest
All authors declare that they have no conflict of interest.
Ethical Approval
All procedures were performed in accordance with the ethical standards of the responsible committee on human experimentation (institutional and national) and with the Helsinki Declaration of 1975, as revised in 2008 (5).
Informed Consent
Informed consent was obtained from all individual participants included in the study.
Additional information
Publisher's Note
Springer Nature remains neutral with regard to jurisdictional claims in published maps and institutional affiliations.
Electronic supplementary material
Below is the link to the electronic supplementary material.
About this article
Cite this article
Cheng, Dl., Xu, H., Li, Cl. et al. Interventional Treatment Strategy for Primary Budd–Chiari Syndrome with Both Inferior Vena Cava and Hepatic Vein Involvement: Patients from Two Centers in China. Cardiovasc Intervent Radiol 42, 1311–1321 (2019). https://doi.org/10.1007/s00270-019-02267-w
Received:

Accepted:

Published:

Issue Date:
Keywords
Budd–Chiari syndrome

Interventional treatment

Hepatic veins

Survival rate