Abstract
The sacroiliac joint is the culprit in 15–30% of patients with chronic lumbar back pain. Ablation of the posterior sensory nerves supplying the joint is an established treatment option before arthrodesis. We report the successful application of MR-HIFU in a patient with therapy–refractory pain using the Sonalleve MR-HIFU system. The outpatient procedure was performed under spinal anaesthesia and analgosedation. The ramus dorsalis of L5 as well as the lateral branches of the ramus dorsalis S1–S3 was targeted, and tissue peak temperature per sonication was controlled using MR-thermometry. There were no post-interventional complications. Clinical improvement began 4 days post-intervention with complete resolution of the pain after 1 month.
Access options
Buy single article
Instant access to the full article PDF.
US$ 39.95
Tax calculation will be finalised during checkout.
Subscribe to journal
Immediate online access to all issues from 2019. Subscription will auto renew annually.
US$ 79
Tax calculation will be finalised during checkout.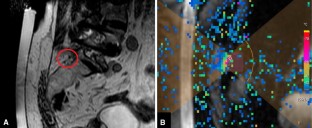 References
1.

Schwarzer AC, Aprill CN, Bogduk N. The sacroiliac joint in chronic low back pain. Spine (Phila Pa 1976). 1995;20:31–7.

2.

Sembrano JN, Polly DW. How often is low back pain not coming from the back? Spine (Phila Pa 1976). 2009;34:E27–32.

3.

Yoshihara H. Sacroiliac joint pain after lumbar/lumbosacral fusion: current knowledge. Eur Spine J. 2012;21(9):1788–96.

4.

Roberts SL, Burnham RS, Ravichandiran K, Agur AM, Loh EY. Cadaveric study of sacroiliac joint innervation: implications for diagnostic blocks and radiofrequency ablation. Reg Anesth Pain Med. 2014;39(6):456–64.

5.

Cheng J, Chen SL, Zimmerman N, Dalton JE, LaSalle G, Rosenquist R. A new radiofrequency ablation procedure to treat sacroiliac joint pain. Pain Physician. 2016;19(8):603–15.

6.

Kaye EA, Maybody M, Monette S, Solomon SB, Gulati A. Ablation of the sacroiliac joint using MR-guided high intensity focused ultrasound: a preliminary experiment in a swine model. J Ther Ultrasound. 2017;5:17.
Funding
The corresponding author receives funding from Philips for part-time (20%) dedicated research time.
Ethics declarations
Conflict of interest
The authors declare that they have no conflict of interest.
Informed Consent
Informed consent was obtained from all individual participants included in the study.
Additional information
Publisher's Note
Springer Nature remains neutral with regard to jurisdictional claims in published maps and institutional affiliations.
About this article
Cite this article
Najafi, A., Sartoretti, E. & Binkert, C.A. Sacroiliac Joint Ablation Using MR-HIFU. Cardiovasc Intervent Radiol 42, 1363–1365 (2019). https://doi.org/10.1007/s00270-019-02263-0
Received:

Accepted:

Published:

Issue Date:
Keywords
HIFU

SIJ

Chronic back pain

Nerve ablation