Abstract
Background
To evaluate risk factors of infection and effectiveness of preprocedural single-dose intravenous prophylactic antibiotic (PABX) during totally implantable venous access port (TIVAP) placement in preventing procedure-related infections.
Methods
This was a retrospective single-institution multicenter study evaluating short-term (30-day) infection outcomes after TIVAP placement. Correlation between infection rates and clinical factors, including hematologic versus non-hematologic malignancy, inpatient versus outpatient status, single versus double lumen and PABX, was investigated using univariate and multivariable analysis in the overall study population as well as the propensity-score-matched cohort.
Results
Overall, 5967 patients underwent TIVAP placement from 2005 to 2016, of which 3978 (67%) patients received PABX. On propensity score matching, 1952 patients with PABX were matched to the same number of patients without PABX. TIVAP was removed due to infection concern in 48 patients in unmatched and 30 patients in matched population. There was no difference in the rate of infection between those who received PABX and those who did not in both unmatched and matched population (p = 0.5387 and 0.9999). Although infection rate was significantly higher in patients who had TIVAP placement in inpatient setting (p < 0.0001), who received a double-lumen TIVAP (p < 0.0001), or who had hematologic malignancy (p = 0.0004) on univariate analysis, inpatient status was the sole factor associated with higher rate of TIVAP infection on multivariable analysis of both overall (odds ratio 2.31, p < 0.0001) and matched populations (odds ratio 4.36, p = 0.0004).
Conclusion
Placement of TIVAP in inpatient setting increases the risk of TIVAP infection. PABX before TIVAP placement does not prevent short-term procedure-related infections.
Access options
Buy single article
Instant access to the full article PDF.
US$ 39.95
Tax calculation will be finalised during checkout.
Subscribe to journal
Immediate online access to all issues from 2019. Subscription will auto renew annually.
US$ 79
Tax calculation will be finalised during checkout.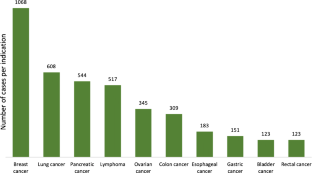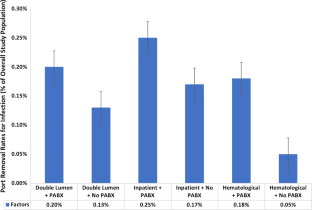 References
1.

Stocco JG, Hoers H, Pott FS, Crozeta K, Barbosa DA, Meier MJ. Second-Generation central venous catheter in the prevention of bloodstream infection: a systematic review. Rev Lat Am Enfermagem. 2016;24:e2722.

2.

Ji L, Yang J, Miao J, Shao Q, Cao Y, Li H. Infections related to totally implantable venous-access ports: long-term experience in one center. Cell Biochem Biophys. 2015;72:235–40.

3.

Silva TN, Marchi D, Mendes ML, Barretti P, Ponce D. Approach to prophylactic measures for central venous catheter-related infections in hemodialysis: a critical review. Hemodial Int. 2014;18:15–23.

4.

Yoshida J, Ishimaru T, Kikuchi T, Matsubara N, Asano I. Association between risk of bloodstream infection and duration of use of totally implantable access ports and central lines: a 24-month study. Am J Infect Control. 2011;39:e39–43.

5.

Covey AM, Toro-Pape FW, Thornton RH, et al. Totally implantable venous access device placement by interventional radiologists: Are prophylactic antibiotics necessary? J Vasc Interv Radiol. 2012;23:358–62.

6.

Karanlik H, Kurul S, Saip P, et al. The role of antibiotic prophylaxis in totally implantable venous access device placement: results of a single-center prospective randomized trial. Am J Surg. 2011;202:10–5.

7.

Di Carlo I, Toro A, Pulvirenti E, Palermo F, Scibilia G, Cordio S. Could antibiotic prophylaxis be not necessary to implant totally implantable venous access devices? Randomized prospective study. Surg Oncol. 2011;20:20–5.

8.

Johnson E, Babb J, Sridhar D. Routine antibiotic prophylaxis for totally implantable venous access device placement: meta-analysis of 2154 patients. J Vasc Interv Radiol 2016;27:339-43; quiz 44.

9.

Nelson ET, Gross ME, Mone MC, Hansen HJ, Nelson EW, Scaife CL. A survey of American College of Surgery fellows evaluating their use of antibiotic prophylaxis in the placement of subcutaneously implanted central venous access ports. Am J Surg. 2013;206:1034–40.

10.

Shim J, Seo TS, Song MG, et al. Incidence and risk factors of infectious complications related to implantable venous-access ports. Korean J Radiol. 2014;15:494–500.

11.

Lebeaux D, Fernandez-Hidalgo N, Chauhan A, et al. Management of infections related to totally implantable venous-access ports: challenges and perspectives. Lancet Infect Dis. 2014;14:146–59.

12.

Venkatesan AM, Kundu S, Sacks D, et al. Practice guidelines for adult antibiotic prophylaxis during vascular and interventional radiology procedures. Written by the Standards of Practice Committee for the Society of Interventional Radiology and Endorsed by the Cardiovascular Interventional Radiological Society of Europe and Canadian Interventional Radiology Association [corrected]. J Vasc Interv Radiol 2010;21:1611–30; quiz 31.

13.

Scaife CL, Gross ME, Mone MC, et al. Antibiotic prophylaxis in the placement of totally implanted central venous access ports. Am J Surg. 2010;200:719–23.

14.

Chang L, Tsai JS, Huang SJ, Shih CC. Evaluation of infectious complications of the implantable venous access system in a general oncologic population. Am J Infect Control. 2003;31:34–9.

15.

Hung KY, Tsai TJ, Yen CJ, Yen TS. Infection associated with double lumen catheterization for temporary haemodialysis: experience of 168 cases. Nephrol Dial Transplant. 1995;10:247–51.

16.

Unver S, Atasoyu EM, Evrenkaya TR, Ardic N, Ozyurt M. Risk factors for the infections caused by temporary double-Lumen hemodialysis catheters. Arch Med Res. 2006;37:348–52.

17.

Ryan JM, Ryan BM, Smith TP. Antibiotic prophylaxis in interventional radiology. J Vasc Interv Radiol. 2004;15:547–56.

18.

Pandey N, Chittams JL, Trerotola SO. Outpatient placement of subcutaneous venous access ports reduces the rate of infection and dehiscence compared with inpatient placement. J Vasc Interv Radiol. 2013;24:849–54.

19.

Groeger JS, Lucas AB, Thaler HT, et al. Infectious morbidity associated with long-term use of venous access devices in patients with cancer. Ann Intern Med. 1993;119:1168–74.

20.

Khayr W, Haddad RY, Noor SA. Infections in hematological malignancies. Disease-a-month: DM. 2012;58:239–49.

21.

Samaras P, Dold S, Braun J, et al. Infectious port complications are more frequent in younger patients with hematologic malignancies than in solid tumor patients. Oncology. 2008;74:237–44.

22.

Norrby SR. Side effects of cephalosporins. Drugs. 1987;34:105–20.

23.

Brothers TE, Von Moll LK, Niederhuber JE, Roberts JA, Walker-Andrews S, Ensminger WD. Experience with subcutaneous infusion ports in three hundred patients. Surg Gynecol Obstet. 1988;166:295–301.
Conflict of interest
The authors declare that they have no conflict of interest.
Additional information
Publisher's Note
Springer Nature remains neutral with regard to jurisdictional claims in published maps and institutional affiliations.
This retrospective study qualified for institutional review board waiver.
About this article
Cite this article
Nezami, N., Xing, M., Groenwald, M. et al. Risk Factors of Infection and Role of Antibiotic Prophylaxis in Totally Implantable Venous Access Port Placement: Propensity Score Matching. Cardiovasc Intervent Radiol 42, 1302–1310 (2019). https://doi.org/10.1007/s00270-019-02255-0
Received:

Accepted:

Published:

Issue Date:
Keywords
Port

Antibiotic

Prophylaxis

Infection

Removal

Central venous

Catheter