Abstract
Purpose
Assess the safety of inferior vena cava (IVC) filter retrieval in patients taking anticoagulation, compared to a non-anticoagulated cohort.
Materials and Methods
Single-centre retrospective analysis of patients who underwent IVC filter retrieval between January 2012 and February 2018. Information about patient demographics, anticoagulation, tilt, major and minor complications was collected. Major complications were defined as: IVC injury from the filter retrieval, retained fragment of filter, filter fracture and filter embolisation. Minor complications were defined as: neck haematoma and puncture site infection.
Results
Total of 357 patients (age 18–95, Male: 231) underwent IVC filter retrieval, comprising of Cook Celect Platinum, Cook Celect, and ALN-branded filters. Of these 182 patients were on anticoagulation and 175 patients were not on anticoagulation, based on the indication for the filter (thrombosis or prophylaxis) and at the discretion of the referring unit who were managing the anticoagulation. IVC filter retrieval was technically successful in 349 patients. Five major complications (1.4% of retrievals) were recorded and no minor complications (0% of retrievals). In the anticoagulation cohort, there were two major complications (1.1% of retrievals) both related to IVC injury. In the non-anticoagulated cohort, there were three major complications (1.7% of retrievals) relating to filter embolisation, IVC injury, and filter fracture.
Conclusions
IVC filter retrieval is a safe procedure with a low complication rate. Being on anticoagulation does not increase the risk of a major complication or change the management of major complication compared with a non-anticoagulated cohort. IVC filter retrieval is safe to perform in patients currently taking prophylactic or therapeutic anticoagulation based on our cohort.
Level of Evidence
Level 3, retrospective cohort study.
Access options
Buy single article
Instant access to the full article PDF.
US$ 39.95
Tax calculation will be finalised during checkout.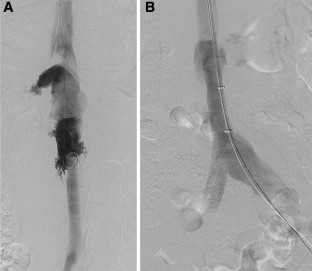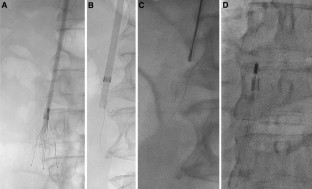 References
1.

White RH. The epidemiology of venous thromboembolism. Circulation. 2003;107(23):I-4–8.

2.

Gomez-Outes A, Terleira-Fernandez AI, Lecumberri R, et al. Direct oral anticoagulants in the treatment of acute venous thromboembolism: a systematic review and meta-analysis. [Review]. Thromb Res. 2014;134:774–82.

3.

Lee M, Valenti D, de Gregorio M, Minocha J, Rimon U, Pellerin O. The CIRSE retrievable IVC filter registry: retrieval success rates in practice. CVIR. 2015;38(6):1502–7.

4.

NICE G. Venous thromboembolic diseases: diagnosis, management and thrombophilia testing.  https://www.nice.org.uk/guidance/cg144/chapter/Recommendations#treatment-2 (2015). Accessed 20 June 2018.

5.

Blebea J, Wilson R, Waybill P, Neumyer MM, Blebea JS, Anderson KM, et al. Deep venous thrombosis after percutaneous insertion of vena caval filters. J Vasc Surg 1999. 1999;30(5):821–9.

6.

Patel I, Davidson J, Nikolic B, Salazar J, Schwartzberg M, Walker T, et al. Consensus guidelines for periprocedural management of coagulation status and hemostasis risk in percutaneous image-guided interventions. JVIR. 2012;23(6):727–36.

7.

Patel I, Davidson J, Nikolic B, Salazar J, Schwartzberg M, Walker T, et al. Addendum of newer anticoagulants to the SIR consensus guideline. JVIR. 2013;24(5):641–5.

8.

Al-Hakim R, Kee ST, Olinger K, Lee EW, Moriarty JM, McWilliams JP. Inferior vena cava filter retrieval: effectiveness and complications of routine and advanced techniques. J Vasc Interv Radiol 2014. 2014;25(6):933–9.

9.

Semaan D, Esq MR, Burgin A, Harb A. Abstract No 391—Inferior vena cava filter tilt and its future clinical implications: a community based practices experience. J Vasc Interv Radiol 2013. 2013;24(4, Supplement):S166.

10.

Goldstein L, Adams R, Becker K, Furberg C, Gorelick P, Hademenos G, et al. Primary prevention of ischemic stroke a statement for healthcare professionals from the stroke council of the American Heart Association. Circulation. 2001;103(1):163–82.

11.

Lee JT, Goh GS, Joseph T, Koukounaras J, Phan T, Clements W. Prolonged balloon tamponade in the initial management of inferior vena cava injury following complicated filter retrieval, without the need for surgery. J Med Imaging Radiat Oncol. 2018;62:810–3. https://doi.org/10.1111/1754-9485.12758.

12.

Dinglasan LAV, Oh JC, Schmitt JE, Trerotola SO, Shlansky-Goldberg R, Stavropoulos SW. Complicated inferior vena cava filter retrievals: associated factors identified at preretrieval CT. Radiology. 2013;266(1):347–54.

13.

Desai K, Laws J, Salem R, Mouli S, Errea M, Karp J, et al. Defining prolonged dwell time: When are advanced inferior vena cava filter retrieval techniques necessary? an analysis in 762 procedures. Circ Cardiovasc Interv. 2017;10(6):e003957.
Acknowledgements
The team would like to acknowledge the following Consultant Interventional Radiologists who were also involved in the management of these patients: Dr. Jim Koukounaras, Dr. Tim Joseph, Dr. Tuan Phan, Dr. Kelvin Stribley and A/Prof Stuart Lyon.
Funding
This study was not supported by any funding.
Ethics declarations
Conflict of interest
The authors declare that they have no conflict of interest.
Consent for Publication
For this type of study, consent for publication is not required.
Ethical Approval
Approval was obtained by The Alfred Human Research and Ethics Committee prior to performing this study.
Informed Consent
For this type of study, formal consent is not required.
Additional information
Publisher's Note
Springer Nature remains neutral with regard to jurisdictional claims in published maps and institutional affiliations.
About this article
Cite this article
Kassamali, R.H., Burlak, K., Lee, J.T.L. et al. The Safety of Continuing Therapeutic Anticoagulation During Inferior Vena Cava Filter Retrieval: A 6-Year Retrospective Review from a Tertiary Centre. Cardiovasc Intervent Radiol 42, 1110–1116 (2019). https://doi.org/10.1007/s00270-019-02254-1
Received:

Accepted:

Published:

Issue Date:
Keywords
Interventional radiology

IVC filter

Anticoagulation

Complication

Haemorrhage