Abstract
Purpose
To report the initial clinical experience with fully endovascular extra-anatomic femoro-popliteal bypass (FPB) for limb salvage in patients with critical limb ischemia (CLI) and no traditional endovascular or surgical revascularization options.
Methods
Between June 2013 and May 2018, endovascular procedure was proposed for limb salvage during multidisciplinary team meeting in fifteen hospitalized patients (median age 67 years; 73% men) with CLI and a high risk of major amputation. Primary outcome was amputation-free survival at 1 year. Secondary outcomes included mortality, cardiovascular (CV) events and major limb amputation at 1 year, primary/secondary bypass patency and wound healing at the last follow-up visit. Procedure-related complications (deaths, CV events, hemorrhages) were recorded through 30 days.
Results
Technical procedure success rate was 100%. Major peri-procedural outcomes occurred in two patients (13%): One patient died secondary to cardiogenic shock; one patient suffered acute coronary syndrome associated with iliopsoas bleeding. No major amputation occurred through 30 days. Median follow-up period was 21.5 (18.25–45.5) months (last follow-up visits on April 2019). Amputation-free survival at 1-year and at the last follow-up visit was 80% and 53%, respectively. Cumulative mortality at 1-year and at the last follow-up visit was 13% and 33%, respectively. Primary and secondary bypass patency was 27% and 60%, respectively. Complete wound healing was achieved in 11 patients (73%).
Conclusion
Endovascular extra-anatomic FPB represents an innovative approach for limb salvage in CLI with no traditional endovascular or surgical revascularization options. Our clinical experience highlights that this technique remains challenging because of frequent comorbidities and fragility of this patient population.
Level of Evidence
Level 4, Case series.
Access options
Buy single article
Instant access to the full article PDF.
US$ 39.95
Tax calculation will be finalised during checkout.
Subscribe to journal
Immediate online access to all issues from 2019. Subscription will auto renew annually.
US$ 79
Tax calculation will be finalised during checkout.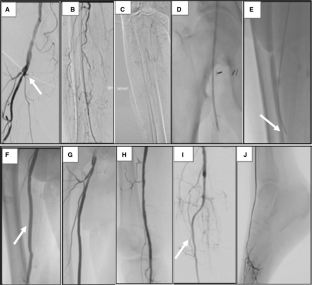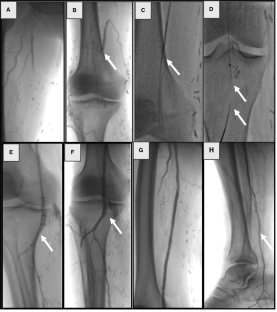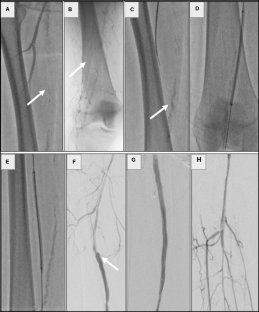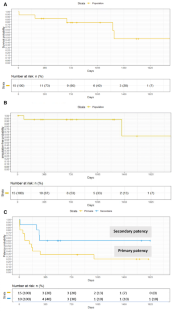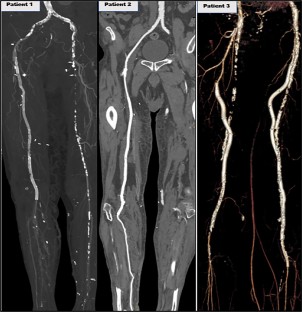 References
1.

Constans J, Bura-Rivière A, Visona A, Brodmann M, Abraham P, Olinic DM, Madaric J, Steiner S, Quéré I, Mazzolai L, Belch J, Heiss C, Pécsvárady Z, Roztocil K, Colgan MP, Vasic D, Gottsäter A, Dimakakos E, Chraim A, Poredoš P, Carpentier PH, Wautrecht JC, Stanek A, Boc V. Urgent need to clarify the definition of chronic critical limb ischemia–a position paper from the European Society for Vascular Medicine. Vasa. 2018;19:1–5.

2.

Abu Dabrh AM, Steffen MW, Undavalli C, Asi N, Wang Z, Elamin MB, Conte MS, Murad MH. The natural history of untreated severe or critical limb ischemia. J Vasc Surg. 2015;62:1642–51.

3.

Aboyans V, Ricco JB, Bartelink MEL, Björck M, Brodmann M, Cohnert T, Collet JP, Czerny M, De Carlo M, Debus S, Espinola-Klein C, Kahan T, Kownator S, Mazzolai L, Naylor AR, Roffi M, Röther J, Sprynger M, Tendera M, Tepe G, Venermo M, Vlachopoulos C, Desormais I, Document Reviewers, Widimsky P, Kolh P, Agewall S, Bueno H, Coca A, De Borst GJ, Delgado V, Dick F, Erol C, Ferrini M, Kakkos S, Katus HA, Knuuti J, Lindholt J, Mattle H, Pieniazek P, Piepoli MF, Scheinert D, Sievert H, Simpson I, Sulzenko J, Tamargo J, Tokgozoglu L, Torbicki A, Tsakountakis N, Tuñón J, de Ceniga MV, Windecker S, Zamorano JL. Editor's choice–2017 ESC guidelines on the diagnosis and treatment of peripheral arterial diseases, in collaboration with the European Society for Vascular Surgery (ESVS). Eur J Vasc Endovasc Surg. 2018; 55:305–68.

4.

Marston WA, Davies SW, Armstrong B, Farber MA, Mendes RC, Fulton JJ, Keagy BA. Natural history of limbs with arterial insufficiency and chronic ulceration treated without revascularization. J Vasc Surg. 2006;44:108–14.

5.

Varu VN, Hogg ME, Kibbe MR. Critical limb ischemia. J Vasc Surg. 2010;51:230–41.

6.

Santema TB, Stoekenbroek RM, van Loon J, Koelemay MJ, Ubbink DT. Not all patients with critical limb ischaemia require revascularisation. Eur J Vasc Endovasc Surg. 2017;53:371–9.

7.

Bolia A, Miles KA, Brennan J, Bell PR. Percutaneous transluminal angioplasty of occlusions of the femoral and popliteal arteries by subintimal dissection. Cardiovasc Intervent Radiol. 1990;13:357–63.

8.

Troisi N, Turini F, Chisci E, Ercolini L, Frosini P, Lombardi R, Falciani F, Baggiore C, Anichini R, Michelagnoli S. Pedal arch patency and not direct-angiosome revascularization predicts outcomes of endovascular interventions in diabetic patients with critical limb ischemia. Int Angiol. 2017;36:438–44.

9.

Mills JL Sr, Conte MS, Armstrong DG, Pomposelli FB, Schanzer A, Sidawy AN, Andros G. The society for vascular surgery lower extremity threatened limb classification system: risk stratification based on wound, ischemia, and foot infection (WIfI). J Vasc Surg. 2014;59:220–34.

10.

Norgren L, Hiatt WR, Dormandy JA, Nehler MR, Harris KA, Fowkes FG. Inter-society consensus for the management of peripheral arterial disease (TASC II). J Vasc Surg. 2007;45(Suppl. S):S5e67.

11.

Farber A, Eberhardt RT. The current state of critical limb Ischemia: a systematic review. JAMA Surg. 2016;151:1070–7.

12.

Conte MS. Bypass versus angioplasty in severe ischaemia of the leg (BASIL) and the (hoped for) dawn of evidence-based treatment for advanced limb ischemia. J Vasc Surg. 2010;51(5 Suppl):69S–75S.

13.

Greenblatt DY, Rajamanickam V, Mell MW. Predictors of surgical site infection after open lower extremity revascularization. J Vasc Surg. 2011;54:433–9.

14.

Sigvant B, Kragsterman B, Falkenberg M, Hasvold P, Johansson S, Thuresson M, Nordanstig J. Contemporary cardiovascular risk and secondary preventive drug treatment patterns in peripheral artery disease patients undergoing revascularization. J Vasc Surg. 2016;64:1009.

15.

Benoit E, O'Donnell TF Jr, Kitsios GD, Iafrati MD. Improved amputation-free survival in unreconstructable critical limb ischemia and its implications for clinical trial design and quality measurement. J Vasc Surg. 2012;55:781–9.
Ethics declarations
Conflict of interest
The authors declare that they have no conflict of interest.
Consent for Publication
Consent for publication was obtained for every individual person's data included in the study.
Disclosures
The authors are solely responsible for the design and conduct of this study, all study analyses, the drafting and editing of this paper and its final contents.
Ethical Approval
For this type of study, formal consent is not required.
Informed Consent
Informed consent was obtained from all individual participants included in the study.
Additional information
Publisher's Note
Springer Nature remains neutral with regard to jurisdictional claims in published maps and institutional affiliations.
About this article
Cite this article
Di Primio, M., Angelopoulos, G., Lazareth, I. et al. Endovascular Extra-Anatomic Femoro-Popliteal Bypass for Limb Salvage in Chronic Critical Limb Ischemia. Cardiovasc Intervent Radiol 42, 1279–1292 (2019). https://doi.org/10.1007/s00270-019-02253-2
Received:

Accepted:

Published:

Issue Date:
Keywords
Critical limb ischemia

Endovascular revascularization

Femoro-popliteal bypass

Limb salvage