Abstract
Introduction
The Medical Devices Regulation (MDR) 2017/745/EU will fully apply from May 2020. Interventional radiologists use medical devices on a daily basis and so must be aware of the impact that this new regulation will have on their daily practice.
Materials and Methods
In this paper, we describe the major transformation that the MDR brings to the medical devices sector, with a focus on clinical evaluations and clinical investigations.
Results
This regulation significantly tightens controls to ensure that devices are safe and effective. In addition, equivalence to already existing devices, which allowed an accelerated access to the market, will now be possible only in some cases. Furthermore, post-marketing clinical follow-up is extended under the MDR and is required for all devices. These new requirements will probably lead to a dramatic increase in the number of clinical investigations and also to a delay in the availability of certain devices on the market.
Conclusions
In the coming years, interventional radiologists are likely to be affected by these changes in their daily practice, in terms of medical device availability and/or in terms of increased involvement in clinical investigations.
Access options
Buy single article
Instant access to the full article PDF.
US$ 39.95
Tax calculation will be finalised during checkout.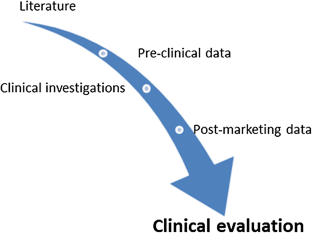 References
1.

Council Directive 93/42/EEC of 14 June 1993 concerning medical devices. Official Journal of The European Communities L 169, 12.7.1993; 1–43. n.d. https://eur-lex.europa.eu/legal-content/EN/ALL/?uri=celex%3A31993L0042 Accessed 21 Oct 2018.

2.

Council Directive 90/385/EEC of 20 June 1990 on the approximation of the laws of the Member States relating to active implantable medical devices. vol. OJ L. 1990.

3.

Directive 98/79/EC of the European Parliament and of the Council of 27 October 1998 on in vitro diagnostic medical devices. vol. OJ L. 1998.

4.

French-Mowat E, Burnett J. How are medical devices regulated in the European Union? J R Soc Med. 2012;105:S22–S28. https://doi.org/10.1258/jrsm.2012.120036.

5.

Regulation (EU) 2017/745 of the European Parliament and of the Council of 5 April 2017 on medical devices, amending Directive 2001/83/EC, Regulation (EC) No 178/2002 and Regulation (EC) No 1223/2009 and repealing Council Directives 90/385/EEC and 93/42/EEC. vol. 117. 2017.

6.

Regulation (EU) 2017/746 of the European Parliament and of the Council of 5 April 2017 on in vitro diagnostic medical devices and repealing Directive 98/79/EC and Commission Decision 2010/227/EU. vol. 117. 2017.

7.

Miller V, Clark E. The European Union: a guide to terminology, procedures and sources. SN/IA/3689. House of Commons Library; 2010.

8.

Article 288 of the Treaty on the Functioning of the European Union, Official Journal C 326, 26.10.2012; 1–390.

9.

Migliore A. On the new regulation of medical devices in Europe. Expert Rev Med Devices. 2017;14:921–3. https://doi.org/10.1080/17434440.2017.1407648.

10.

Bianco S, Nunziata A, Pozzoli G. Clinical investigations on medical devices, after the new European regulation (2017/745). Clin Trial Pract Open J. 2017;1:10–4.

11.

Gliklich RE, Dreyer NA, Leavy MB. Registries for medical devices. Agency for Healthcare Research and Quality (US); 2014.
Ethics declarations
Conflict of interest
On behalf of all authors, the corresponding author states that there is no conflict of interest.
Additional information
Publisher's Note
Springer Nature remains neutral with regard to jurisdictional claims in published maps and institutional affiliations.
About this article
Cite this article
Martelli, N., Eskenazy, D., Déan, C. et al. New European Regulation for Medical Devices: What Is Changing?. Cardiovasc Intervent Radiol 42, 1272–1278 (2019). https://doi.org/10.1007/s00270-019-02247-0
Received:

Revised:

Accepted:

Published:

Issue Date:
Keywords
Medical device

Regulation

Clinical investigation

CE mark