Abstract
Purpose
To examine the feasibility of a novel technology platform that enables real-time touchless interaction with radiology images in both a simulated and an actual clinical setting.
Materials and Methods
This platform offers three different modes for image interaction. The gesture recognition mode uses a depth camera to detect the user's hand gestures which are translated to image manipulation commands. The light projection mode uses the same camera to detect finger point-and-tap movements above the icons which are projected on a surface to activate the commands. The capacitive sensing mode is enabled by a handheld, portable device, over which finger movements are detected by capacitive sensors to control the image review. Following initial feedback, light projection and capacitive sensing modes were selected for further testing by comparing with the conventional mode of image interaction in time trials for performing a series of standardized image manipulation tasks. Finally, the usability of the technology platform was examined in actual clinical procedures.
Results
The light projection and the capacitive sensing modes were evaluated in the time trials and exhibited 60% and 71% reduction in time, respectively, relative to the control mode (p < 0.001). Clinical feasibility for this platform was demonstrated in three actual interventional radiology cases.
Conclusion
Accessing, navigating, and extracting relevant information from patient images intraprocedurally are cumbersome and time-consuming tasks that affect safety, efficiency, and decision-making during image-guided procedures. This study demonstrated that the novel technology addressed this issue by allowing touchless interaction with these images in the sterile field.
This is a preview of subscription content, log in to check access.
Access options
Buy single article
Instant access to the full article PDF.
US$ 39.95
Price includes VAT for USA
Subscribe to journal
Immediate online access to all issues from 2019. Subscription will auto renew annually.
US$ 99
This is the net price. Taxes to be calculated in checkout.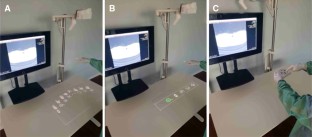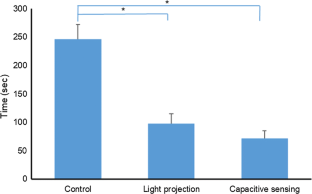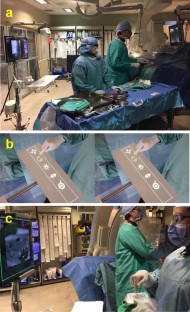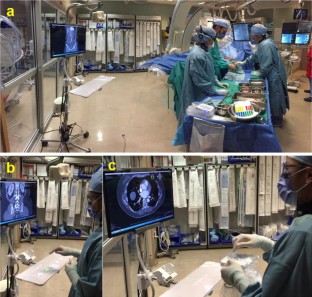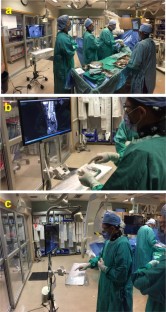 References
1.

Ratib O. Imaging informatics: from image management to image navigation. Yearb Med Inform. 2009;18(01):167–72.

2.

Mewes A, Hensen B, Wacker F, et al. Touchless interaction with software in interventional radiology and surgery. A systematic literature review. Int J Comput Assist Radiol Surg. 2017;12(2):291–305.

3.

Iannessi A, Marcy P-Y, Clatz O, et al. Touchless intra-operative display for interventional radiologist. Diagn Interv Imaging. 2014;95(3):333–7.

4.

Rosset A, Spadola L, Pysher L, et al. Informatics in radiology (infoRAD). Navigating the fifth dimension: innovative interface for multidimensional multimodality image navigation. Radiographics. 2006;26(1):299–308.

5.

Grätzel C, Fong T, Grange S, et al. A non-contact mouse for surgeon-computer interaction. Technol Health Care. 2004;12(3):245–57.

6.

Lingard L, Espin S, Whyte S, et al. Communication failures in the operating room. An observational classification of recurrent types and effects. Qual Saf Health Care. 2004;13(5):330–4.

7.

Firth-Cozens J. Why communication fails in the operating room. Qual Saf Health Care. 2004;13(5):327.

8.

Johnson R, O'Hara K, Sellen A, et al. Exploring the potential for touchless interaction. In: Proceedings of ACM CHI; 2011. p. 3323–3332.

9.

O'Hara K, Gonzales G, Sellen A, et al. Touchless interaction in surgery. Commun ACM. 2014;57(1):71–7.

10.

Hettig J, Saalfeld P, Luz M, Becker M, Skalej M, Hansen C. Comparison of gesture and conventional interaction techniques for interventional neuroradiology. Int J Comput Assist Radiol Surg. 2017;12(9):1643–53.

11.

Strickland M, Tremaine J, Brigley G, et al. Using a depth-sensing infrared camera system to access and manipulate medical imaging from within the sterile operating field. Can J Surg. 2013;56(3):E1–6.

12.

Tan JH, Chao C, Zawaideh M, et al. Informatics in radiology. Developing a touchless user interface for intraoperative image control during interventional radiology procedures. Radiographics. 2013;33(2):E61–70.

13.

Bizzotto N, Costanzo A, Bizzotto L, et al. Leap motion gesture control with OsiriX in the operating room to control imaging. First experiences during live surgery. Surg Innov. 2014;21(6):655–6.

14.

Weichert F, Bachmann D, Rudak B, et al. Analysis of the accuracy and robustness of the leap motion controller. Sensors (Basel, Switzerland). 2013;13(5):6380–93.

15.

Sánchez-Margallo FM, Sánchez-Margallo JA, et al. Use of natural user interfaces for image navigation during laparoscopic surgery: initial experience. Minim Invasive Ther Allied Technol. 2017;26(5):253–61.

16.

Guna J, Jakus G, et al. An analysis of the precision and reliability of the leap motion sensor and its suitability for static and dynamic tracking. Sensors. 2014;14(2):3702–20.

17.

Rosa GM, Elizondo ML. Use of a gesture user interface as a touchless image navigation system in dental surgery: case series report. Imaging Sci Dent. 2014;44(2):150–60.

18.

TIPSO Beam: https://nztech.ca/tipso-beam/. Accessed 2 Jan 2019.

19.

TIPSO AirPad: https://nztech.ca/tipso-airpad/. Accessed 2 Jan 2019.

20.

Punt MM, Stefels CN, Grimbergen CA, Dankelman J. Evaluation of voice control, touch panel control and assistant control during steering of an endoscope. Minim Invasive Ther Allied Technol. 2005;14(3):181–7.
Ethics declarations
Conflict of interest
JC and DML are advisors of NZ Technologies Inc.
Ethical Approval
All procedures performed in studies involving human participants were in accordance with the ethical standards of the institutional and/or national research committee and with the 1964 Helsinki Declaration and its later amendments or comparable ethical standards.
Informed Consent
Informed consent was obtained from all individual participants included in the study.
Consent for Publication
Consent for publication was obtained for every individual person's data included in the study.
Additional information
Publisher's Note
Springer Nature remains neutral with regard to jurisdictional claims in published maps and institutional affiliations.
About this article
Cite this article
Chung, J., Liu, D.M. Experimental Assessment of a Novel Touchless Interface for Intraprocedural Imaging Review. Cardiovasc Intervent Radiol 42, 1192–1198 (2019). https://doi.org/10.1007/s00270-019-02207-8
Received:

Accepted:

Published:

Issue Date:
Keywords
Touchless image navigation

Human–computer interaction

PACS

Interventional radiology