Abstract
A two-vessel Ch-EVAR procedure was scheduled within the instructions for use of the devices. After deploying, it appeared that the long sheath inserted through an arm access was discovered to be trapped behind the aortic stentgraft barbs. Trying to remove the sheath, the graft was displaced upward and the procedure was converted for a three-vessel Ch-EVAR incorporating the superior mesenteric artery. Simultaneous ballooning of the target vessels and the stentgraft permitted to exert a strong pullback traction on the blocked sheath, allowing its removal. A segment of the sheath distal end was left trapped in the aortic stentgraft. At 12 months follow-up, the patient is free of any complications and there are no occlusions of the abdominal visceral branches or embolic events in peripheral arteries.
Access options
Buy single article
Instant access to the full article PDF.
USD 39.95
Price includes VAT (USA)
Tax calculation will be finalised during checkout.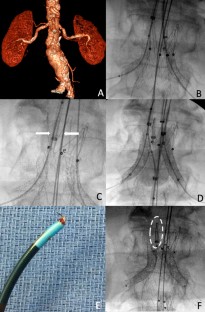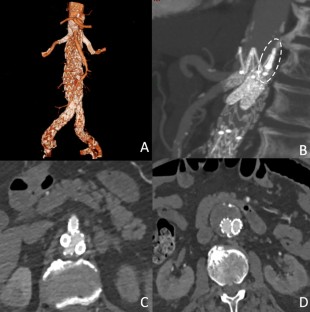 References
1.

Donas KP, Lee JT, Lachat M, et al. PERICLES investigators. Collected world experience about the performance of the snorkel/chimney endovascular technique in the treatment of complex aortic pathologies: the PERICLES registry. Ann Surg. 2015;262(3):546–53.

2.

Donas KP, Torsello GB, Piccoli G, et al. The PROTAGORAS study to evaluate the performance of the Endurant stent graft for patients with pararenal pathologic processes treated by the chimney/snorkel endovascular technique. J Vasc Surg. 2016;63(1):1–7.

3.

Scali ST, Beck AW, Torsello G, et al. Identification of optimal device combinations for the chimney endovascular aneurysm repair technique within the PERICLES registry. J Vasc Surg. 2018;68:24–35.

4.

Coscas R, Kobeiter H, Desgranges P, Becquemin J-P. Technical aspects, current indications, and results of chimney grafts for juxtarenal aortic aneurysms. J Vasc Surg. 2011;53(6):1520–7.

5.

Pecoraro F, Veith FJ, Puippe G, et al. Mid- and longer-term follow up of chimney and/or periscope grafts and risk factors for failure. Eur J Vasc Endovasc Surg. 2016;51(5):664–73.

6.

Reyes A, Donas KP, Pitoulias G, et al. Complementary role of fenestrated/branched endografting and the chimney technique in the treatment of pararenal aneurysms after open abdominal aortic repair. J Endovasc Ther. 2016;23(4):599–605.

7.

Li Y, Hu Z, Bai C, et al. Fenestrated and chimney technique for juxtarenal aortic aneurysm: a systematic review and pooled data analysis. Sci Rep. 2016;12(6):20497.

8.

Ben Abdallah I, El Batti S, Abou-Rjeili M, et al. Open conversion after endovascular abdominal aneurysm repair: an 8 year single centre experience. Eur J Vasc Endovasc Surg. 2017;53(6):831–6.
Ethics declarations
Conflict of interest
Raphaël Coscas has been consultant for the following companies: Medtronic Inc, Bard Inc, Terumo Inc, Gore Inc, Spectranetics and Abbott Vascular Inc.
Additional information
Publisher's Note
Springer Nature remains neutral with regard to jurisdictional claims in published maps and institutional affiliations.
About this article
Cite this article
Jayet, J., Bounkong, G., Sylvestre, R. et al. A Very Unlucky Intraoperative Event During a Chimney Technique for Juxtarenal Aneurysm Exclusion. Cardiovasc Intervent Radiol 42, 1036–1040 (2019). https://doi.org/10.1007/s00270-019-02197-7
Received:

Accepted:

Published:

Issue Date:
Keywords
Juxtarenal aortic aneurysm

Chimney technique

Endovascular aneurysm repair