Abstract
Introduction
The purpose of this observational study is to report the 12-month clinical outcomes with the novel Multiple Stent Delivery System (MSDS) to treat complex femoropopliteal lesions. Previously, we reported the 6-month clinical outcomes of the all-comers LOCOMOTIVE study, which demonstrated the safety and efficacy of the MSDS with a favorable target lesion revascularization (TLR) rate of 5.3% and a 90.7% patency rate at 6 months in claudicants and critical limb ischemia patients. The 12-month outcomes of LOCOMOTIVE registry are presented in this report. ClinicalTrials.gov Identifier: NCT02531230.
Methods
The LOCOMOTIVE study (Multi-LOC for flOw liMiting Outcomes after POBA and/or DCB Treatment in the infrainguinal position with the objecIVE to implant multiple stent segments) investigates the efficacy and safety of the MSDS approach in an all-comers population. Clinical follow-ups at 6 and 12 months are scheduled to assess TLR, ABI, and vessel patency based on sonographic imaging.
Results
At 12 months, the primary unassisted patency was 85.7% and all-cause TLR rate was 9.3% in the overall cohort. Between baseline and 12 months, the target leg ABI increased from 0.62 ± 0.24 to 0.91 ± 0.38 (p < 0.001) and the mean Rutherford class improved from 3.5 to 1.9 (p < 0.001).
Conclusions
Over a 12-month post-procedural period, MSDS for focal provisional stenting of complex femoropopliteal lesions demonstrated a promising primary patency and freedom from TLR after 12 months. In addition, significant improvements were observed in symptom classification and hemodynamics.
This is a preview of subscription content, log in to check access.
Access options
Buy single article
Instant access to the full article PDF.
US$ 39.95
Price includes VAT for USA
Subscribe to journal
Immediate online access to all issues from 2019. Subscription will auto renew annually.
US$ 99
This is the net price. Taxes to be calculated in checkout.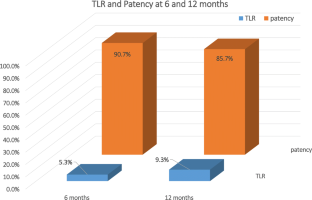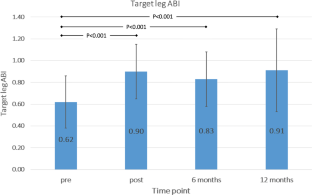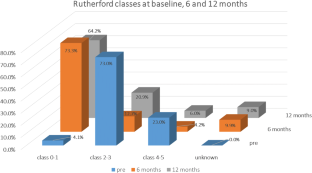 References
1.

Jaff MR, White CJ, Hiatt WR, et al. An update on methods for revascularization and expansion of the TASC lesion classification to include below- the-knee arteries: a supplement to the inter-society consensus for the management of peripheral arterial disease (TASC II): the TASC steering committee. Catheter Cardiovasc Interv. 2015;86:611–25.

2.

Tendera M, Aboyans V, Bartelink ML, et al. European Stroke Organisation; ESC Committee for Practice Guidelines. ESC Guidelines on the diagnosis and treatment of peripheral artery diseases: document covering atherosclerotic disease of extracranial carotid and vertebral, mesenteric, renal, upper and lower extremity arteries: the Task Force on the Diagnosis and Treatment of Peripheral Artery Diseases of the European Society of Cardiology (ESC). Eur Heart J. 2011;32:2851–906.

3.

Lawall H, Huppert P, Espinola-Klein C, et al. German guideline on the diagnosis and treatment of peripheral artery disease—a comprehensive update 2016. Vasa. 2017;46:79–86.

4.

Scheinert D. Treatment paradigms for the superficial femoral artery: are they a-changin? JACC Cardiovasc Interv. 2012;5(3):339–40.

5.

Shishehbor MH, Jaff MR. Percutaneous therapies for peripheral artery disease. Circulation. 2016;134(24):2008–27.

6.

Amendt K, Beschorner U, Waliszewski M, et al. First clinical experience with the multi-LOC multiple stent delivery system for focal stenting in long femoro-popliteal lesions. Vasa. 2017;46(6):452–61.

7.

Diehm N, Pattynama PM, Jaff MR, et al. Clinical endpoints in peripheral endovascular revascularization trials: a case for standardized definitions. Eur J Vasc Endovasc Surg. 2008;36(4):409–19.

8.

Sigl M, Dudeck O, Jung J, et al. Multiple stent delivery system multi-LOC, a new technology for spot-stenting of the femoropopliteal artery—proof of concept study in a preclinical large animal model. Vasa. 2017;46(6):446–51.

9.

Weinstock B. Covered stents in the treatment of superficial femoral artery disease. Vasc Dis Manag. 2014;11(4):E76–86.

10.

Hong SJ, Ko YG, Shin DH, et al. Outcomes of spot stenting versus long stenting after intentional subintimal approach for long chronic total occlusions of the femoropopliteal artery. JACC Cardiovasc Interv. 2015;8(3):472–80.

11.

Schmidt A, Piorkowski M, Görner H, et al. Drug-coated balloons for complex femoropopliteal lesions: 2-year results of a real-world registry. JACC Cardiovasc Interv. 2016;9(7):715–24.

12.

Werk M, Albrecht T, Meyer DR, et al. Paclitaxel-coated balloons reduce restenosis after femoro-popliteal angioplasty: evidence from the randomized PACIFIER trial. Circ Cardiovasc Interv. 2012;5(6):831–40.

13.

Scheinert D, Duda S, Zeller T, et al. The LEVANT I (Lutonix paclitaxel-coated balloon for the prevention of femoropopliteal restenosis) trial for femoropopliteal revascularization: first-in-human randomized trial of low-dose drug-coated balloon versus uncoated balloon angioplasty. JACC Cardiovasc Interv. 2014;7(1):10–9.

14.

Tepe G, Zeller T, Albrecht T, et al. Local delivery of paclitaxel to inhibit restenosis during angioplasty of the leg. N Engl J Med. 2008;358(7):689–99.

15.

Scheinert D, Schulte KL, Zeller T, et al. Paclitaxel-releasing balloon in femoropopliteal lesions using a BTHC excipient: twelve-month results from the BIOLUX P-I randomized trial. J Endovasc Ther. 2015;22(1):14–21.

16.

Tepe G, Gögebakan Ö, Redlich U, et al. Angiographic and clinical outcomes after treatment of femoro-popliteal lesions with a novel paclitaxel-matrix-coated balloon catheter. Cardiovasc Intervent Radiol. 2017;40(10):1535–44.

17.

Lin TC, Huang CY, Chen PL, et al. Edge stenosis after covered stenting for long superficial femoral artery occlusive disease: risk factor analysis and prevention with drug-coated balloon angioplasty. J Endovasc Ther. 2018;25(3):313–9.

18.

Laird JR, Katzen BT, Scheinert D, et al. RESILIENT investigators. Nitinol stent implantation versus balloon angioplasty for lesions in the superficial femoral artery and proximal popliteal artery: twelve-month results from the RESILIENT randomized trial. Circ Cardiovasc Interv. 2010;3(3):267–76.

19.

Yokoi H, Ohki T, Kichikawa K, et al. Zilver PTX post-market surveillance study of paclitaxel-eluting stents for treating femoropopliteal artery disease in Japan: 12-month results. JACC Cardiovasc Interv. 2016;9(3):271–7.

20.

Dake MD, Ansel GM, Jaff MR, et al. Zilver PTX investigators. Durable clinical effectiveness with paclitaxel-eluting stents in the femoropopliteal artery: 5-year results of the zilver PTX randomized trial. Circulation. 2016;133(15):1472–83.

21.

Bosiers M, Scheinert D, Hendriks JM, et al. TOBA investigators. Results from the Tack Optimized Balloon Angioplasty (TOBA) study demonstrate the benefits of minimal metal implants for dissection repair after angioplasty. J Vasc Surg. 2016;64(1):109–16.

22.

Garcia LA, Rosenfield KR, Metzger CD, et al. SUPERB investigators. SUPERB final 3-year outcomes using interwoven nitinol biomimetic supera stent. Catheter Cardiovasc Interv. 2017;89(7):1259–67.

23.

Bhatt H, Kovach R, Janzer S, et al. SUPERA stent outcomes in Above-The-Knee IntervEntions: effects of COMPression and ELongation (SAKE-COMPEL) Sub-study. Cardiovasc Revasc Med. 2017;19:512.
Acknowledgements
This research could not have been conducted without the help of Denny Herberger at Medical Scientific Affairs B.Braun, Berlin for his logistic support to obtain ethics approvals.
Funding
This study was funded by B.Braun on a milestone basis per included patient and available follow-ups at 6 and 12 months. The study was designed conjointly by the coordinating investigator and the funding body. Data were analyzed by a third party statistician and interpretation of the data was conducted by the coordinating investigator (KA). The first draft of the paper was prepared by MS and MW.
Ethics declarations
Conflict of interest
KA and RL have received lecturer honoraria and research grants from B.Braun to conduct this study. MW is a full-time employee in the Medical Scientific Affairs department of B.Braun Melsungen AG, Vascular Systems, Berlin/Germany. TZ received honoraria from Abbott Vascular, Bard Peripheral Vascular, Biotronik, Boston Scientific Corp., Cook Medical, Gore and Associates, Medtronic, Philips-Spectranetics, TriReme, Veryan, Shockwave, Biotronik, QT Medical and consulted for Boston Scientific Corp., Cook Medical, Gore and Associates, Medtronic, Spectranetics, and B.Braun.
Ethical Approval
All procedures performed in studies involving human participants were in accordance with the ethical standards of the institutional and/or national research committee and with the 1964 Helsinki declaration and its later amendments or comparable ethical standards.
Informed Consent
Informed consent was obtained from all individual participants included in the study. This study has obtained IRB approval from the Ethics Committee University Heidelberg/Mannheim and an informed consent was reviewed and authorized by this lead ethics committee and all other ethics committees that were responsible for the participating centers.
Consent for Publication
Consent for publication was obtained for every individual person's data included in the study. There are no individual data of adult patients in any form published in this report.
About this article
Cite this article
Sigl, M., Beschorner, U., Zeller, T. et al. Focal Stenting of Complex Femoropopliteal Lesions with the Multi-LOC Multiple Stent Delivery System: 12-Month Results of the Multicenter LOCOMOTIVE Study. Cardiovasc Intervent Radiol 42, 169–175 (2019). https://doi.org/10.1007/s00270-018-2095-9
Received:

Accepted:

Published:

Issue Date:
Keywords
Femoropopliteal lesions

Multiple stent segments

Target lesion revascularization

Patency