Abstract
Ablation of paraspinal lesions close to the spinal canal and neuroforamina requires protective measures in order to protect the spinal cord and nerve roots. Various methods of protection have been previously described including infusion of saline and CO2. Regardless, neuromonitoring should be adjunctively performed when ablating spinal lesions close to neuronal structures. Balloon protection has been previously described during ablation of renal masses. The benefit of balloon protection in paraspinal mass ablation is it physically displaces the nerve roots as opposed to CO2 or saline which has the potential to insulate but because of its aerosolized or fluid nature may or may not provide definitive continuous protection throughout an ablation. This report details three paraspinal lesions, two of which were successfully ablated with the use of a balloon placed in the epidural space to provide protection to the spinal cord and nerve roots.
Access options
Buy single article
Instant access to the full article PDF.
USD 39.95
Price excludes VAT (USA)
Tax calculation will be finalised during checkout.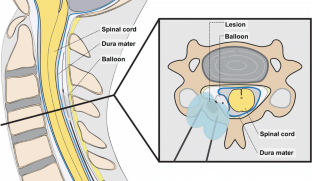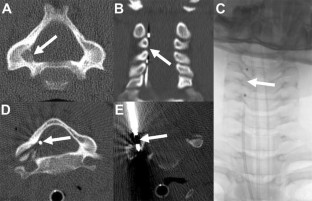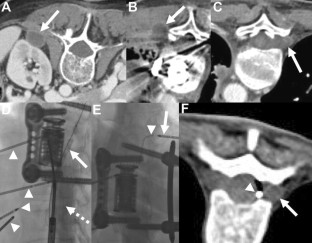 References
Tomasian A, Wallace A, Northrup B, et al. Spine Cryoablation: pain palliation and local tumor control for vertebral metastases. AJNR Am J Neuroradiol. 2016;37(1):189–95.

Nakatsuka A, Yamakado K, Takaki H, et al. Percutaneous radiofrequency ablation of painful spinal tumors adjacent to the spinal cord with real-time monitoring of spinal canal temperature: a prospective study. Cardiovasc Interv Radiol. 2009;32(1):70–5.

Gangi A, Alizadeh H, Wong L, et al. Osteoid osteoma: percutaneous laser ablation and follow-up in 114 patients. Radiology. 2007;242(1):293–301.

Doctor JR, Solanski SL, Patil VP, et al. Novel use of epidural catheter: air injection for neuroprotection during radiofrequency ablation of spinal osteoid osteoma. Saudi J Anaesth. 2016;10(3):347–9.

Tan AL, Deutsch H. Thermal injury of thoracic spinal cord after percutaneous cryoablation of spinal tumor—when needles are more dangerous than the knife. Br J Neurosurg. 2015;29(3):443.

Wallace AN, Hillen TJ, Friedman MV, et al. Percutaneous spinal ablation in a sheep model: protective capacity of an intact cortex, correlation of ablation parameters with ablation zone size, and correlation of postablation MRI and pathologic findings. AJNR Am J Neuroradiol. 2017;38(8):1653–9.

Gibbs IC. Spinal and paraspinal lesions: the role of stereotactic body radiotherapy. Front Radiat Ther Oncol. 2007;40:407–14.

Callstrom MR, Charboneau JW, Goetz MP, et al. Image-guided ablation of painful metastatic bone tumors: a new and effective approach to a difficult problem. Skelet Radiol. 2006;35(1):1–15.

Havez M, Lippa N, Al-Ammari S, et al. Percutaneous image-guided cryoablation in inoperable extra-abdominal desmoid tumors: a study of tolerability and efficacy. Cardiovasc Interv Radiol. 2014;37(6):1500–6.

de Freitas RM, de Menezes MR, Cerri GG, et al. Sclerotic vertebral metastases: pain palliation using percutaneous image-guided cryoablation. Cardiovasc Interv Radiol. 2011;34(Suppl 2):S294–9.

Vanderschueren GM, Taminiau AH, Obermann WR, et al. Osteoid osteoma: clinical results with thermocoagulation. Radiology. 2002;224(1):82–6.

Dupuy DE, Hong R, Oliver B, et al. Radiofrequency ablation of spinal tumors: temperature distribution in the spinal canal. Am J Roentgenol. 2000;175(5):1263–6.

Nuwer MR, Dawson EG, Carlson LG, et al. Somatosensory evoked potential spinal cord monitoring reduces neurologic deficits after scoliosis surgery: results of a large multicenter survey. Electroencephalogr Clin Neurophysiol/Evoked Potentials Sect. 1995;96(1):6–11.

Vanický I, Marsala M, Galik J, et al. Epidural perfusion cooling protection against protracted spinal cord ischemia in rabbits. J Neurosurg. 1993;79(5):736–41.

Casas CE, Herrera LP, Prusmack C, et al. Effects of epidural hypothermic saline infusion on locomotor outcome and tissue preservation after moderate thoracic spinal cord contusion in rats. J Neurosurg Spine. 2005;2(3):308–18.

Vanicky I, Urdzikova L, Saganova K, et al. A simple and reproducible model of spinal cord injury induced by epidural balloon inflation in the rat. J Neurotrauma. 2001;18(12):1399–407.

Lim JH, Jung CS, Byeon YE, et al. Establishment of a canine spinal cord injury model induced by epidural balloon compression. J Vet Sci. 2007;8(1):89–94.
Ethics declarations
Conflict of interest
The authors whose names are listed immediately below certify that they have NO affiliations with or involvement in any organization or entity with any financial interest (such as honoraria; educational grants; participation in speakers' bureaus; membership, employment, consultancies, stock ownership, or other equity interest; and expert testimony or patent-licensing arrangements), or nonfinancial interest (such as personal or professional relationships, affiliations, knowledge or beliefs) in the subject matter or materials discussed in this manuscript.
Ethical Approval
All procedures performed in studies involving human participants were in accordance with the ethical standards of the institutional and/or national research committee and with the 1964 Helsinki declaration and its later amendments or comparable ethical standards.
Informed Consent
Informed consent was obtained from all individual participants included in the study.
About this article
Cite this article
Chick, J.F.B., Srinivasa, R.N., Johnson, E. et al. Epidural Balloon Placement for Protection of the Spinal Canal During Cryoablation of Paraspinal Lesions. Cardiovasc Intervent Radiol 41, 350–354 (2018). https://doi.org/10.1007/s00270-017-1815-x
Received:

Accepted:

Published:

Issue Date:

DOI: https://doi.org/10.1007/s00270-017-1815-x
Keywords
Epidural balloon protection

Cryoablation

Spinal tumor

Paraspinal mass