Abstract
Purpose
Dedicated tumor feeding vessel detection software (TFVDS) using cone beam CT has shown a higher sensitivity to detect tumor feeding vessels during hepatic arterial embolization (HAE) of hepatocellular carcinoma (HCC) compared to 2D imaging. Our primary hypothesis was that HCC tumors treated with HAE guided by a TFVDS would show more complete response (CR) than when treated with 2D imaging alone. Secondary analysis of the impact on X-ray exposure was performed.
Materials and Methods
Nineteen males and 8 females (median age: 69 year, 46–85) with 44 tumors (median size: 38 mm, 6–100) treated with selective HAE between January 2013 and December 2014 were included. Exclusion criteria were: extra-hepatic supply, >4 tumors, tumor size >10 cm, and adjunctive local therapy. Baseline patient and procedure characteristics were reviewed. Differences in CR per modified Response Evaluation Criteria in Solid Tumors were assessed by univariate and multivariate analyses for tumor size, number, location, particles size, and use of TFVDS.
Results
Median imaging follow-up was 20.1 months (2–33). Use of TFVDS (13 patients, 19 tumors) was the only factor predictive of CR (OR = 3.85 [CI95%: 1.09, 13.67], p = 0.04) on univariate analysis but not on multivariate analysis (OR = 3.26 [0.87, 12.23], p = 0.08). A higher rate of CR was observed for HAE using TFVDS guidance versus 2D imaging alone (68.4%, 13–19, vs. 36%, 9–25, p = 0.03). Median dose area product was lower when TFVDS was used (149.7 Gy.cm2, 38–365, vs. 227.8 Gy.cm2, 85.3–468.6, p = 0.05).
Conclusions
HCC embolized with TFVDS may result in improved local tumor response without increasing the dose exposure.
This is a preview of subscription content, log in to check access.
Access options
Buy single article
Instant access to the full article PDF.
US$ 39.95
Price includes VAT for USA
Subscribe to journal
Immediate online access to all issues from 2019. Subscription will auto renew annually.
US$ 99
This is the net price. Taxes to be calculated in checkout.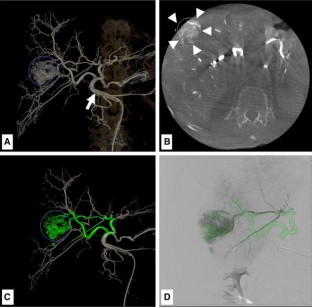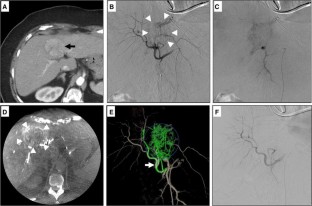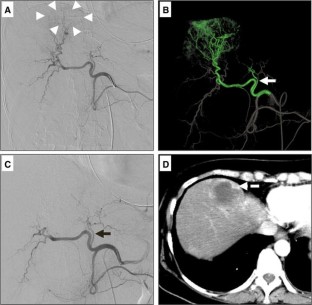 References
1.

Mauri G, Varano GM, Orsi F. TAE for HCC: when the old way is better than the new ones!!! Cardiovasc Intervent Radiol. 2016;39(6):799–800.

2.

Bonomo G, Pedicini V, Monfardini L, et al. Bland embolization in patients with unresectable hepatocellular carcinoma using precise, tightly size-calibrated, anti-inflammatory microparticles: first clinical experience and one-year follow-up. Cardiovasc Intervent Radiol. 2010;33(3):552–9.

3.

Bonomo G, Della Vigna P, Monfardini L, et al. Combined therapies for the treatment of technically unresectable liver malignancies: bland embolization and radiofrequency thermal ablation within the same session. Cardiovasc Intervent Radiol. 2012;35(6):1372–9.

4.

Racadio JM, Babic D, Homan R, et al. Live 3D guidance in the interventional radiology suite. AJR Am J Roentgenol. 2007;189(6):W357–64.

5.

Iwazawa J, Ohue S, Hashimoto N, Muramoto O, Mitani T. Survival after C-arm CT-assisted chemoembolization of unresectable hepatocellular carcinoma. Eur J Radiol. 2012;81(12):3985–92.

6.

Ronot M, Abdel-Rehim M, Hakime A, et al. Cone-beam CT angiography for determination of tumor-feeding vessels during chemoembolization of liver tumors: comparison of conventional and dedicated-software analysis. J Vasc Interv Radiol. 2016;27(1):32–8.

7.

Tacher V, Radaelli A, Lin M, Geschwind JF. How I do it: cone-beam CT during transarterial chemoembolization for liver cancer. Radiology. 2015;274(2):320–34.

8.

Pellerin O, Lin M, Bhagat N, Shao W, Geschwind JF. Can C-arm cone-beam CT detect a micro-embolic effect after TheraSphere radioembolization of neuroendocrine and carcinoid liver metastasis? Cancer Biother Radiopharm. 2013;28(6):459–65.

9.

Bapst B, Lagadec M, Breguet R, Vilgrain V, Ronot M. Cone beam computed tomography (CBCT) in the field of interventional oncology of the liver. Cardiovasc Intervent Radiol. 2016;39(1):8–20.

10.

Deschamps F, Solomon SB, Thornton RH, et al. Computed analysis of three-dimensional cone-beam computed tomography angiography for determination of tumor-feeding vessels during chemoembolization of liver tumor: a pilot study. Cardiovasc Intervent Radiol. 2010;33(6):1235–42.

11.

Iwazawa J, Ohue S, Hashimoto N, Mitani T. Comparison of the number of image acquisitions and procedural time required for transarterial chemoembolization of hepatocellular carcinoma with and without tumor-feeder detection software. Radiol Res Pract. 2013;2013:580839.

12.

European Association for the Study of the Liver. EASL-EORTC clinical practice guidelines: management of hepatocellular carcinoma. Eur J Cancer (Oxford, England: 1990). 2012;48(5):599–641.

13.

Brown KT, Do RK, Gonen M, et al. Randomized trial of hepatic artery embolization for hepatocellular carcinoma using doxorubicin-eluting microspheres compared with embolization with microspheres alone. J Clin Oncol Off J Am Soc Clin Oncol. 2016;34(17):2046–53.

14.

Facciorusso A, Bellanti F, Villani R, et al. Transarterial chemoembolization vs bland embolization in hepatocellular carcinoma: a meta-analysis of randomized trials. United Eur Gastroenterol J. 2017;5(4):511–8.

15.

Massarweh NN, Davila JA, El-Serag HB, et al. Transarterial bland versus chemoembolization for hepatocellular carcinoma: rethinking a gold standard. J Surg Res. 2016;200(2):552–9.

16.

Wang X, Erinjeri JP, Jia X, et al. Pattern of retained contrast on immediate postprocedure computed tomography (CT) after particle embolization of liver tumors predicts subsequent treatment response. Cardiovasc Intervent Radiol. 2013;36(4):1030–8.

17.

Jung E, Kim J, Yoon E, et al. The optimal tumor response assessment in patients with HCC after treatment of TACE. J Clin Oncol Off J Am Soc Clin Oncol. 2011;29(4_suppl):215.

18.

Kothary N, Takehana C, Mueller K, et al. watershed hepatocellular carcinomas: the risk of incomplete response following transhepatic arterial chemoembolization. J Vasc Interv Radiol. 2015;26(8):1122–9.

19.

Vincenzi B, Di Maio M, Silletta M, et al. Prognostic relevance of objective response according to EASL criteria and mRECIST criteria in hepatocellular carcinoma patients treated with loco-regional therapies: a literature-based meta-analysis. PLoS ONE. 2015;10(7):e0133488.

20.

Basile A, Carrafiello G, Ierardi A, Tsetis D, Brountzos E. Quality-improvement guidelines for hepatic transarterial chemoembolization. Cardiovasc Intervent Radiol. 2012;35:765–74.

21.

Miyayama S, Yamashiro M, Hashimoto M, et al. Identification of small hepatocellular carcinoma and tumor-feeding branches with cone-beam CT guidance technology during transcatheter arterial chemoembolization. J Vasc Interv Radiol. 2013;24(4):501–8.

22.

Minami Y, Yagyu Y, Murakami T, Kudo M. Tracking navigation imaging of transcatheter arterial chemoembolization for hepatocellular carcinoma using three-dimensional cone-beam CT angiography. Liver Cancer. 2014;3(1):53–61.
Acknowledgements
The authors thank Gregoire Avignon, Clinical Research Engineer at GE Healthcare, for his technical support.
Funding
This study was funded in part through the NIH/NCI Cancer Center Support Grant P30 CA008748.
Ethics declarations
Conflict of interest
The authors declare that they have no conflict of interest.
Ethical Approval
All procedures performed in studies involving human participants were in accordance with the ethical standards of the institutional and/or national research committee and with the 1964 Helsinki Declaration and its later amendments or comparable ethical standards.
Informed Consent
Informed consent was waived for all individual participants included in the study.
About this article
Cite this article
Cornelis, F.H., Borgheresi, A., Petre, E.N. et al. Hepatic Arterial Embolization Using Cone Beam CT with Tumor Feeding Vessel Detection Software: Impact on Hepatocellular Carcinoma Response. Cardiovasc Intervent Radiol 41, 104–111 (2018). https://doi.org/10.1007/s00270-017-1758-2
Received:

Accepted:

Published:

Issue Date:
Keywords
Hepatic arterial embolization

Cone beam computed tomography

Automated vessel tracking

Tumor response