Abstract
Purpose
To compare effectiveness of transarterial chemoembolization (TACE) combined with microwave ablation (MWA; TACE–MWA) with TACE alone for treating hepatocellular carcinoma (HCC) tumors ≤5 cm.
Materials and Methods
We reviewed data of 244 patients treated for HCC by TACE–MWA or TACE from June 2014 to December 2015. Median follow-up period was 505 days (TACE–MWA group: 485 days; TACE group: 542 days). Patients were propensity score matched (1:2 ratio); outcomes of TACE–MWA and TACE groups were compared. Primary endpoints were tumor responses, including tumor necrosis rates after initial treatment, tumor responses at 6 months [per modified Response Evaluation Criteria in Solid Tumors (mRECIST)], and time to tumor progression (TTP). Secondary endpoints were overall survival (OS) and re-intervention times.
Results
After initial treatments, tumor necrosis rates were higher in the TACE–MWA group (n = 48; 92.1% [58/63]) than the TACE group (n = 96; 46.3% [56/121]; P < 0.001). At 6 months' follow-up, the TACE–MWA group had better tumor responses (CR + PR + SD [per mRECIST]: TACE–MWA, 95.8%; TACE, 64.5%; P < 0.001). The TACE–MWA group had better TTP (P < 0.001), but did not significantly differ in OS (P = 0.317). TACE–MWA decreased re-TACE times from 1.90 to 0.52; and re-MWA times from 0.22 to 0.17. In subgroup analysis, TACE–MWA also showed better TTP in patients with tumors ≤3 cm (P < 0.001) and 3–5 cm (P = 0.004).
Conclusions
Compared with TACE, TACE–MWA leads to better responses for HCC tumors ≤5 cm.
This is a preview of subscription content, log in to check access.
Access options
Buy single article
Instant access to the full article PDF.
US$ 39.95
Price includes VAT for USA
Subscribe to journal
Immediate online access to all issues from 2019. Subscription will auto renew annually.
US$ 99
This is the net price. Taxes to be calculated in checkout.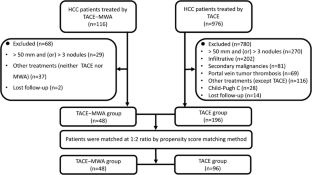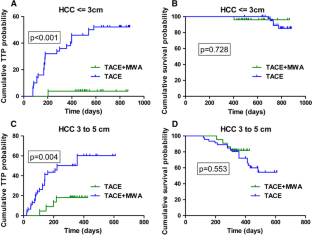 References
1.

Forner A, Llovet JM, Bruix J. Hepatocellular carcinoma. Lancet. 2012;379:1245–55.

2.

Poon RT, Fan ST, Lo CM, Liu CL, Wong J. Intrahepatic recurrence after curative resection of hepatocellular carcinoma: long-term results of treatment and prognostic factors. Ann Surg. 1999;229:216–22.

3.

Minagawa M, Makuuchi M, Takayama T, Kokudo N. Selection criteria for repeat hepatectomy in patients with recurrent hepatocellular carcinoma. Ann Surg. 2003;238:703–10.

4.

Bhardwaj N, Strickland AD, Ahmad F, El-Abassy M, Morgan B, Robertson GS, et al. Microwave ablation for unresectable hepatic tumours: clinical results using a novel microwave probe and generator. Eur J Surg Oncol. 2010;36:264–8.

5.

Poulou LS, Botsa E, Thanou I, Ziakas PD, Thanos L. Percutaneous microwave ablation vs radiofrequency ablation in the treatment of hepatocellular carcinoma. World J Hepatol. 2015;7:1054–63.

6.

Lo CM, Ngan H, Tso WK, Liu CL, Lam CM, Poon RT, et al. Randomized controlled trial of transarterial lipiodol chemoembolization for unresectable hepatocellular carcinoma. Hepatology. 2002;35:1164–71.

7.

Llovet JM, Real MI, Montana X, Planas R, Coll S, Aponte J, et al. Arterial embolisation or chemoembolisation versus symptomatic treatment in patients with unresectable hepatocellular carcinoma: a randomised controlled trial. Lancet. 2002;359:1734–9.

8.

Hashimoto T, Nakamura H, Hori S, Tomoda K, Nakanishi K, Murakami T, et al. Hepatocellular carcinoma: efficacy of transcatheter oily chemoembolization in relation to macroscopic and microscopic patterns of tumor growth among 100 patients with partial hepatectomy. Cardiovasc Interv Radiol. 1995;18:82–6.

9.

Xu LF, Sun HL, Chen YT, Ni JY, Chen D, Luo JH, et al. Large primary hepatocellular carcinoma: transarterial chemoembolization monotherapy versus combined transarterial chemoembolization-percutaneous microwave coagulation therapy. J Gastroenterol Hepatol. 2013;28:456–63.

10.

Terzi E, Piscaglia F, Forlani L, Mosconi C, Renzulli M, Bolondi L, et al. TACE performed in patients with a single nodule of hepatocellular carcinoma. BMC Cancer. 2014;14:601.

11.

Dai WC, Cheung TT, Chok KS, Chan AC, Sharr WW, Tsang SH, et al. Radiofrequency ablation versus transarterial chemoembolization for unresectable solitary hepatocellular carcinomas sized 5–8 cm. HPB (Oxford). 2015;17:226–31.

12.

Yin X, Zhang L, Wang YH, Zhang BH, Gan YH, Ge NL, et al. Transcatheter arterial chemoembolization combined with radiofrequency ablation delays tumor progression and prolongs overall survival in patients with intermediate (BCLC B) hepatocellular carcinoma. BMC Cancer. 2014;14:849.

13.

Ahmed M, Technology Assessment Committee of the Society of Interventional R. Image-guided tumor ablation: standardization of terminology and reporting criteria—a 10-year update: supplement to the consensus document. J Vasc Interv Radiol. 2014;25:1706–8.

14.

Rosenbaum PR, Rubin DB. The central role of the propensity score in observational studies for causal effects. Biometrika. 1983;70:41–55.

15.

Hansen BB. Full matching in an observational study of coaching for the SAT. J Am Stat Assoc. 2004;99(467):609–18.

16.

Lencioni R, Llovet JM. Modified RECIST (mRECIST) assessment for hepatocellular carcinoma. Semin Liver Dis. 2010;30:52–60.

17.

Song MJ, Bae SH, Lee JS, Lee SW, Song do S, You CR, et al. Combination transarterial chemoembolization and radiofrequency ablation therapy for early hepatocellular carcinoma. Korean J Intern Med. 2016;31:242–52.

18.

European Association for the Study of the Liver, European Organisation for Research and Treatment of Cancer. EASL-EORTC clinical practice guidelines: management of hepatocellular carcinoma. J Hepatol. 2012;56:908–43.

19.

Bolondi L, Burroughs A, Dufour JF, Galle PR, Mazzaferro V, Piscaglia F, et al. Heterogeneity of patients with intermediate (BCLC B) Hepatocellular Carcinoma: proposal for a subclassification to facilitate treatment decisions. Semin Liver Dis. 2012;32:348–59.

20.

Liu C, Liang P, Liu F, Wang Y, Li X, Han Z, et al. MWA combined with TACE as a combined therapy for unresectable large-sized hepotocellular carcinoma. Int J Hyperth. 2011;27:654–62.

21.

Ding J, Jing X, Liu J, Wang Y, Wang F, Wang Y, et al. Comparison of two different thermal techniques for the treatment of hepatocellular carcinoma. Eur J Radiol. 2013;82:1379–84.

22.

Abdelaziz A, Elbaz T, Shousha HI, Mahmoud S, Ibrahim M, Abdelmaksoud A, et al. Efficacy and survival analysis of percutaneous radiofrequency versus microwave ablation for hepatocellular carcinoma: an Egyptian multidisciplinary clinic experience. Surg Endosc. 2014;28:3429–34.

23.

Kim JW, Kim JH, Sung KB, Ko HK, Shin JH, Kim PN, et al. Transarterial chemoembolization vs. radiofrequency ablation for the treatment of single hepatocellular carcinoma 2 cm or smaller. Am J Gastroenterol. 2014;109:1234–40.
Ethics declarations
Conflict of interest
On behalf of all of the authors, the corresponding author states that there are no conflicts of interest.
Informed Consent
Informed consent was obtained from all individual participants included in the study.
About this article
Cite this article
Chen, Q., Jia, Z., Yang, Z. et al. Transarterial Chemoembolization Monotherapy Versus Combined Transarterial Chemoembolization–Microwave Ablation Therapy for Hepatocellular Carcinoma Tumors ≤5 cm: A Propensity Analysis at a Single Center. Cardiovasc Intervent Radiol 40, 1748–1755 (2017). https://doi.org/10.1007/s00270-017-1736-8
Received:

Accepted:

Published:

Issue Date:
Keywords
Hepatocellular carcinoma

Transarterial chemoembolization

Microwave ablation

Propensity analysis

≤5 cm