Abstract
Purpose
To report outcomes of intra-arterial thrombolysis versus non-thrombolytic management of severe frostbite with respect to digital amputation rates and hospital length of stay (LOS).
Materials and Methods
Seventeen patients with severe frostbite were identified from 2000 to 2017. Eight (47%) patients with mean age of 40 years underwent intra-arterial thrombolysis and served as the treatment group. Nine (53%) patients with mean age of 53 years received non-thrombolytic management and served as the control group. 2/8 (25%) treatment and 3/9 (33%) control patients had underlying vascular comorbidities (p = 0.25). Number of digits at risk, duration of thrombolysis, thrombolytic agents used, digits amputated, hospital LOS, and complications were recorded.
Results
Seven upper and nine lower extremities for a total of 80 digits were at risk in the treatment cohort. Eight upper and 12 lower extremities for a total of 100 digits were at risk in the control group. Mean duration of thrombolysis was 26 h. All treatment patients received tissue plasminogen activator in addition to systemic heparin. 4/16 (25%) limbs received intra-arterial alprostadil, 2/16 (13%) received nitroglycerin, and 2/16 (13%) received nicardipine. 12/80 (15%) treatment digits and 77/100 (77%) control digits required amputation (p = 0.003). Average hospital LOS was 14 days in the treatment group and 38 days in the control group (p = 0.011). No major complications occurred in the treatment group; however, 2/9 (22%) patients in the control group required extended hospitalizations secondary to amputation complications.
Conclusions
Intra-arterial thrombolysis reduces digital amputation rates and hospital LOS in the setting of severe frostbite.
This is a preview of subscription content, log in to check access.
Access options
Buy single article
Instant access to the full article PDF.
US$ 39.95
Price includes VAT for USA
Subscribe to journal
Immediate online access to all issues from 2019. Subscription will auto renew annually.
US$ 99
This is the net price. Taxes to be calculated in checkout.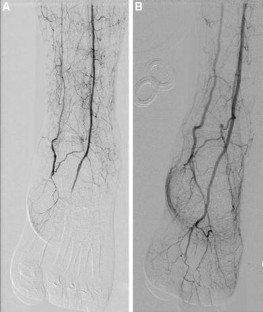 Abbreviations
tPA:

Tissue plasminogen activator

LOS:

Length of stay

ICD:

International Statistical Classification of Diseases and Related Health Problems

ICU:

Intensive care unit

CT:

Computed tomography

INR:

International normalized ratio
References
1.

Handford C, Buxton P, Russell K, Imray CE, McIntosh SE, Freer L, et al. Frostbite: a practical approach to hospital management. Extreme Physiol Med. 2014;3:7.

2.

McCauley RL, Heggers JP, Robson MC. Frostbite: methods to minimize tissue loss. Postgrad Med. 1990;88(8):67–8 73–7.

3.

Petrone P, Kuncir EJ, Asensio JA. Surgical management and strategies in the treatment of hypothermia and cold injury. Emerg Med Clin N Am. 2003;21(4):1165–78.

4.

McCauley RL, Hing DN, Robson MC, Heggers JP. Frostbite injuries: a rational approach based on the pathophysiology. J Trauma. 1983;23(2):143–7.

5.

Salimi Z, Wolverson MK, Herbold DR, Vas W, Salimi A. Treatment of frostbite with i.v. streptokinase: an experimental study in rabbits. AJR Am J Roentgenol. 1987;149(4):773–6.

6.

Gonzaga T, Jenabzadeh K, Anderson CP, Mohr WJ, Endorf FW, Ahrenholz DH. Use of intra-arterial thrombolytic therapy for acute treatment of frostbite in 62 patients with review of thrombolytic therapy in frostbite. J Burn Care Res Off Publ Am Burn Assoc. 2016;37(4):e323–34.

7.

Ingram BJ, Raymond TJ. Recognition and treatment of freezing and nonfreezing cold injuries. Curr Sports Med Rep. 2013;12(2):125–30.

8.

Mohr WJ, Jenabzadeh K, Ahrenholz DH. Cold injury. Hand Clin. 2009;25(4):481–96.

9.

Twomey JA, Peltier GL, Zera RT. An open-label study to evaluate the safety and efficacy of tissue plasminogen activator in treatment of severe frostbite. J Trauma. 2005;59(6):1350–5.

10.

Bruen KJ, Ballard JR, Morris SE, Cochran A, Edelman LS, Saffle JR. Reduction of the incidence of amputation in frostbite injury with thrombolytic therapy. Arch Surg Chic Ill 1960. 2007;142(6):546–53.

11.

Tavri S, Ganguli S, Bryan RG, Goverman J, Liu R, Irani Z, et al. Catheter-directed intraarterial thrombolysis as part of a multidisciplinary management protocol of frostbite injury. J Vasc Interv Radiol JVIR. 2016;27(8):1228–35.

12.

Omary RA, Bettmann MA, Cardella JF, Bakal CW, Schwartzberg MS, Sacks D, et al. Quality improvement guidelines for the reporting and archiving of interventional radiology procedures. J Vasc Interv Radiol JVIR. 2002;13(9 Pt 1):879–81.

13.

Valnicek SM, Chasmar LR, Clapson JB. Frostbite in the prairies: a 12-year review. Plast Reconstr Surg. 1993;92(4):633–41.

14.

Cauchy E, Cheguillaume B, Chetaille E. A controlled trial of a prostacyclin and rt-PA in the treatment of severe frostbite. N Engl J Med. 2011;364(2):189–90.

15.

McIntosh SE, Opacic M, Freer L, Grissom CK, Auerbach PS, Rodway GW, et al. Wilderness medical society practice guidelines for the prevention and treatment of frostbite: 2014 update. Wilderness Environ Med. 2014;25(4):S43–54.

16.

Huynh TN, Kleerup EC, Wiley JF, Savitsky TD, Guse D, Garber BJ, et al. The frequency and cost of treatment perceived to be futile in critical care. JAMA Intern Med. 2013;173(20):1887–94.
Ethics declarations
Conflict of interest
The authors whose names are listed immediately below certify that they have NO affiliations with or involvement in any organization or entity with any financial interest (such as honoraria; educational grants; participation in speakers' bureaus; membership, employment, consultancies, stock ownership, or other equity interest; and expert testimony or patent-licensing arrangements), or non-financial interest (such as personal or professional relationships, affiliations, knowledge or beliefs) in the subject matter or materials discussed in this manuscript.
About this article
Cite this article
Patel, N., Srinivasa, D.R., Srinivasa, R.N. et al. Intra-arterial Thrombolysis for Extremity Frostbite Decreases Digital Amputation Rates and Hospital Length of Stay. Cardiovasc Intervent Radiol 40, 1824–1831 (2017). https://doi.org/10.1007/s00270-017-1729-7
Received:

Accepted:

Published:

Issue Date:
Keywords
Frostbite

Hypothermic injury

Cold injury

Thrombolysis

Endovascular therapy

Extremity frostbite

Digital amputation

Interventional radiology

Plastic surgery