Abstract
Introduction/Purpose
Sharp recanalization of chronic venous occlusions is usually performed with targeting of wire-capture devices like loop snares or balloons. We describe sharp recanalization of chronic venous occlusions using self-expanding stents and vascular plugs.
Material and Methods
We retrospectively reviewed all sharp venous recanalization procedures performed over an 11-month period and found Wallstent and Amplatzer vascular plug (AVP) targeting was performed in 16 patients. Patient demographics, occlusion site, targeting device, technical success of the targeting, and overall procedural success were recorded.
Results
Technical success was achieved in twelve (86%) Wallstent and two (67%) AVP deployments. Procedural success was achieved in 15 (94%). Three minor complications occurred.
Conclusion
Wallstent and AVP targeting may be a useful technique when performing sharp recanalization for chronic venous occlusions. These devices expand the target space and present the same cross section viewed from any angle and can directly capture and extract the wire, features helpful in regions with crowded vascular anatomy.
Access options
Buy single article
Instant access to the full article PDF.
US$ 39.95
Tax calculation will be finalised during checkout.
Subscribe to journal
Immediate online access to all issues from 2019. Subscription will auto renew annually.
US$ 79
Tax calculation will be finalised during checkout.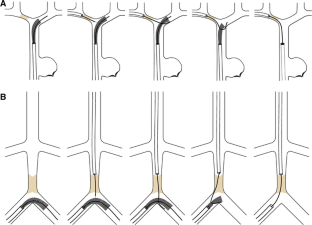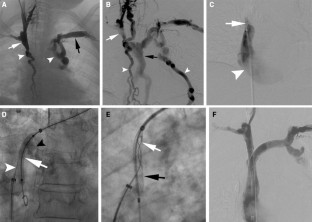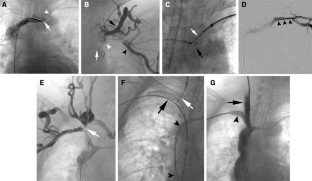 Abbreviations
AVP:

Amplatzer vascular plug

IVC:

Inferior vena cava

SVC:

Superior vena cava
References
1.

Porter D, Rundback JH, Miller S. Sharp recanalization using a subintimal reentry device, angioplasty, and stent placement for severely symptomatic iliofemoral deep venous thrombosis secondary to congenital aplasia of the inferior vena cava. J Vasc Interv Radiol. 2010;21(11):1765–9.

2.

Amin P, Sharafuddin MJ, Laurich C, Nicholson RM, Sun RC, Roh S, Kresowik TF, Sharp WJ. Anatomic bifurcated reconstruction of chronic bilateral innominate-superior vena cava occlusion using the Y-stenting technique. Ann Vasc Surg. 2012;26(2):276.e5–9.

3.

Anil G, Taneja M. Revascularization of an occluded brachiocephalic vein using Outback-LTD re-entry catheter. J Vasc Surg. 2010;52(4):1038–40.

4.

Arabi M, Ahmed I, Mat'hami A, Ahmed D, Aslam N. Sharp central venous recanalization in hemodialysis patients: a single-institution experience. Cardiovasc Intervent Radiol. 2016;39(6):927–34.

5.

Athreya S, Scott P, Annamalai G, Edwards R, Moss J, Robertson I. Sharp recanalization of central venous occlusions: a useful technique for haemodialysis line insertion. Br J Radiol. 2009;82(974):105–8.

6.

Beathard GA, Eradat J. Chronically occluded arteriovenous fistula salvaged by sharp needle recanalization. Semin Dial. 2015;28(6):E58–63.

7.

Mindikoglu AL, Miller JS, Borge MA, Van Thiel DH. Post-transplant IVC occlusion and thrombosis treated with tPA, heparin, and sharp recanalization. J Gastroenterol. 2005;40(3):302–5.

8.

Farrell T, Lang EV, Barnhart W. Sharp recanalization of central venous occlusions. J Vasc Interv Radiol. 1999;10(2 Pt 1):149–54.

9.

Honnef D, Wingen M, Günther RW, Haage P. Sharp central venous recanalization by means of a TIPS needle. Cardiovasc Intervent Radiol. 2005;28(5):673–6.

10.

Ito N, Isfort P, Penzkofer T, Grommes J, Greiner A, Mahnken A. Sharp recanalization for chronic left iliac vein occlusion. Cardiovasc Intervent Radiol. 2012;35(4):938–41.

11.

Malik AK, Bhalla N, Goel A, Prakash S. Percutaneous reconstruction of chronic total occlusion of brachiocephalic vein using transseptal needle in dialysis-dependent patient. Cardiovasc Interv Ther. 2016;31(2):136–9.

12.

Williams DM. Iliocaval reconstruction in chronic deep vein thrombosis. Tech Vasc Interv Radiol. 2014;17(2):109–13.

13.

Arabi M, Krishnamurthy V, Cwikiel W, Vellody R, Wakefield TW, Rectenwald J, Williams D. Endovascular treatment of thrombosed inferior vena cava filters: techniques and short-term outcomes. Indian J Radiol Imaging. 2015;25(3):233–8.

14.

Omary RA, Bettmann MA, Cardella JF, Bakal CW, Schwartzberg MS, Sacks D, et al. Quality improvement guidelines for the reporting and archiving of interventional radiology procedures. J Vasc Interv Radiol JVIR. 2002;13(9 Pt 1):879–81.

15.

Majdalany BS, Elliott ED, Michaels AJ, Hanje AJ, Saad WE. Radiofrequency wire recanalization of chronically thrombosed TIPS. Cardiovasc Intervent Radiol. 2016;39(7):1040–4.
Acknowledgement
The authors would like to acknowledge Dr. Ben Shin for his illustration noted as Fig. 1.
Ethics declarations
Conflict of interest
Minhaj S. Khaja, Jeffrey Forris Beecham Chick, Ari D. Schuman, Kyle J. Cooper, Bill S. Majdalany, and Wael E. Saad have no conflicts of interest. David M. Williams is on the Scientific Advisory Board of Boston Scientific Corporation and is a consultant for W. L. Gore and Associates.
Ethical Approval
All procedures performed in studies involving human participants were in accordance with the ethical standards of the institutional and/or national research committee and with the 1964 Helsinki Declaration and its later amendments or comparable ethical standards.
Informed Consent
For retrospective studies at our institution, formal consent is not required.
About this article
Cite this article
Khaja, M.S., Chick, J.F.B., Schuman, A.D. et al. Fluoroscopic Targeting of Wallstents and Amplatzer Vascular Plugs in Sharp Recanalization of Chronic Venous Occlusions. Cardiovasc Intervent Radiol 40, 1777–1783 (2017). https://doi.org/10.1007/s00270-017-1724-z
Received:

Accepted:

Published:

Issue Date:
Keywords
Sharp recanalization

Targeting

Chronic venous occlusion