Abstract
Introduction
Peripheral arterial disease (PAD) is being increasingly managed by endovascular therapies. In this study, we identified the clinical services publishing research as well as the journals of publication over a 5-year period.
Methods
Twenty keywords and phrases related to endovascular intervention were identified, and a literature search was performed through the PubMed database from January 2009 to January 2014. Inclusion criteria were English language, study population more than five patients, and matching the keyword search. Eligible studies were collated into a database and classified by journal of publication, PubMed number, article title, publishing clinical service, type of publication, country of origin, and authors.
Results
825 studies from 114 different journals were identified. 297 papers were excluded. Of the 528 included papers, 204 (39%) were published by Vascular Surgery (VS), 157 (30%) by Interventional Radiology (IR), 101 (19%) by Cardiology, 43 (8%) by Angiology, 6 (1%) by Vascular Medicine, and 17 (3%) from miscellaneous services. 283 (54%) studies originated from Europe, 157 (30%) from North America, 76 (14%) from Asia, 6 from Australia, 3 each from South America and Africa. IR published the most papers on PAD endovascular intervention in Europe with VS second while this trend was reversed in the USA. The 528 papers were published in 98 different journals with retrospective case series (72%), the majority.
Conclusion
IR continues to play a significant research role in endovascular intervention in PAD, particularly in Europe, and specifically in below the knee intervention, pedal intervention, and drug-eluting technologies.
This is a preview of subscription content, log in to check access.
Access options
Buy single article
Instant access to the full article PDF.
US$ 39.95
Price includes VAT for USA
Subscribe to journal
Immediate online access to all issues from 2019. Subscription will auto renew annually.
US$ 99
This is the net price. Taxes to be calculated in checkout.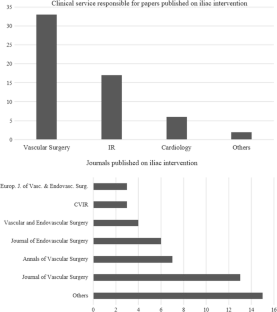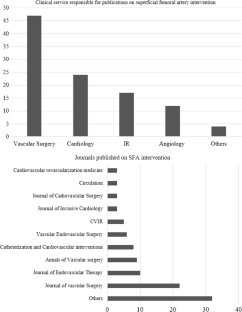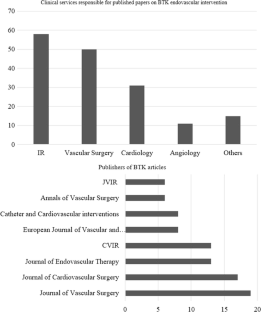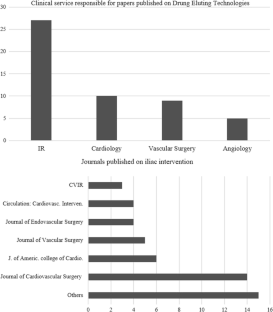 References
1.

Balk E, Cepeda M, Ip S, Trikalinos T, O'Donnell T. Horizon Scan of invasive interventions for lower extremity peripheral artery disease and systematic review of studies comparing stent placement to other interventions. 2008. Rockville (MD): Agency for Healthcare Research and Quality (US).

2.

Gloviczki P. Vascular and endovascular surgeon: the vascular specialist for the 21st century and beyond. J Vasc Surg. 2006;43(2):412–21.

3.

Anderson PL, Gelijns A, Moskowitz A, Arons R, Gupta L, Weinberg A, et al. Understanding trends in inpatient surgical volume: vascular interventions, 1980–2000. J Vasc Surg. 2004;39(6):1200–8.

4.

Selvin E, Erlinger TP. Prevalence of and risk factors for peripheral arterial disease in the United States results from the national health and nutrition examination survey, 1999–2000. Circulation. 2004;110(6):738–43.

5.

Nowygrod R, Egorova N, Greco G, Anderson P, Gelijns A, Moskowitz A, et al. Trends, complications, and mortality in peripheral vascular surgery. J Vasc Surg. 2006;43(2):205–16.

6.

Berglund J, Björck M, Elfström J. Long-term results of above knee femoro-popliteal bypass depend on indication for surgery and graft-material. Eur J Vasc Endovasc Surg. 2005;29(4):412–8.

7.

Langham MC, Zhou Y, Chirico EN, Magland JF, Sehgal CM, Englund EK, et al. Effects of age and smoking on endothelial function assessed by quantitative cardiovascular magnetic resonance in the peripheral and central vasculature. J Cardiovasc Magn Reson. 2015;17(1):19.

8.

Agrawal R, Ola V, Bishnoi P, Gothwal S, Sirohi P, Agrawal R. Prevalence of Micro and Macrovascular Complications and their Risk Factors in Type-2 Diabetes Mellitus. JAPI. 2014;62:505.

9.

Coran AG, Warren R. Arteriographic changes in femoropopliteal arteriosclerosis obliterans: A five-year follow-up study. N Engl J Med. 1966;274(12):643–7.

10.

Palmaz JC, Richter GM, Noeldge G, Schatz RA, Robison PD, Gardiner GA Jr, Becker GJ, McLean GK, Denny DF Jr, Lammer J. Intraluminal stents in atherosclerotic iliac artery stenosis: preliminary report of a multicenter study. Radiology. 1988;168(3):727–31.

11.

Rousseau HP, Raillat CR, Joffre FG, Knight CJ, Ginestet MC. Treatment of Femoropopliteal Stenoses by means of self-expandable endoprostheses: midterm results 1. Radiology. 1989;172(3):961–4.

12.

Rösch J, Keller FS, Kaufman JA. The birth, early years, and future of interventional radiology. J Vasc Interv Radiol. 2003;14(7):841–53.

13.

Duda SH, Pusich B, Richter G, Landwehr P, Oliva VL, Tielbeek A, Wiesinger B, Hak JB, Tielemans H, Ziemer G, Cristea E. Sirolimus-eluting stents for the treatment of obstructive superficial femoral artery disease six-month results. Circulation. 2002;106(12):1505–9.

14.

Tepe G, Zeller T, Albrecht T, Heller S, Schwarzwälder U, Beregi JP, Claussen MC, Oldenburg A, Scheller B, Speck U. Local delivery of paclitaxel to inhibit restenosis during angioplasty of the leg. N Engl J Med. 2008;358(7):689–99.

15.

Dotter CT, Judkins MP. Transluminal treatment of arteriosclerotic obstruction description of a new technic and a preliminary report of its application. Circulation. 1964;30(5):654–70.

16.

Bollinger A, Schlumpf M. Andreas Grüntzig's balloon catheter for angioplasty of peripheral arteries (PTA) is 25 years old. Vasa. 1999;28(1):58–64.

17.

Bosch JL, Hunink MG. Meta-analysis of the results of percutaneous transluminal angioplasty and stent placement for aortoiliac occlusive disease. Radiology. 1997;204(1):87–96.
Ethics declarations
Conflict of interest
Authors of this manuscript declare no relevant conflict of interest.
Ethical Approval
This article does not contain any studies with human participants or animals performed by any of the authors.
Informed Consent
Does not apply.
About this article
Cite this article
Asadi, H., Lee, R.J., Sheehan, M. et al. Endovascular Therapy Research in Lower Limb Peripheral Arterial Disease Published Over a 5-Year Period: Who is Publishing and Where?. Cardiovasc Intervent Radiol 40, 343–350 (2017). https://doi.org/10.1007/s00270-016-1504-1
Received:

Accepted:

Published:

Issue Date:
Keywords
Endovascular intervention

Peripheral arterial disease

Interventional radiology

Vascular surgery

Research

Randomised controlled trials