Abstract
Purpose
The purpose of the study was to evaluate prognostic factors for survival outcomes following embolotherapy for neuroendocrine tumor (NET) liver metastases.
Materials and Methods
This was a multicenter retrospective study of 155 patients (60 years mean age, 57 % male) with NET liver metastases from pancreas (n = 71), gut (n = 68), lung (n = 8), or other/unknown (n = 8) primary sites treated with conventional transarterial chemoembolization (TACE, n = 50), transarterial radioembolization (TARE, n = 64), or transarterial embolization (TAE, n = 41) between 2004 and 2015. Patient-, tumor-, and treatment-related factors were evaluated for prognostic effect on hepatic progression-free survival (HPFS) and overall survival (OS) using unadjusted and propensity score-weighted univariate and multivariate Cox proportional hazards models.
Results
Median HPFS and OS were 18.5 and 125.1 months for G1 (n = 75), 12.2 and 33.9 months for G2 (n = 60), and 4.9 and 9.3 months for G3 tumors (n = 20), respectively (p < 0.05). Tumor burden >50 % hepatic volume demonstrated 5.5- and 26.8-month shorter median HPFS and OS, respectively, versus burden ≤50 % (p < 0.05). There were no significant differences in HPFS or OS between gut or pancreas primaries. In multivariate HPFS analysis, there were no significant differences among embolotherapy modalities. In multivariate OS analysis, TARE had a higher hazard ratio than TACE (unadjusted Cox model: HR 2.1, p = 0.02; propensity score adjusted model: HR 1.8, p = 0.11), while TAE did not differ significantly from TACE.
Conclusion
Higher tumor grade and tumor burden prognosticated shorter HPFS and OS. TARE had a higher hazard ratio for OS than TACE. There were no significant differences in HPFS among embolotherapy modalities.
This is a preview of subscription content, log in to check access.
Access options
Buy single article
Instant access to the full article PDF.
US$ 39.95
Price includes VAT for USA
Subscribe to journal
Immediate online access to all issues from 2019. Subscription will auto renew annually.
US$ 99
This is the net price. Taxes to be calculated in checkout.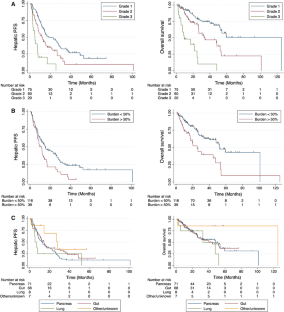 References
1.

Barbier CE, Garske-Roman U, Sandstrom M, Nyman R, Granberg D. Selective internal radiation therapy in patients with progressive neuroendocrine liver metastases. Eur J Nucl Med Mol Imaging. 2016;43(8):1425–31.

2.

Dong XD, Carr BI. Hepatic artery chemoembolization for the treatment of liver metastases from neuroendocrine tumors: a long-term follow-up in 123 patients. Med Oncol. 2011;28(Suppl 1):S286–90.

3.

Fiore F, Del Prete M, Franco R, et al. Transarterial embolization (TAE) is equally effective and slightly safer than transarterial chemoembolization (TACE) to manage liver metastases in neuroendocrine tumors. Endocrine. 2014;47(1):177–82.

4.

Gupta S, Johnson MM, Murthy R, et al. Hepatic arterial embolization and chemoembolization for the treatment of patients with metastatic neuroendocrine tumors: variables affecting response rates and survival. Cancer. 2005;104(8):1590–602.

5.

Memon K, Lewandowski RJ, Riaz A, Salem R. Chemoembolization and radioembolization for metastatic disease to the liver: available data and future studies. Curr Treat Options Oncol. 2012;13(3):403–15.

6.

Pericleous M, Caplin ME, Tsochatzis E, Yu D, Morgan-Rowe L, Toumpanakis C. Hepatic artery embolization in advanced neuroendocrine tumors: efficacy and long-term outcomes. Asia Pac J Clin Oncol. 2016;12(1):61–9.

7.

Ruutiainen AT, Soulen MC, Tuite CM, et al. Chemoembolization and bland embolization of neuroendocrine tumor metastases to the liver. J Vasc Interv Radiol. 2007;18(7):847–55.

8.

Sofocleous CT, Petre EN, Gonen M, et al. Factors affecting periprocedural morbidity and mortality and long-term patient survival after arterial embolization of hepatic neuroendocrine metastases. J Vasc Interv Radiol. 2014;25(1):22–30 quiz 31.

9.

Sommer WH, Ceelen F, Garcia-Albeniz X, et al. Defining predictors for long progression-free survival after radioembolisation of hepatic metastases of neuroendocrine origin. Eur Radiol. 2013;23(11):3094–103.

10.

Strosberg JR, Choi J, Cantor AB, Kvols LK. Selective hepatic artery embolization for treatment of patients with metastatic carcinoid and pancreatic endocrine tumors. Cancer Control. 2006;13(1):72–8.

11.

Bhagat N, Reyes DK, Lin M, et al. Phase II study of chemoembolization with drug-eluting beads in patients with hepatic neuroendocrine metastases: high incidence of biliary injury. Cardiovasc Intervent Radiol. 2013;36(2):449–59.

12.

Boudreaux JP, Klimstra DS, Hassan MM, et al. The NANETS consensus guideline for the diagnosis and management of neuroendocrine tumors: well-differentiated neuroendocrine tumors of the Jejunum, Ileum, Appendix, and Cecum. Pancreas. 2010;39(6):753–66.

13.

Kennedy A, Bester L, Salem R, et al. Role of hepatic intra-arterial therapies in metastatic neuroendocrine tumours (NET): guidelines from the NET-Liver-Metastases Consensus Conference. HPB (Oxford). 2015;17(1):29–37.

14.

Kulke MH, Anthony LB, Bushnell DL, et al. NANETS treatment guidelines: well-differentiated neuroendocrine tumors of the stomach and pancreas. Pancreas. 2010;39(6):735–52.

15.

Kulke MH, Shah MH, Benson AB 3rd, et al. Neuroendocrine tumors, version 1.2015. J Natl Compr Canc Netw. 2015;13(1):78–108.

16.

Pavel M, Baudin E, Couvelard A, et al. ENETS Consensus Guidelines for the management of patients with liver and other distant metastases from neuroendocrine neoplasms of foregut, midgut, hindgut, and unknown primary. Neuroendocrinology. 2012;95(2):157–76.

17.

Pitt SC, Knuth J, Keily JM, et al. Hepatic neuroendocrine metastases: chemo- or bland embolization? J Gastrointest Surg. 2008;12(11):1951–60.

18.

Maire F, Lombard-Bohas C, O'Toole D, et al. Hepatic arterial embolization versus chemoembolization in the treatment of liver metastases from well-differentiated midgut endocrine tumors: a prospective randomized study. Neuroendocrinology. 2012;96(4):294–300.

19.

Ho AS, Picus J, Darcy MD, et al. Long-term outcome after chemoembolization and embolization of hepatic metastatic lesions from neuroendocrine tumors. AJR Am J Roentgenol. 2007;188(5):1201–7.

20.

Rinke A, Muller HH, Schade-Brittinger C, et al. Placebo-controlled, double-blind, prospective, randomized study on the effect of octreotide LAR in the control of tumor growth in patients with metastatic neuroendocrine midgut tumors: a report from the PROMID Study Group. J Clin Oncol. 2009;27(28):4656–63.

21.

Caplin ME, Pavel M, Cwikla JB, et al. Lanreotide in metastatic enteropancreatic neuroendocrine tumors. N Engl J Med. 2014;371(3):224–33.

22.

Yao JC, Shah MH, Ito T, et al. Everolimus for advanced pancreatic neuroendocrine tumors. N Engl J Med. 2011;364(6):514–23.

23.

Raymond E, Dahan L, Raoul JL, et al. Sunitinib malate for the treatment of pancreatic neuroendocrine tumors. N Engl J Med. 2011;364(6):501–13.

24.

Van Essen M, Krenning EP, De Jong M, Valkema R, Kwekkeboom DJ. Peptide receptor radionuclide therapy with radiolabelled somatostatin analogues in patients with somatostatin receptor positive tumours. Acta Oncol. 2007;46(6):723–34.

25.

Gaba RC. Chemoembolization practice patterns and technical methods among interventional radiologists: results of an online survey. AJR Am J Roentgenol. 2012;198(3):692–9.

26.

Memon K, Lewandowski RJ, Mulcahy MF, et al. Radioembolization for neuroendocrine liver metastases: safety, imaging, and long-term outcomes. Int J Radiat Oncol Biol Phys. 2012;83(3):887–94.

27.

de Baere T, Arai Y, Lencioni R, et al. Treatment of liver tumors with lipiodol TACE: technical recommendations from experts opinion. Cardiovasc Intervent Radiol. 2016;39(3):334–43.

28.

Eisenhauer EA, Therasse P, Bogaerts J, et al. New response evaluation criteria in solid tumours: revised RECIST guideline (version 1.1). Eur J Cancer. 2009;45(2):228–47.

29.

National Cancer Institute NIoH. Common terminology criteria for adverse events v4.03. 2010.

30.

Lepage C, Rachet B, Coleman MP. Survival from malignant digestive endocrine tumors in England and Wales: a population-based study. Gastroenterology. 2007;132(3):899–904.

31.

Yao JC, Hassan M, Phan A, et al. One hundred years after "carcinoid": epidemiology of and prognostic factors for neuroendocrine tumors in 35,825 cases in the United States. J Clin Oncol. 2008;26(18):3063–72.

32.

Whitney R, Valek V, Fages JF, et al. Transarterial chemoembolization and selective internal radiation for the treatment of patients with metastatic neuroendocrine tumors: a comparison of efficacy and cost. Oncologist. 2011;16(5):594–601.

33.

Rhee TK, Lewandowski RJ, Liu DM, et al. 90Y Radioembolization for metastatic neuroendocrine liver tumors: preliminary results from a multi-institutional experience. Ann Surg. 2008;247(6):1029–35.

34.

Moertel CG, Johnson CM, McKusick MA, et al. The management of patients with advanced carcinoid tumors and islet cell carcinomas. Ann Intern Med. 1994;120(4):302–9.

35.

Kennedy AS, Dezarn WA, McNeillie P, et al. Radioembolization for unresectable neuroendocrine hepatic metastases using resin 90Y-microspheres: early results in 148 patients. Am J Clin Oncol. 2008;31(3):271–9.
Ethics declarations
Conflict of Interest
Steven C. Rose: consultant—SIRTeX; scientific advisory board—Surefire Medical. Sarah B. White: consultant—Guerbet, IO-rad, Grants—RSNA, SIR foundation, research support—Siemens. Nicholas Fidelman: Grants: BTG, GE Healthcare, Nordion. Daniel Y. Sze: consultant—Amgen, BTG, SirTeX Medical, W.L. Gore & Associates, Covidien, Guerbet, Cook, Codman; scientific advisory board—SureFire Medical, KoliMedical, Northwind Medical, TreusMedical, RadiAction Medical, EmboIX, Lunar Design, Jennerex Biotherapeutics. Riad Salem: consultant: BTG. David C. Metz MD: grants—Ipsen, Lexicon, AAA; consultant—Novartis, Takeda. Michael C. Soulen: grants—BTG, Guerbet; consultant—Guerbet, Merit. James X. Chen, Ghassan El-Haddad, Hooman Yarmohammadi, Winifred Hwang, Nishita Kothary, Kristen Stashek, E. Paul Wileyto, No disclosures.
Ethical Approval
All procedures performed in studies involving human participants were in accordance with the ethical standards of the institutional and/or national research committee and with the 1964 Helsinki Declaration and its later amendments or comparable ethical standards. For this type of study formal consent is not required.
Additional information
This study was selected as a Poster on Stage abstract for the CIRSE 2016 Annual Scientific Meeting.
About this article
Cite this article
Chen, J.X., Rose, S., White, S.B. et al. Embolotherapy for Neuroendocrine Tumor Liver Metastases: Prognostic Factors for Hepatic Progression-Free Survival and Overall Survival. Cardiovasc Intervent Radiol 40, 69–80 (2017). https://doi.org/10.1007/s00270-016-1478-z
Received:

Accepted:

Published:

Issue Date:
Keywords
Neuroendocrine tumor

Liver metastases

Embolization