Abstract
Introduction
Spontaneous hematoma refractory to conservative management is a potentially serious condition that requires prompt diagnosis and intervention. The purpose of this study was to evaluate the performance of computed tomography (CT) in the treatment planning and to report the effectiveness of transcatheter embolization with N-butyl-2-cyanoacrylate (NBCA).
Materials and Methods
Forty-one interventions in 38 patients within a 12-year period were evaluated. CT and angiograms were reviewed for the location of the hematoma, the presence of extravasation, and the correlation of CT and angiography findings.
Results
Arterial extravasation was present on 34/39 CT scans. Angiograms confirmed the CT scans in 29 cases. Angiograms revealed extravasation in four cases which CT showed venous bleeding (n = 2) or no bleeding (n = 2). Five patients with arterial and 1 patient with venous extravasation on CT images had no extravasation on angiograms. Embolization was performed to all arteries with extravasation on angiograms. Empiric embolization of the corresponding artery on the CT was performed when there was no extravasation on angiograms. Embolization procedures were performed with 15 % NBCA diluted with iodized oil. Technical success was achieved in 40/41 (97.6 %) interventions. Clinical success was achieved in 35 patients with a single, in 1 patient with 2, and in 1 patient with 3 interventions. No complications related to embolization procedure occurred. None of the patients died due to a progression of the hematoma.
Conclusion
NBCA is an effective and safe embolic agent to treat hematoma refractory to conservative management. Contrast-enhanced CT may provide faster and more effective intervention.
Level of Evidence III
Retrospective.
Access options
Buy single article
Instant access to the full article PDF.
US$ 39.95
Tax calculation will be finalised during checkout.
Subscribe to journal
Immediate online access to all issues from 2019. Subscription will auto renew annually.
US$ 79
Tax calculation will be finalised during checkout.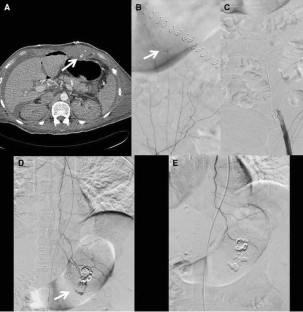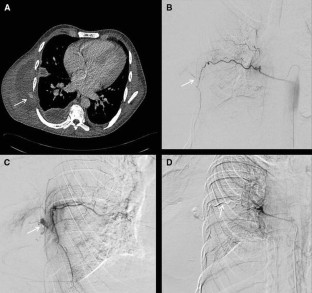 References
1.

Pieri S, Agresti P, Buquicchio GL, Di Giampietro I, Trinci M, Miele V. Endovascular management of the rectus muscle hematoma. Radiol Med. 2015;120:951–8.

2.

Donaldson J, Knowles CH, Clark SK, Renfrew I, Lobo MD. Rectus sheath haematoma associated with low molecular weight heparin: a case series. Ann R Coll Surg Engl. 2007;89:309–12.

3.

Isokangas JM, Perälä JM. Endovascular embolization of spontaneous retroperitoneal hemorrhage secondary to anticoagulant treatment. Cardiovasc Interv Radiol. 2004;27:607–11.

4.

Basile A, Medina JG, Mundo E, Medina VG, Leal R. Transcatheter arterial embolization of concurrent spontaneous hematomas of the rectus sheath and psoas muscle in patients undergoing anticoagulation. Cardiovasc Interv Radiol. 2004;27:659–62.

5.

Wick MC, Klocker J, Grundtman C, Jaschke W, Chemelli AP. Transcatheter embolization for the management of acute active inferior epigastric artery hemorrhages. J Endovasc Ther. 2013;20:561–7.

6.

Shimizu T, Hanasawa K, Yoshioka T, et al. Spontaneous hematoma of the lateral abdominal wall caused by a rupture of a deep circumflex iliac artery: report of two cases. Surg Today. 2003;33:475–8.

7.

Zissin R, Gayer G, Kots E, Ellis M, Bartal G, Griton I. Transcatheter arterial embolisation in anticoagulant-related haematoma-a current therapeutic option: a report of four patients and review of the literature. Int J Clin Pract. 2007;61:1321–7.

8.

Qanadli SD, El Hajjam M, Mignon F, Bruckert F, Chagnon S, Lacombe P. Life-threatening spontaneous psoas haematoma treated by transcatheter arterial embolization. Eur Radiol. 1999;9:1231–4.

9.

Tseng GS, Liau GS, Shyu HY, Chu SJ, Ko FC, Wu KA. Expanding refractory rectus sheath hematoma: a therapeutic dilemma. Diagn Interv Radiol. 2012;18:139–41.

10.

Rimola J, Perendreu J, Falcó J, Fortuño JR, Massuet A, Branera J. Percutaneous arterial embolization in the management of rectus sheath hematoma. AJR Am J Roentgenol. 2007;188:W497–502.

11.

Kish JW, Katz MD, Marx MV, Harrell DS, Hanks SE. N-butyl cyanoacrylate embolization for control of acute arterial hemorrhage. J Vasc Interv Radiol. 2004;15:689–95.

12.

Cil BE, Türkbey B, Canyiğit M, Geyik S, Yavuz K. An unusual complication of carotid stenting: spontaneous rectus sheath hematoma and its endovascular management. Diagn Interv Radiol. 2007;13:46–8.

13.

Akpinar E, Peynircioglu B, Turkbey B, Cil BE, Balkanci F. Endovascular management of life-threatening retroperitoneal bleeding. ANZ J Surg. 2008;78:683–7.

14.

Park SW, Ko SY, Yoon SY, et al. Transcatheter arterial embolization for hemoperitoneum: unusual manifestation of iatrogenic injury to abdominal muscular arteries. Abdom Imaging. 2011;36:74–8.

15.

Berná JD, Zuazu I, Madrigal M, García-Medina V, Fernández C, Guirado F. Conservative treatment of large rectus sheath hematoma in patients undergoing anticoagulant therapy. Abdom Imaging. 2000;25:230–4.

16.

Fitzgerald JEF, Fitzgerald LA, Anderson FE, Acheson AG. The changing nature of rectus sheath haematoma: case series and literature review. Int J Surg. 2009;7:150–4.

17.

Loffroy R. Glubran2®, Histoacryl® or Trufill®: which cyanoacrylate glue for endovascular use? Diagn Interv Imaging. 2016;97:119.

18.

Benndorf G, Campi A, Hell B, Hölzle F, Lund J, Bier J. Endovascular management of a bleeding mandibular arteriovenous malformation by transfemoral venous embolization with NBCA. AJNR Am J Neuroradiol. 2001;22:359–62.

19.

McBeth PB, Dunham M, Ball CG, Kirkpatrick AW. Correct the coagulopathy and scoop it out: complete reversal of anuric renal failure through the operative decompression of extraperitoneal hematoma-induced abdominal compartment syndrome. Case Rep Med. 2012. doi:10.1155/1683.
Funding
This study has no financial interest and there is no grant support.
Ethics declarations
Conflict of Interest
There is no conflict of interest to declare.
Informed Consent
Regarding embolization procedures and approval to use the data in clinical investigations were obtained from all patients included in the study group.
About this article
Cite this article
Ozyer, U. Transcatheter Arterial Embolization with N-Butyl-2-Cyanoacrylate in the Management of Spontaneous Hematomas. Cardiovasc Intervent Radiol 40, 41–49 (2017). https://doi.org/10.1007/s00270-016-1463-6
Received:

Accepted:

Published:

Issue Date:
Keywords
Spontaneous hematoma

Transcatheter embolization

Rectus sheath

Interventional radiology