Abstract
Purpose
To assess the effectiveness of percutaneous laser ablation (PLA) of cervical lymph node metastases from papillary thyroid carcinoma.
Materials and Methods
24 patients (62.3 ± 13.2 year; range 32–80) previously treated with thyroidectomy, neck dissection, and radioiodine ablation underwent ultrasound-guided PLA of 46 18FDG-PET/CT—positive metachronous nodal metastases. All patients were at high surgical risk or refused surgery and were unsuitable for additional radioiodine ablation. A 300 µm quartz fiber and a continuous-wave Nd-YAG laser operating at 1.064 mm were used. Technical success, rate of complications, rate of serological conversion, and local control at follow-up were derived. Fisher's exact test and Mann–Whitney U test were used and Kaplan–Meier curve calculated.
Results
Technical success was obtained in all 46 lymph nodes (100 %). There were no major complications. Thyroglobulin levels decreased from 8.40 ± 9.25 ng/ml before treatment to 2.73 ± 4.0 ng/ml after treatment (p = 0.011), with serological conversion in 11/24 (45.8 %) patients. Overall, local control was obtained in 40/46 (86.9 %) lymph nodes over 30 ± 11 month follow-up, with no residual disease seen at imaging in 19/24 (79.1 %) patients. Local control was achieved in 40/46 (86.9 %) lymph nodes at 1 year and in all of the 25 nodes (100 %) followed for 3 years. Estimated mean time to progression was 38.6 ± 2.7 m.
Conclusion
Ultrasound-guided PLA is a feasible, safe, and effective therapy for the treatment of cervical lymph node metastases from papillary thyroid carcinoma.
Access options
Buy single article
Instant access to the full article PDF.
US$ 39.95
Tax calculation will be finalised during checkout.
Subscribe to journal
Immediate online access to all issues from 2019. Subscription will auto renew annually.
US$ 79
Tax calculation will be finalised during checkout.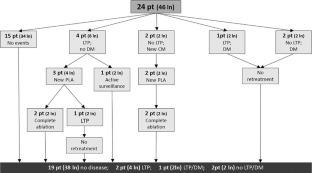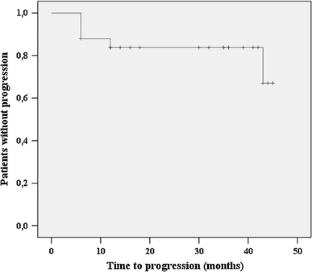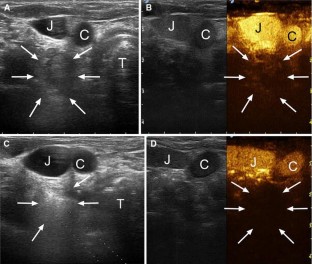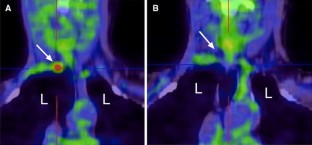 References
1.

LiVolsi V. Papillary thyroid carcinoma: an update. Mod Pathol. 2011;24(Suppl 2):S1–9.

2.

McLeod DS. Current concepts and future directions in differentiated thyroid cancer. Clin Biochem Rev. 2010;31:9–19.

3.

Ito Y, Miyauchi A. Lateral and mediastinal lymph node dissection in differentiated thyroid carcinoma: indications, benefits, and risks. World J Surg. 2007;31:905–15.

4.

Wang W, Larson SM, Tuttle RM, et al. Resistance of [18f]-fluorodeoxyglucose-avid metastatic thyroid cancer lesions to treatment with high-dose radioactive iodine. Thyroid. 2001;11:1169–75.

5.

Lewis BD, Hay ID, Charboneau JW, et al. Percutaneous ethanol injection for treatment of cervical lymph node metastases in patients with papillary thyroid carcinoma. AJR Am J Roentgenol. 2002;178:699–704.

6.

Dupuy DE, Monchik JM, Decrea C, Pisharodi L. Radiofrequency ablation of regional recurrence from well-differentiated thyroid malignancy. Surgery. 2001;130:971–7.

7.

Pacella CM, Papini E. Image-guided percutaneous ablation therapies for local recurrences of thyroid tumors. J Endocrinol Invest. 2013;36:61–70.

8.

Kim J, Yoo WS, Park YJ, et al. Efficacy and safety of radiofrequency ablation for treatment of locally recurrent thyroid cancers smaller than 2 cm. Radiology. 2015;276:909–18.

9.

Pacella CM, Francica G, Di Lascio FML, et al. Long-term outcome of cirrhotic patients with early hepatocellular carcinoma treated with ultrasound-guided percutaneous laser ablation: a retrospective analysis. J Clin Oncol. 2009;27:2615–21.

10.

Valcavi R, Riganti F, Bertani A, et al. Percutaneous laser ablation of cold benign thyroid nodules: a 3-year follow-up study in 122 patients. Thyroid. 2010;20:1253–61.

11.

Barbaro D, Orsini P, Lapi P, et al. Percutaneous laser ablation in the treatment of toxic and pretoxic nodular goiter. Endocr Pract. 2007;13:30–6.

12.

Pacella CM, Mauri G, Achille G, et al. Outcomes and risk factors for complications of laser ablation for thyroid nodules: a multicenter study on 1531 patients. J Clin Endocrinol Metab. 2015;100:3903–10.

13.

Papini E, Bizzarri G, Bianchini A, et al. Percutaneous ultrasound-guided laser ablation is effective for treating selected nodal metastases in papillary thyroid cancer. J Clin Endocrinol Metab. 2013;98:E92–7.

14.

Mauri G, Cova L, Tondolo T, et al. Percutaneous laser ablation of metastatic lymph nodes in the neck from papillary thyroid carcinoma: preliminary results. J Clin Endocrinol Metab 2013;98(7):E1203–7.

15.

Mauri G, Porazzi E, Cova L, et al. Intraprocedural contrast-enhanced ultrasound (CEUS) in liver percutaneous radiofrequency ablation: clinical impact and health technology assessment. Insights Imaging. 2014;5:209–16.

16.

Sacks D, McClenny TE, Cardella JF, Lewis CA. Society of Interventional Radiology clinical practice guidelines. J Vasc Interv Radiol. 2003;14:S199–202.

17.

Gharib H, Papini E, Paschke R, et al. American Association of Clinical Endocrinologists, Associazione Medici Endocrinologi, and European Thyroid Association medical guidelines for clinical practice for the diagnosis and management of thyroid nodules. J Endocrinol Invest. 2010;33:1–50.

18.

Caglar M, Bozkurt FM, Akca CK, et al. Comparison of 800 and 3700 MBq iodine-131 for the postoperative ablation of thyroid remnant in patients with low-risk differentiated thyroid cancer. Nucl Med Commun. 2012;33:268–74.

19.

Fallahi B, Beiki D, Takavar A, et al. Low versus high radioiodine dose in postoperative ablation of residual thyroid tissue in patients with differentiated thyroid carcinoma: a large randomized clinical trial. Nucl Med Commun. 2012;33:275–82.

20.

Ito Y, Uruno T, Takamura Y, et al. Papillary microcarcinomas of the thyroid with preoperatively detectable lymph node metastasis show significantly higher aggressive characteristics on immunohistochemical examination. Oncology. 2005;68:87–96.

21.

Schlumberger MJ. Papillary follicular thyroid carcinoma. N Engl J Med. 1998;338:297–306.

22.

Mazzaferri EL, Jhiang SM. Long-term impact of initial surgical and medical therapy on papillary and follicular thyroid cancer. Am J Med. 1994;97:418–28.

23.

Johnson NA, Tublin ME. Postoperative surveillance of differentiated thyroid carcinoma: rationale, techniques, and controversies. Radiology. 2008;249:429–44.

24.

Bannas P, Derlin T, Groth M, et al. Can (18)F-FDG-PET/CT be generally recommended in patients with differentiated thyroid carcinoma and elevated thyroglobulin levels but negative I-131 whole body scan? Ann Nucl Med. 2012;26:77–85.

25.

Choi M-Y, Chung J-K, Lee H-Y, et al. The clinical impact of 18F-FDG PET in papillary thyroid carcinoma with a negative 131I whole body scan: a single-center study of 108 patients. Ann Nucl Med. 2006;20:547–52.

26.

Rivera M, Ghossein RA, Schoder H, et al. Histopathologic characterization of radioactive iodine-refractory fluorodeoxyglucose-positron emission tomography-positive thyroid carcinoma. Cancer. 2008;113:48–56.

27.

Shyn PB, Tatli S, Sahni VA, et al. PET/CT-guided percutaneous liver mass biopsies and ablations: targeting accuracy of a single 20 s breath-hold PET acquisition. Clin Radiol. 2014;69:410–5.

28.

Bapst B, Lagadec M, Breguet R, et al. Cone beam computed tomography (CBCT) in the field of interventional oncology of the liver. Cardiovasc Intervent Radiol. 2015;. doi:10.1007/s00270-015-1180-6.

29.

Mauri G, Cova L, De Beni S, et al. Real-time US-CT/MRI image fusion for guidance of thermal ablation of liver tumors undetectable with US: results in 295 cases. Cardiovasc Intervent Radiol. 2014;38:143–51.

30.

Gillams A, Goldberg N, Ahmed M, et al. Thermal ablation of colorectal liver metastases: a position paper by an international panel of ablation experts, the interventional oncology sans frontières meeting 2013. Eur Radiol. 2015;25:3438–54.

31.

Bruix J, Han K-H, Gores G, et al. Liver cancer: approaching a personalized care. J Hepatol. 2015;62:S144–56.

32.

Wong K-P, Lang BHH. The role of prophylactic central neck dissection in differentiated thyroid carcinoma: issues and controversies. J Oncol. 2011;2011:127929.

33.

Moo TAS, Fahey TJ. Lymph node dissection in papillary thyroid carcinoma. Semin Nucl. 2011;41:84–8.

34.

Livraghi T, Solbiati L, Meloni F, et al. Percutaneous radiofrequency ablation of liver metastases in potential candidates for resection: the "test-of-time approach". Cancer. 2003;97:3027–35.

35.

Livraghi T, Paracchi A, Ferrari C, et al. Treatment of autonomous thyroid nodules with percutaneous ethanol injection: 4-year experience. Radiology. 1994;190:529–33.

36.

Liu F-Y, Yu X-L, Liang P, et al. Microwave ablation assisted by a real-time virtual navigation system for hepatocellular carcinoma undetectable by conventional ultrasonography. Eur J Radiol. 2012;81:1455–9.

37.

Shyn PB, Mauri G, Alencar RO, et al. Percutaneous imaging-guided cryoablation of liver tumors: predicting local progression on 24-hour MRI. AJR Am J Roentgenol. 2014;203:1–11.

38.

Solbiati L, Giangrande A, De Pra L, et al. Percutaneous ethanol injection of parathyroid tumors under US guidance: treatment for secondary hyperparathyroidism. Radiology. 1985;155:607–10.

39.

Monchik JM, Donatini G, Iannuccilli J, Dupuy DE. Radiofrequency ablation and percutaneous ethanol injection treatment for recurrent local and distant well-differentiated thyroid carcinoma. Ann Surg. 2006;244:296–304.

40.

Heilo A, Sigstad E, Fagerlid KH, et al. Efficacy of ultrasound-guided percutaneous ethanol injection treatment in patients with a limited number of metastatic cervical lymph nodes from papillary thyroid carcinoma. J Clin Endocrinol Metab. 2011;96:2750–5.

41.

Lim CY, Yun J-S, Lee J, et al. Percutaneous ethanol injection therapy for locally recurrent papillary thyroid carcinoma. Thyroid. 2007;17:347–50.

42.

Livraghi T, Goldberg SN, Lazzaroni S, et al. Small hepatocellular carcinoma: treatment with radio-frequency ablation versus ethanol injection. Radiology. 1999;210:655–61. doi:10.1148/radiology.210.3.r99fe40655.

43.

Shin JE, Baek JH, Lee JH. Radiofrequency and ethanol ablation for the treatment of recurrent thyroid cancers: current status and challenges. Curr Opin Oncol. 2013;25:14–9.

44.

Mauri G, Solbiati L. Virtual navigation and fusion imaging in percutaneous ablations in the neck. Ultrasound Med Biol. 2015;41(3):898.
Ethics declarations
Conflict of interest
Shraga Nahum Goldberg sponsored research Cosman Company, Research consultant Cosman Company, Angiodynamics, and XACT medical. Giovanni Mauri is a consultant for Esaote S.p.A. All the other authors have nothing to disclose.
Ethical standards
All procedures performed in studies involving human participants were in accordance with the ethical standards of the institutional and/or national research committee and with the 1964 Helsinki declaration and its later amendments or comparable ethical standards.
Informed consent
For this type of study, formal consent is not required.
About this article
Cite this article
Mauri, G., Cova, L., Ierace, T. et al. Treatment of Metastatic Lymph Nodes in the Neck from Papillary Thyroid Carcinoma with Percutaneous Laser Ablation. Cardiovasc Intervent Radiol 39, 1023–1030 (2016). https://doi.org/10.1007/s00270-016-1313-6
Received:

Accepted:

Published:

Issue Date:
Keywords
Laser

Percutaneous ablation

Thyroid neoplasm

Neoplasm metastasis

Positron emission tomography