Abstract
Purpose
Various methods have been used to sample biliary strictures, including percutaneous fine-needle aspiration biopsy, intraluminal biliary washings, and cytological analysis of drained bile. However, none of these methods has proven to be particularly sensitive in the diagnosis of biliary tract malignancy. We report improved diagnostic accuracy using a modified technique for percutaneous transluminal biopsy in patients with this disease.
Materials and Methods
Fifty-two patients with obstructive jaundice due to a biliary stricture underwent transluminal forceps biopsy with a modified "cross and push" technique with the use of a flexible biopsy forceps kit commonly used for cardiac biopsies. The modification entailed crossing the stricture with a 0.038-in. wire leading all the way down into the duodenum. A standard or long sheath was subsequently advanced up to the stricture over the wire. A Cook 5.2-Fr biopsy forceps was introduced alongside the wire and the cup was opened upon exiting the sheath. With the biopsy forceps open, within the stricture the sheath was used to push and advance the biopsy cup into the stricture before the cup was closed and the sample obtained. The data were analysed retrospectively.
Results
We report the outcomes of this modified technique used on 52 consecutive patients with obstructive jaundice secondary to a biliary stricture. The sensitivity and accuracy were 93.3 and 94.2 %, respectively. There was one procedure-related late complication.
Conclusion
We propose that the modified "cross and push" technique is a feasible, safe, and more accurate option over the standard technique for sampling strictures of the biliary tree.
Access options
Buy single article
Instant access to the full article PDF.
US$ 39.95
Tax calculation will be finalised during checkout.
Subscribe to journal
Immediate online access to all issues from 2019. Subscription will auto renew annually.
US$ 79
Tax calculation will be finalised during checkout.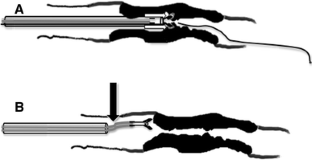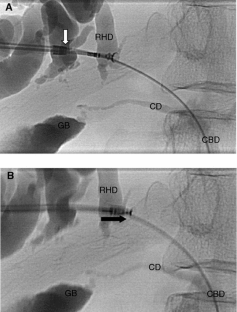 References
1.

Al-Sindi K, Kamal N, Golbahar J (2009) Efficacy of fine-needle aspiration biopsy in diagnosis of breast cancer: a retrospective study of 303 cases in Bahrain. Diagn Cytopathol 37(9):636–640

2.

Kim DW, Lee EJ, Kim SH, Kim TH, Lee SH, Kim DH, Rho MH (2009) Ultrasound-guided fine-needle aspiration biopsy of thyroid nodules: comparison in efficacy according to nodule size. Thyroid 19(1):27–31

3.

Burbank F, Kaye K, Belville J, Ekuan J, Blumenfeld M (1994) Image-guided automated core biopsies of the breast, chest, abdomen, and pelvis. Radiology 191(1):165–171

4.

Baron RL, Stanley RJ, Lee JK, Koehler RE, Melson GL, Balfe DM, Weyman PJ (1982) A prospective comparison of the evaluation of biliary obstruction using computed tomography and ultrasonography. Radiology 145(1):91–98

5.

Singh P, Patel T (2006) Advances in the diagnosis, evaluation and management of cholangiocarcinoma. Curr Opin Gastroenterol 22(3):294–299

6.

Van Beers BE (2008) Diagnosis of cholangiocarcinoma. HPB 10(2):87–93

7.

Ierardi AM, Mangini M, Fontana F, Floridi C, De Marchi G, Petrillo M et al (2014) Usefulness and safety of biliary percutaneous transluminal forceps biopsy (PTFB): our experience. Minim Invasive Ther Allied Technol 23(2):96–101

8.

Li TF, Ren KW, Han XW, Li WC, Ren JL, Jiao DC, Li Z, Ma J (2014) Percutaneous transhepatic cholangiobiopsy to determine the pathological cause of anastomotic stenosis after cholangiojejunostomy for malignant obstructive jaundice. Clin Radiol 69(1):13–17

9.

Zaheer A, Anwar MM, Donohoe C, O'Keeffe S, Mushtaq H, Kelleher B et al (2013) The diagnostic accuracy of endoscopic ultrasound in suspected biliary obstruction and its impact on endoscopic retrograde cholangiopancreatography burden in real clinical practice: a consecutive analysis. Eur J Gastroenterol Hepatol 25(7):850–857

10.

Weilert F, Bhat YM, Binmoeller KF, Kane S, Jaffee IM, Shaw RE et al (2014) EUS-FNA is superior to ERCP-based tissue sampling in suspected malignant biliary obstruction: results of a prospective, single-blind, comparative study. Gastrointest Endosc 80(1):97–104

11.

Cropper LD Jr, Gold RE (1983) Simplified brush biopsy of the bile ducts. Radiology 148(1):307–308

12.

Xing GS, Geng JC, Han XW, Dai JH, Wu CY (2005) Endobiliary brush cytology during percutaneous transhepatic cholangiodrainage in patients with obstructive jaundice. Hepatobiliary Pancreat Dis Int 4(1):98–103

13.

Weber A, von Weyhem C, Fend F, Schneider J, Neu B, Meining A et al (2008) Endoscopic transpapillary brush cytology and forceps biopsy in patients with hilar cholangiocarcinoma. World J Gastroenterol 14(7):1097–1101

14.

Elyaderani MK, Gabriele OF (1980) Brush and forceps biopsy of biliary ducts via percutaneous transhepatic catheterization. Radiology 135(3):777–778

15.

Savader SJ, Prescott CA, Lund GB, Osterman FA (1996) Intraductal biliary biopsy: comparison of three techniques. J Vasc Interv Radiol 7(5):743–750

16.

Terasaki K, Wittich GR, Lycke G, Walter R, Nowels K, Swanson D, Lucas D (1991) Percutaneous transluminal biopsy of biliary strictures with a bioptome. AJR Am J Roentgenol 156(1):77–78

17.

Jung GS, Huh JD, Lee SU, Han BH, Chang HK, Cho YD (2002) Bile duct: analysis of percutaneous transluminal forceps biopsy in 130 patients suspected of having malignant biliary obstruction. Radiology 224(3):725–730

18.

Tapping CR, Byass OR, Cast JE (2012) Cytological sampling versus forceps biopsy during percutaneous transhepatic biliary drainage and analysis of factors predicting success. Cardiovasc Intervent Radiol 35(4):883–889

19.

National Comprehensive Cancer Network Clinical Practice Guidelines in Oncology: Hepatobiliary Cancers version 2, 2014. Available at http://www.nccn.org/professionals/physician_gls/f_guidelines.asp

20.

Lokich JJ, Kane RA, Harrison DA, McDermott WV (1987) Biliary tract obstruction secondary to cancer: management guidelines and selected literature review. J Clin Oncol 5(6):969–981

21.

Cohan RH, Illescas FF, Braun SD, Newman GE, Dunnick NR (1986) Fine needle aspiration biopsy in malignant obstructive jaundice. Gastrointest Radiol 11(2):145–150

22.

Hall-Craggs MA, Lees WR (1986) Fine-needle aspiration biopsy: pancreatic and biliary tumors. AJR Am J Roentgenol 147(2):399–403

23.

Muro A, Mueller PR, Ferrucci JT Jr, Taft PD (1983) Bile cytology. A routine addition to percutaneous biliary drainage. Radiology 149(3):846–847
Acknowledgments
We acknowledge Felicity Evison, Statistical Intelligence Unit, University Hospital Birmingham. For assistance in data evaluation.
Conflict of Interest
Kamarjit Mangat: recieved professional fees from Cook Medical, to present the study findings at the CIRSE 2012 and SIR 2013 meetings. Cook Medical has patented a Transluminal Biliary Biopsy Forceps Set (BBFS-100) with royalties paid to Kamarjit Mangat. Prashant Patel and Balaji Rangarajan have no conflicts of interest to disclose.
Statement of Human and Animal Rights and Informed Consent
The reported study is a technical note and did not require ethics committee approval. The study was logged as an Institutional audit. Informed consent was obtained from all individual participants included in the study.
About this article
Cite this article
Patel, P., Rangarajan, B. & Mangat, K. Improved Accuracy of Percutaneous Biopsy Using "Cross and Push" Technique for Patients Suspected with Malignant Biliary Strictures. Cardiovasc Intervent Radiol 38, 1005–1010 (2015). https://doi.org/10.1007/s00270-014-0976-0
Received:

Accepted:

Published:

Issue Date:
Keywords
Non-vascular interventions

Biopsy

Bile duct/gallbladder/biliary

Cancer

Diagnostic