Abstract
Purpose
This study was designed to assess feasibility of US-CT/MRI fusion-guided ablation in liver tumors undetectable with US.
Methods
From 2002 to 2012, 295 tumors (162 HCCs and 133 metastases; mean diameter 1.3 ± 0.6 cm, range 0.5–2.5 cm) detectable on contrast-enhanced CT/MRI, but completely undetectable with unenhanced US and either totally undetectable or incompletely conspicuous with contrast-enhanced US (CEUS), were treated in 215 sessions using either internally cooled radiofrequency or microwave with standard ablation protocols, guided by an image fusion system (Virtual Navigation System, Esaote S.p.A., Genova, Italy) that combines US with CT/ MRI images. Correct targeting and successful ablation of tumor were verified after 24 hours with CT or MRI.
Results
A total of 282 of 295 (95.6 %) tumors were correctly targeted with successful ablation achieved in 266 of 295 (90.2 %). Sixteen of 295 (5.4 %) tumors were correctly targeted, but unsuccessfully ablated, and 13 of 295 (4.4 %) tumors were unsuccessfully ablated due to inaccurate targeting. There were no perioperative deaths. Major complications were observed in 2 of the 215 treatments sessions (0.9 %).
Conclusions
Real-time virtual navigation system with US-CT/MRI fusion imaging is precise for targeting and achieving successful ablation of target tumors undetectable with US alone. Therefore, a larger population could benefit from ultrasound guided ablation procedures.
This is a preview of subscription content, log in to check access.
Access options
Buy single article
Instant access to the full article PDF.
US$ 39.95
Price includes VAT for USA
Subscribe to journal
Immediate online access to all issues from 2019. Subscription will auto renew annually.
US$ 99
This is the net price. Taxes to be calculated in checkout.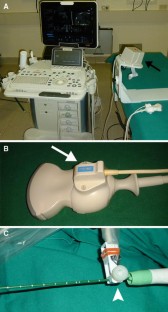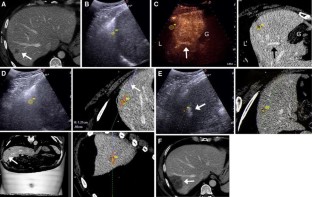 References
1.

Chen MS, Li JQ, Zheng Y, Guo RP, Liang HH, Zhang YQ, Lin XJ, Lau WY (2006) A prospective randomized trial comparing percutaneous local ablative therapy and partial hepatectomy for small hepatocellular carcinoma. Ann Surg 243(3):321–328

2.

Forner A, Llovet JM, Bruix J (2012) Hepatocellular carcinoma. Lancet 379(9822):1245–1255 Epub 2012 Feb 20

3.

Hung HH, Chiou YY, Hsia CY, Su CW, Chou YH, Chiang JH, Kao WY, Huo TI, Huang YH, Su YH, Lin HC, Lee SD, Wu JC (2011) Survival rates are comparable after radiofrequency ablation or surgery in patients with small hepatocellular carcinomas. Clin Gastroenterol Hepatol 9(1):79–86 Epub 2010 Sep 8

4.

Livraghi T, Mäkisalo H, Line PD (2011) Treatment options in hepatocellular carcinoma today. Scand J Surg. Scand J Surg 100(1):22–29

5.

Livraghi T, Meloni F, Di Stasi M, Rolle E, Solbiati L, Tinelli C, Rossi S (2008) Sustained complete response and complications rates after radiofrequency ablation of very early hepatocellular carcinoma in cirrhosis: Is resection still the treatment of choice? Hepatology 47(1):82–89

6.

Tiong L, Maddern GJ (2011) Systematic review and meta-analysis of survival and disease recurrence after radiofrequency ablation for hepatocellular carcinoma. Br J Surg 98(9):1210–1224 Epub 2011 Jul 15

7.

Ikeda K, Kobayashi M, Saitoh S, Someya T, Hosaka T, Sezaki H, Suzuki Y, Suzuki F, Akuta N, Arase Y, Kumada H, Matsuda M, Hashimoto M, Watanabe G (2005) Cost-effectiveness of radiofrequency ablation and surgical therapy for small hepatocellular carcinoma of 3 cm or less in diameter. Hepatol Res 33(3):241–249 Epub 2005 Nov 2

8.

Van Tilborg AA, Meijerink MR, Sietses C, Van Waesberghe JH, Mackintosh MO, Meijer S, Van Kuijk C, Van Den Tol P (2011) Long-term results of radiofrequency ablation for unresectable colorectal liver metastases: a potentially curative intervention. Br J Radiol 84(1002):556–565 Epub 2010 Dec 15

9.

Gillams AR, Lees WR (2009) Five-year survival in 309 patients with colorectal liver metastases treated with radiofrequency ablation. Eur Radiol 19(5):1206–1213 Epub 2009 Jan 10

10.

Solbiati L, Livraghi T, Goldberg SN, Ierace T, Meloni F, Dellanoce M, Cova L, Halpern EF, Gazelle GS (2001) Percutaneous radio-frequency ablation of hepatic metastases from colorectal cancer: long-term results in 117 patients. Radiology 221(1):159–166

11.

Solbiati L, Ahmed M, Cova L, Ierace T, Brioschi M, Goldberg SN (2012) Small liver colorectal metastases treated with percutaneous radiofrequency ablation: local response rate and long-term survival with up to 10-year follow-up. Radiology 265(3):958–968 Epub 2012 Oct 22

12.

Gervais DA, Goldberg SN, Brown DB, Soulen MC, Millward SF, Rajan DK (2009) Society of Interventional Radiology position statement on percutaneous radiofrequency ablation for the treatment of liver tumors. J Vasc Interv Radiol 20(7 Suppl):S342–S347

13.

Goldberg SN, Grassi CJ, Cardella JF, Charboneau JW, Dodd GD III, Dupuy DE, Gervais DA, Gillams AR, Kane RA, Lee FT Jr, Livraghi T, McGahan J, Phillips DA, Rhim H, Silverman SG, Solbiati L, Vogl TJ, Wood BJ, Vedantham S, Sacks D (2009) Society of Interventional Radiology Technology Assessment Committee and the International Working Group on image-guided tumor ablation. Image-guided tumor ablation: standardization of terminology and reporting criteria. J Vasc Interv Radiol 20(7 Suppl):S377–s390

14.

Ahmed M, Brace CL, Lee FT Jr, Goldberg SN (2011) Principles of and advances in percutaneous ablation. Radiology 258(2):351–369

15.

Machi J, Uchida S, Sumida K, Limm WM, Hundahl SA, Oishi AJ, Furumoto NL, Oishi RH (2001) Ultrasound-guided radiofrequency thermal ablation of liver tumors: percutaneous, laparoscopic, and open surgical approaches. J Gastrointest Surg 5(5):477–489

16.

Rhim H, Lee MH, Kim YS, Choi D, Lee WJ, Lim HK (2008) Planning sonography to assess the feasibility of percutaneous radiofrequency ablation of hepatocellular carcinomas. AJR Am J Roentgenol 190:1324–1330

17.

Kim JE, Kim YS, Rhim H, Lim HK, Lee MW, Choi D, Shin SW, Cho SK (2011) Outcomes of patients with hepatocellular carcinoma referred for percutaneous radiofrequency ablation at a tertiary center: analysis focused on the feasibility with the use of ultrasonography guidance. Eur J Radiol 79:e80–e84

18.

Lee MW, Kim YJ, Park HS, Yu NC, Jung SI, Ko SY, Jeon HJ (2010) Targeted sonography for small hepatocellular carcinoma discovered by CT or MRI: factors affecting sonographic detection. AJR Am J Roentgenol 194:W396–W400

19.

Kim PN, Choi D, Rhim H, Rha SE, Hong HP, Lee J, Choi JI, Kim JW, Seo JW, Lee EJ, Lim HK (2012) Planning ultrasound for percutaneous radiofrequency ablation to treat small (≤3 cm) hepatocellular carcinomas detected on computed tomography or magnetic resonance imaging: a multicenter prospective study to assess factors affecting ultrasound visibility. J Vasc Interv Radiol 23:627–634

20.

Lee MW, Lim HK, Kim YJ, Choi D, Kim YS, Lee WJ, Cha DI, Park MJ, Rhim H (2011) Percutaneous sonographically guided radio frequency ablation of hepatocellular carcinoma: causes of mistargeting and factors affecting the feasibility of a second ablation session. J Ultrasound Med 30:607–615

21.

Solbiati L, Ierace T, Tonolini M, Cova L (2004) Guidance and monitoring of radiofrequency liver tumor ablation with contrast-enhanced ultrasound. Eur J Radiol 51(Suppl):S19–S23

22.

Claudon M, Dietrich CF, Choi BI, Cosgrove DO, Kudo M, Nolsøe CP, Piscaglia F, Wilson SR, Barr RG, Chammas MC, Chaubal NG, Chen MH, Clevert DA, Correas JM, Ding H, Forsberg F, Fowlkes JB, Gibson RN, Goldberg BB, Lassau N, Leen EL, Mattrey RF, Moriyasu F, Solbiati L, Weskott HP, Xu HX (2013) Guidelines and good clinical practice recommendations for contrast enhaced ultrasound (CEUS) in the liver—update 2012. Ultraschall Med 34(1):11–29 Epub 2012 Nov 5

23.

Kim AY, Lee MW, Rhim H, Cha DI, Choi D, Kim YS, Lim HK, Cho SW (2013) Pretreatment evaluation with contrast-enhanced ultrasonography for percutaneous radiofrequency ablation of hepatocellular carcinomas with poor conspicuity on conventional ultrasonography. Korean J Radiol 14(5):754–763

24.

Wu J, Yang W, Yin S, Wu J, Wu W, Yan K, Chen M (2013) Role of contrast-enhanced ultrasonography in percutaneous radiofrequency ablation of liver metastases and efficacy evaluation. Chin J Cancer Res 25(2):143–154

25.

Di Mauro E, Solbiati M, De Beni S, Forzoni L, D'Onofrio S, Solbiati L (2013) Virtual navigator real-time ultrasound fusion imaging with positron emission tomography for liver interventions. Conf Proc IEEE Eng Med Biol Soc 2013:1406–1409

26.

Venkatesan AM, Kadoury S, Abi-Jaoudeh N, Levy EB, Maass-Moreno R, Krücker J, Dalal S, Xu S, Glossop N, Wood BJ (2011) Real-time FDG PET guidance during biopsies and radiofrequency ablation using multimodality fusion with electromagnetic navigation. Radiology 260(3):848–856 Epub 2011 Jul 6

27.

Crocetti L, Lencioni R, Debeni S, See TC, Pina CD, Bartolozzi C (2008) Targeting liver lesions for radiofrequency ablation: an experimental feasibility study using a CT-US fusion imaging system. Invest Radiol 43(1):33–39

28.

Hakime A, Deschamps F, De Carvalho EG, Teriitehau C, Auperin A, De Baere T (2011) Clinical evaluation of spatial accuracy of a fusion imaging technique combining previously acquired computed tomography and real-time ultrasound for imaging of liver metastases. Cardiovasc Interv Radiol 34(2):338–344 Epub 2010 Sep 16

29.

Sandulescu DL, Dumitrescu D, Rogoveanu I, Saftoiu A (2011) Hybrid ultrasound imaging techniques (fusion imaging). World J Gastroenterol 17(1):49–52

30.

Stang A, Keles H, Hentschke S, Seydewitz C, Keuchel M, Pohland C, Dahlke J, Weilert H, Wessling J, Malzfeldt E (2010) Real-time ultrasonography-computed tomography fusion imaging for staging of hepatic metastatic involvement in patients with colorectal cancer: initial results from comparison to US seeing separate CT images and to multidetector-row CT alone. Invest Radiol 45(8):491–501

31.

Wood BJ, Zhang H, Durrani A, Glossop N, Ranjan S, Lindisch D, Levy E, Banovac F, Borgert J, Krueger S, Kruecker J, Viswanathan A, Cleary K (2005) Navigation with electromagnetic tracking for interventional radiology procedures: a feasibility study. J Vasc Interv Radiol 16(4):493–505

32.

Wood BJ, Locklin JK, Viswanathan A, Kruecker J, Haemmerich D, Cebral J, Sofer A, Cheng R, McCreedy E, Cleary K, McAuliffe MJ, Glossop N, Yanof J (2007) Technologies for guidance of radiofrequency ablation in the multimodality interventional suite of the future. J Vasc Interv Radiol 18(1 Pt 1):9–24

33.

Hirooka M, Iuchi H, Kumagi T, Shigematsu S, Hiraoka A, Uehara T, Kurose K, Horiike N, Onji M (2006) Virtual sonographic radiofrequency ablation of hepatocellular carcinoma visualized on CT but not on conventional sonography. AJR Am J Roentgenol 186(5 Suppl):S255–S260

34.

Kawasoe H, Eguchi Y, Mizuta T, Yasutake T, Ozaki I, Shimonishi T, Miyazaki K, Tamai T, Kato A, Kudo S, Fujimoto K (2007) Radiofrequency ablation with real-time virtual sonography system for treating hepatocellular carcinoma difficult to detect by ultrasonography. J Clin Biochem Nutr 40(1):66–72

35.

Minami Y, Chung H, Kudo M, Kitai S, Takahashi S, Inoue T, Ueshima K, Shiozaki H (2008) Radiofrequency ablation of hepatocellular carcinoma: value of virtual CT sonography with magnetic navigation. AJR Am J Roentgenol 190(6):W335–W341

36.

Liu FY, Yu XL, Liang P, Cheng ZG, Han ZY, Dong BW, Zhang XH (2012) Microwave ablation assisted by a real-time virtual navigation system for hepatocellular carcinoma undetectable by conventional ultrasonography. Eur J Radiol 81(7):1455–1459 Epub 2011 Apr 7

37.

Nakai M, Sato M, Sahara S, Takasaka I, Kawai N, Minamiguchi H, Tanihata H, Kimura M, Takeuchi N (2009) Radiofrequency ablation assisted by real-time virtual sonography and CT for hepatocellular carcinoma undetectable by conventional sonography. Cardiovasc Interv Radiol 32(1):62–69 Epub 2008 Nov 6

38.

Lee MW, Rhim H, Cha DI, Kim YJ, Lim HK (2013) Planning US for percutaneous radiofrequency ablation of small hepatocellular carcinomas (1-3 cm): value of fusion imaging with conventional US and CT/MR images. J Vasc Interv Radiol 24:958–965

39.

Wang X, Sofocleous CT, Erinjeri JP, Petre EN, Gonen M, Do KG, Brown KT, Covey AM, Brody LA, Alago W, Thornton RH, Kemeny NE, Solomon SB (2013) Margin size is an independent predictor of local tumor progression after ablation of colon cancer liver metastases. Cardiovasc Interv Radiol 36(1):166–175

40.

Shyn PB, Mauri G, Oliva Alencar R, Tatli S, Shah SH, Morrison PR, Catalano PJ, Silverman SG (2014) Percutaneous image-guided Cryoablation of liver tumors: predicting local progression on 24-hour MR imaging. AJR Am J Roentgenol [Epub ahead of print]

41.

Nakazawa T, Kokubu S, Shibuya A, Ono K, Watanabe M, Hidaka H, Tsuchihashi T, Saigenji K (2007) Radiofrequency ablation of hepatocellular carcinoma: correlation between local tumor progression after ablation and ablative margin. AJR Am J Roentgenol 188(2):480–488

42.

Appelbaum L, Solbiati L, Sosna J, Nissenbaum Y, Greenbaum N, Goldberg SN (2013) Evaluation of an electromagnetic image-fusion navigation system for biopsy of small lesions: assessment of accuracy in an in vivo swine model. Acad Radiol 20(2):209–217

43.

Mauri G, Porazzi E, Cova L, Restelli U, Tondolo T, Bonfanti M, Cerri A, Ierace T, Croce D, Solbiati L (2014) Intraprocedural contrast-enhanced ultrasound (CEUS) in liver percutaneous radiofrequency ablation: clinical impact and health technology assessment. Insights Into Imaging [Epub ahead of print]

44.

Park BJ, Byun JH, Jin YH, Won HJ, Shin YM, Kim KW, Park SJ, Kim PN (2009) CT-guided radiofrequency ablation for hepatocellular carcinomas that were undetectable at US: therapeutic effectiveness and safety. J Vasc Interv Radiol 20(4):490–499

45.

Clasen S, Rempp H, Boss A, Schmidt D, Fritz J, Schraml C, Schick F, Claussen CD, Pereira PL (2011) MR-guided radiofrequency ablation of hepatocellular carcinoma: long-term effectiveness. J Vasc Interv Radiol 22(6):762–770 Epub 2011 May 6
Conflict of interest
Giovanni Mauri, Luca Cova, Stefano De Beni, Tiziana Ierace, Tania Tondolo, Anna Cerri, and Luigi Solbiati have nothing to disclose. S. Nahum Goldberg has sponsored research and consulting for AngioDynamics, Marlborough, MA, and Cosman Company, Burlington, MA, USA.
About this article
Cite this article
Mauri, G., Cova, L., De Beni, S. et al. Real-Time US-CT/MRI Image Fusion for Guidance of Thermal Ablation of Liver Tumors Undetectable with US: Results in 295 Cases. Cardiovasc Intervent Radiol 38, 143–151 (2015). https://doi.org/10.1007/s00270-014-0897-y
Received:

Accepted:

Published:

Issue Date:
Keywords
Real-time virtual navigation

Liver malignancies

Percutaneous thermal ablation

Ultrasonography

Image fusion