Abstract
Purpose
Percutaneous cryoablation is gaining in popularity as a viable treatment option for renal cell carcinoma (RCC). We present the 5-year oncologic outcomes of a prospective trial.
Methods
Over a 5-year period, we treated 134 consecutive patients with biopsy-proven RCC with CT-guided percutaneous cryoablation. All were treated while under conscious sedation. Technical objective was for the ice ball to cover the lesion plus a 5-mm margin. Hydro- or air dissection was utilized to aid in technical success as needed. Efficacy was defined as the lack of enhancement and/or enlargement of a previously enhancing lesion on follow-up imaging. Safety was assessed by the common terminology criteria for adverse events (CTCAE), version 4.0.
Results
The 1-, 2-, 3-, 4-, and 5-year efficacy of percutaneous cryoablation for RCC was 99.2, 99.2, 98.9, 98.5, and 97.0 %, respectively. Median tumor size was 2.8 ± 1.4 cm. All-cause mortality during the study period was 3 (none from RCC), yielding an overall 5-year survival of 97.8 %. The cancer-specific 5-year survival was 100 %. No patient developed metastatic disease during the follow-up period. The overall significant CTCAE version 4.0 complication rate was 6 %, with the most frequent being transfusion-requiring hemorrhage, at 1.6 %. There was one 30-day mortality unrelated to the procedure.
Conclusion
CT-guided percutaneous cryoablation for renal cancer offers very high efficacy, approaching that of the gold standard, with a more favorable safety profile.
Access options
Buy single article
Instant access to the full article PDF.
USD 39.95
Price excludes VAT (USA)
Tax calculation will be finalised during checkout.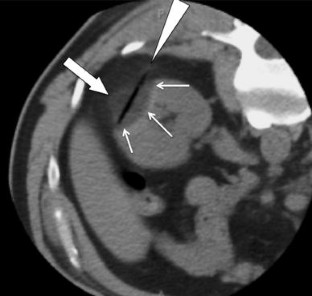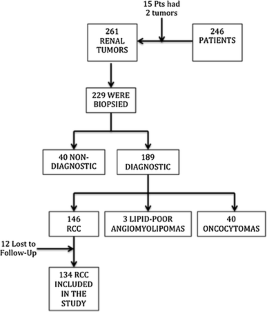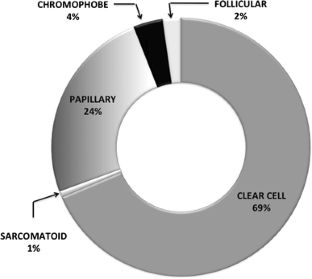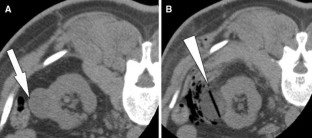 References
Rodriguez R, Cizman Z, Hong K, Koliatsos A et al (2011) Prospective analysis of the safety and efficacy of percutaneous cryoablation for pT1NxMx biopsy-proven renal cell carcinoma. Cardiovasc Intervent Radiol 34:573–578

Park S, Anderson JK, Matsumoto ED et al (2006) Radiofrequency ablation of renal tumors: intermediate-term results. J Endourol 20:569–573

Tracy CR, Raman JD, Donnally C et al (2010) Durable oncologic outcomes after radiofrequency ablation: experience from treating 243 small renal masses over 7.5 years. Cancer 116:3135–3142

Guan W, Bai J, Liu J et al (2012) Microwave ablation versus partial nephrectomy for small renal tumors: intermediate-term results. J Surg Oncol 106:316–321

Long CJ, Kutikov A, Canter DJ et al (2011) Percutaneous vs surgical cryoablation of the small renal mass: is efficacy compromised? BJU Int 107:1376–1380

Joniau S, Tsivian M, Gontero P (2011) Radiofrequency ablation for the treatment of small renal masses: safety and oncologic efficacy. Minerva Urol Nefrol 63:227–236

Schmit GD, Atwell TD, Callstrom MR et al (2010) Percutaneous cryoablation of renal masses > or =3 cm: efficacy and safety in treatment of 108 patients. J Endourol 24:1255–1262

Goyal J, Verma P, Sidana A et al (2012) Single-center comparative oncologic outcomes of surgical and percutaneous cryoablation for treatment of renal tumors. J Endourol 26:1413–1419

Hillyer SP, Bhayani SB, Allaf ME et al (2013) Robotic partial nephrectomy for solitary kidney: a multi-institutional analysis. Urology 81:93–97

Porpiglia F, Fiori C, Bertolo R, Scarpa RM (2011) Does tumour size really affect the safety of laparoscopic partial nephrectomy? BJU Int 108:268–273

Yao K, Zhou LQ, Li XS et al (2010) Analysis of safety and efficacy of laparoscopic and open partial nephrectomy for small renal cell carcinoma. Zhonghua Wai Ke Za Zhi 48:372–374

Atwell TD, Schmit GD, Boorjian SA et al (2013) Percutaneous ablation for renal masses measuring 3.0 cm and smaller: comparative local control and complications after radiofrequency ablation and cryoablation. Am J Roentgenol 200:461–466

Atwell TD, Carter RE, Schmit GD et al (2012) Complications following 573 percutaneous renal radiofrequency and cryoablation procedures. J Vasc Interv Radiol 23:48–54

Kunkle DA, Uzzo RG (2008) Cryoablation or radiofrequency ablation of the small renal mass: a meta-analysis. Cancer 113:2671–2680

Truesdale CM, Soulen MC, Clark TW et al (2013) Percutaneous computed tomography–guided renal mass radiofrequency ablation versus cryoablation: doses of sedation medication used. J Vasc Interv Radiol 24:347–350

Jilg CA, Neumann HP, Gläsker S et al (2012) Growth kinetics in von Hippel–Lindau-associated renal cell carcinoma. Urol Int 88:71–78
Conflict of interest
Christos S. Georgiades is a consultant for Galil and Endocare. Ron Rodriguez declares that he has no conflict of interest.
About this article
Cite this article
Georgiades, C.S., Rodriguez, R. Efficacy and Safety of Percutaneous Cryoablation for Stage 1A/B Renal Cell Carcinoma: Results of a Prospective, Single-Arm, 5-Year Study. Cardiovasc Intervent Radiol 37, 1494–1499 (2014). https://doi.org/10.1007/s00270-013-0831-8
Received:

Accepted:

Published:

Issue Date:

DOI: https://doi.org/10.1007/s00270-013-0831-8
Keywords
Cryoablation

Renal cancer

RCC

Ablation

Percutaneous