Abstract
Purpose
The major complication occurring with biliary stents is stent occlusion, frequently seen because of tumour in-growth, epithelial hyperplasia, and sludge deposits, resulting in recurrent jaundice and cholangitis. We report a prospective study with the results of first in man percutaneous intraductal radiofrequency (RF) ablation to clear the blocked metal stents in patients with malignant biliary obstruction using a novel bipolar RF catheter.
Methods
Nine patients with malignant biliary obstruction and blocked metal stents were included. These patients underwent intraductal biliary RF ablation through the blocked metal stent following external biliary decompression with an internal–external biliary drainage.
Results
All nine patients had their stent patency restored successfully without the use of secondary stents. Following this intervention, there was no 30-day mortality, haemorrhage, bile duct perforation, bile leak, or pancreatitis. Of the nine patients, six are alive and three patients are dead with a median follow-up of 122 (range 50–488) days and a median stent patency of 102.5 (range 50–321) days. Six patients had their stent patent at the time of last follow-up or death. Three patients with stent blockage at 321, 290, and 65 days postprocedure underwent percutaneous transhepatic drain insertion and repeat ablation.
Conclusions
In this selective group of patients, it appears that this new approach is safe and feasible. Efficacy remains to be proven in future, randomized, prospective studies.
This is a preview of subscription content, log in to check access.
Access options
Buy single article
Instant access to the full article PDF.
US$ 39.95
Price includes VAT for USA
Subscribe to journal
Immediate online access to all issues from 2019. Subscription will auto renew annually.
US$ 99
This is the net price. Taxes to be calculated in checkout.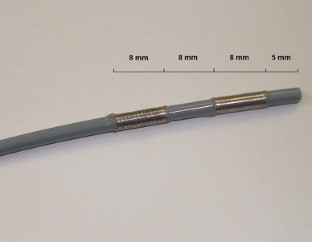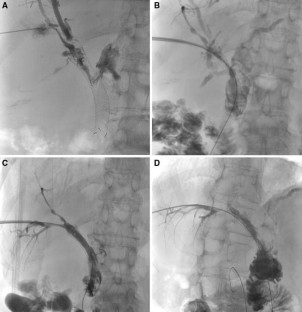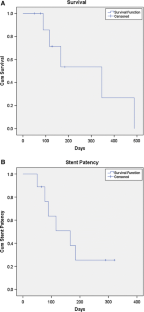 References
1.

Das A, Sivak MV Jr (2000) Endoscopic palliation for inoperable pancreatic cancer. Cancer Control 7:452–457

2.

Steel AW, Postgate AJ, Khorsandi S et al (2011) Endoscopically applied radiofrequency ablation appears to be safe in the treatment of malignant biliary obstruction. Gastrointest Endosc 73:149–153

3.

Monga A, Gupta R, Ramchandani M, Rao GV et al (2011) Endoscopic radiofrequency ablation of cholangiocarcinoma: new palliative treatment modality (with videos). Gastrointest Endosc 74(4):935–937

4.

Figueroa-Barojas P, Bakhru MR, Habib N et al (2011) 387 Safety and efficacy of radiofrequency ablation in the management of unresectable bile duct and pancreatic cancer: a novel palliation technique. Gastrointest Surg 73(Suppl):AB127

5.

Mizandari M, Pai M, Xi F (2012) Percutaneous intraductal radiofrequency ablation is a safe treatment for malignant biliary obstruction: feasibility and early results. Cardiovasc Intervent Radiol 36(3):814–819

6.

Ridtitid W, Rerknimitr R (2012) Management of an occluded biliary metallic stent. World J Gastrointest Endosc 4(5):157–161

7.

Andersen JR, Sørensen SM, Kruse A et al (1989) Randomised trial of endoscopic endoprosthesis versus operative bypass in malignant obstructive jaundice. Gut 30:1132–1135

8.

Shepherd HA, Royle G, Ross AP et al (1988) Endoscopic biliary endoprosthesis in the palliation of malignant obstruction of the distal common bile duct: a randomized trial. Br J Surg 75:1166–1168

9.

Loew BJ, Howell DA, Sanders MK et al (2009) Comparative performance of uncoated, self-expanding metal biliary stents of different designs in 2 diameters: final results of an international multicenter, randomized, controlled trial. Gastrointest Endosc 70:445–453

10.

Davids PH, Groen AK, Rauws EA et al (1992) Randomised trial of self-expanding metal stents versus polyethylene stents for distal malignant biliary obstruction. Lancet 340:1488–1492

11.

Knyrim K, Wagner HJ, Pausch J et al (1993) A prospective, randomized, controlled trial of metal stents for malignant obstruction of the common bile duct. Endoscopy 25:207–212

12.

O'Brien S, Hatfield AR, Craig PI et al (1995) A three-year follow-up of self-expanding metal stents in the endoscopic palliation of long-term survivors with malignant biliary obstruction. Gut 36:618–621

13.

Rossi P, Bezzi M, Rossi M et al (1994) Metallic stents in malignant biliary obstruction: results of a multicenter European study of 240 patients. J Vasc Interv Radiol 5:279–285

14.

Ballinger AB, McHugh M, Catnach SM et al (1994) Symptom relief and quality of life after stenting for malignant bile duct obstruction. Gut 35:467–470

15.

Kullman E, Frozanpor F, Söderlund C et al (2010) Covered versus uncovered self-expandable nitinol stents in the palliative treatment of malignant distal biliary obstruction: results from a randomized, multicenter study. Gastrointest Endosc 72:915–923

16.

Rossi P, Bezzi M, Salvatori FM et al (1997) Clinical experience with covered wallstents for biliary malignancies: 23-month follow-up. Cardiovasc Intervent Radiol 20:441–447

17.

Hausegger KA, Thurnher S, Bodendorfer G et al (1998) Treatment of malignant biliary obstruction with polyurethane covered wallstents. AJR Am J Roentgenol 170:403–408

18.

Miyayama S, Matsui O, Terayama T et al (1997) Covered gianturco stents for malignant biliary obstruction: preliminary clinical evaluation. J Vasc Interv Radiol 8:641–648

19.

Han YM, Jin GY, Lee S et al (2003) Flared polyurethane-covered self-expandable nitinol stent for malignant biliary obstruction. J Vasc Interv Radiol 14:1291–1301

20.

Kanasaki S, Furukawa A, Kane T et al (2000) Polyurethane-covered Nitinol Strecker stents as primary palliative treatment of malignant biliary obstruction. Cardiovasc Intervent Radiol 23:114–120

21.

Isayama H, Komatsu Y, Tsujino T et al (2002) Polyurethane-covered metal stent for management of distal malignant biliary obstruction. Gastrointest Endosc 55:366–370

22.

Isayama H, Komatsu Y, Tsujino T et al (2004) A prospective randomized study of "covered" versus "uncovered" diamond stents for the management of distal malignant biliary obstruction. Gut 53:729–734

23.

Isayama H, Kawabe T, Nakai Y et al (2010) Management of distal malignant biliary obstruction with the ComVi stent, a new covered metallic stent. Surg Endosc 24:131–137

24.

Ho H, Mahajan A, Gosain S et al (2010) Management of complications associated with partially covered biliary metal stents. Dig Dis Sci 55:516–522

25.

Cho YK, Kim JK, Kim MY et al (2009) Systematic review of randomized trials for hepatocellular carcinoma treated with percutaneous ablation therapies. Hepatology 49:453–459

26.

Mulier S, Ruers T, Jamart J et al (2008) Radiofrequency ablation versus resection for resectable colorectal liver metastases: time for a randomized trial? An update. Dig Surg 25:445–460

27.

Sutherland LM, Williams JA, Padbury RT et al (2006) Radiofrequency ablation of liver tumors: a systematic review. Arch Surg 141:181–190

28.

Khorsandi S, Zacharoulis D, Vavra P et al (2008) The modern use of radiofrequency energy in surgery, endoscopy and interventional radiology. Eur Surg 40:204–210
Acknowledgments
This study was supported by the Czech Republic Ministry of Health's Departmental Research and Development Programme NT11128.
Conflict of interest
Nagy Habib is a shareholder and director of EMcision Limited, the company that developed The Habib™ Percutaneous Endobiliary RF ablation catheter. None of the other authors have a conflict of interest or a financial disclosure to declare.
About this article
Cite this article
Pai, M., Valek, V., Tomas, A. et al. Percutaneous Intraductal Radiofrequency Ablation for Clearance of Occluded Metal Stent in Malignant Biliary Obstruction: Feasibility and Early Results. Cardiovasc Intervent Radiol 37, 235–240 (2014). https://doi.org/10.1007/s00270-013-0688-x
Received:

Accepted:

Published:

Issue Date:
Keywords
Interventional oncology

Radiofrequency ablation

Bile duct/gallbladder/biliary

Liver/hepatic

Pancreas

Cancer

Stenosis/restenosis

Tumour/neoplasm