Abstract
As endovascular therapies increase in frequency, the incidence of lost or embolized foreign bodies is increasing. The presence of an intravascular foreign body (IFB) is well recognized to have the potential to cause serious complications. IFB can embolize and impact critical sites such as the heart, with subsequent significant morbidity or mortality. Intravascular foreign bodies most commonly result from embolized central line fragments, but they can originate from many sources, both iatrogenic and noniatrogenic. The percutaneous approach in removing an IFB is widely perceived as the best way to retrieve endovascular foreign bodies. This minimally invasive approach has a high success rate with a low associated morbidity, and it avoids the complications related to open surgical approaches. We examined the characteristics, causes, and incidence of endovascular embolizations and reviewed the various described techniques that have been used to facilitate subsequent explantation of such materials.
Access options
Buy single article
Instant access to the full article PDF.
US$ 39.95
Tax calculation will be finalised during checkout.
Subscribe to journal
Immediate online access to all issues from 2019. Subscription will auto renew annually.
US$ 79
Tax calculation will be finalised during checkout.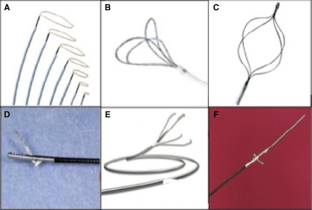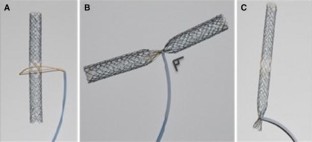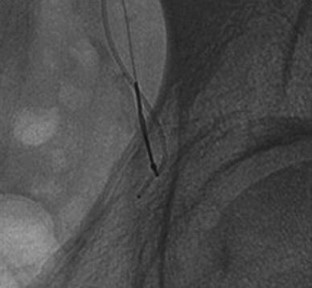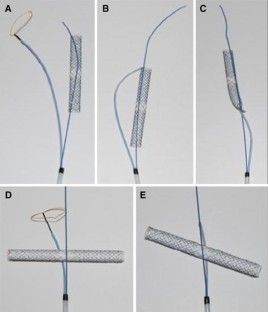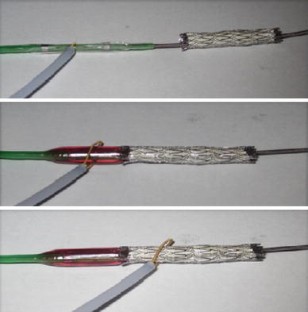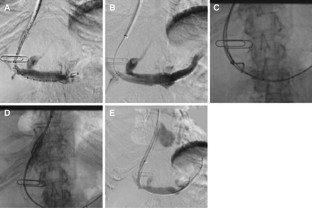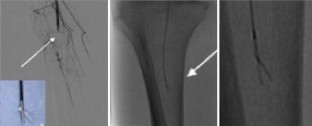 References
1.

Turner DD, Sommers SC (1954) Accidental passage of a polyethylene catheter from cubital vein to right atrium; report of a fatal case. N Engl J Med 251:744–745

2.

Thomas J, Sinclair-Smith B, Bloomfield D, Davachi A (1964) Non-surgical retrieval of a broken segment of steel spring guide from the right atrium and inferior vena cava. Circulation 30:106–108

3.

Yeung LY, Hastings GS, Alexander JQ (2010) Endovascular retrieval of inferior vena cava filter penetrating into aorta: an unusual presentation of abdominal pain. Vasc Endovascular Surg 44:683–686

4.

Schroeder ME, Pryor HI 2nd, Chun AK et al (2011) Retrograde migration and endovascular retrieval of a venous bullet embolus. J Vasc Surg 53:1113–1115

5.

Struck MF, Kaden I, Heiser A, Steen M (2008) Cross-over endovascular retrieval of a lost guide wire from the subclavian vein. J Vasc Access 9:304–306

6.

Tapping CR, Gallo A, De Silva RJ, Uberoi R (in press) A close cut: a technical report of endovascular removal of a penetrating intravascular foreign body after a lawn mowing injury. Cardiovasc Intervent Radiol

7.

Alexandre M, Sebastin T, Vikramaditya P (2009) Combined surgical and endovascular retrieval of a migrated rigid mitral valve ring. J Vasc Interv Radiol 20:1101–1102

8.

Guimaraes M, Denton CE, Uflacker R et al (2012) Percutaneous retrieval of an Amplatzer septal occluder device that had migrated to the aortic arch. Cardiovasc Intervent Radiol 35:430–433

9.

Adegboyega PA, Sustento-Reodica N, Adesokan A (1996) Arterial bullet embolism resulting in delayed vascular insufficiency: a rationale for mandatory extraction. J Trauma 41:539–541

10.

Egglin TK, Dickey KW, Rosenblatt M, Pollak JS (1995) Retrieval of intravascular foreign bodies: experience in 32 cases. AJR Am J Roentgenol 164:1259–1264

11.

Eggebrecht H, Haude M, von Birgelen C et al (2000) Nonsurgical retrieval of embolized coronary stents. Catheter Cardiovasc Interv 51:432–440

12.

Foster-Smith KW, Garratt KN, Higano ST, Holmes DR Jr (1993) Retrieval techniques for managing flexible intracoronary stent misplacement. Cathet Cardiovasc Diagn 30:63–68

13.

Brilakis ES, Best PJ, Elesber AA et al (2005) Incidence, retrieval methods, and outcomes of stent loss during percutaneous coronary intervention: a large single-center experience. Catheter Cardiovasc Interv 66:333–340

14.

Mallmann CV, Wolf KJ, Wacker FK (2008) Retrieval of vascular foreign bodies using a self-made wire snare. Acta Radiol 49:1124–1128

15.

Seong CK, Kim YJ, Chung JW et al (2002) Tubular foreign body or stent: safe retrieval or repositioning using the coaxial snare technique. Korean J Radiol 3:30–37

16.

Sheth R, Someshwar V, Warawdekar G (2007) Percutaneous retrieval of misplaced intravascular foreign objects with the Dormia basket: an effective solution. Cardiovasc Intervent Radiol 30:48–53

17.

Rozenman Y, Burstein M, Hasin Y, Gotsman MS (1995) Retrieval of occluding unexpanded Palmaz-Schatz stent from a saphenous aorto-coronary vein graft. Cathet Cardiovasc Diagn 34:159–161

18.

Cishek MB, Laslett L, Gershony G (1995) Balloon catheter retrieval of dislodged coronary artery stents: a novel technique. Cathet Cardiovasc Diagn 34:350–352

19.

Kirby JM, Guo XF, Midia M (2011) Repositioning of covered stents: the grip technique. Cardiovasc Intervent Radiol 34:615–619

20.

Gabelmann A, Kramer S, Gorich J (2001) Percutaneous retrieval of lost or misplaced intravascular objects. AJR Am J Roentgenol 176:1509–1513

21.

Lee CY (2011) Use of wire as a snare for endovascular retrieval of displaced or stretched coils: rescue from a technical complication. Neuroradiology 53:31–35

22.

Brilakis ES, Abdel-Karim AR, Banerjee S (2011) Hairpin-trap: a novel stent retrieval technique. Catheter Cardiovasc Interv 77:213–216

23.

Eeckhout E, Stauffer JC, Goy JJ (1993) Retrieval of a migrated coronary stent by means of an alligator forceps catheter. Cathet Cardiovasc Diagn 30:166–168

24.

Berder V, Bedossa M, Gras D et al (1993) Retrieval of a lost coronary stent from the descending aorta using a PTCA balloon and biopsy forceps. Cathet Cardiovasc Diagn 28:351–353

25.

Boersma D, van Strijen MJ, Kloppenburg GT et al (2012) Endovascular retrieval of a dislodged femoral arterial closure device with alligator forceps. J Vasc Surg 55:1150–1152

26.

Bernhardt LC, Wegner GP, Mendenhall JT (1970) Intravenous catheter embolization to the pulmonary artery. Chest 57:329–332

27.

Fisher RG, Ferreyro R (1978) Evaluation of current techniques for nonsurgical removal of intravascular iatrogenic foreign bodies. AJR Am J Roentgenol 130:541–548

28.

Wolf F, Schernthaner RE, Dirisamer A et al (2008) Endovascular management of lost or misplaced intravascular objects: experiences of 12 years. Cardiovasc Intervent Radiol 31:563–568
Conflict of interest
The authors declare that they have no conflict of interest.
About this article
Cite this article
Woodhouse, J.B., Uberoi, R. Techniques for Intravascular Foreign Body Retrieval. Cardiovasc Intervent Radiol 36, 888–897 (2013). https://doi.org/10.1007/s00270-012-0488-8
Received:

Accepted:

Published:

Issue Date:
Keywords
Device removal

Endovascular procedures

Foreign bodies

Interventional radiology