Abstract
Purpose
To report 5-year contrast-enhanced magnetic resonance imaging findings of the REST trial recruits who underwent either uterine artery embolization (UAE) or myomectomy.
Methods
A total of 157 patients were randomized to UAE or surgery (hysterectomy or myomectomy). Ninety-nine patients who had UAE and eight patients who had myomectomy were analyzed. MRI scans at baseline, 6 months, and 5 years were independently interpreted by two radiologists. Dominant fibroid diameter, uterine volume, total fibroid infarction (complete 100 %, almost complete 90–99 %, partial <90 %), and new fibroid formation were the main parameters assessed and related to the need for reintervention.
Results
In the UAE group, mean ± standard deviation uterine volume was 670 ± 503, 422 ± 353, and 292 ± 287 mL at baseline, 6 months, and 5 years, respectively. Mean dominant fibroid diameter was 7.6 ± 3.0, 5.8 ± 2.9, and 5 ± 2.9 cm at baseline, 6 months, and 5 years. Fibroid infarction at 6 months was complete in 35 % of women, almost complete in 29 %, and partial in 36 %. Need for reintervention was 19, 10, and 33 % in these groups, respectively (p = 0.123). No myomectomy cases had further intervention. At 5 years, the prevalence of new fibroid was 60 % in the myomectomy group and 7 % in the UAE group (p = 0.008).
Conclusion
There is a further significant reduction in both uterine volume and dominant fibroid diameter between 6 months and 5 years after UAE. Complete fibroid infarction does not translate into total freedom from a subsequent reintervention. New fibroid formation is significantly higher after myomectomy.
This is a preview of subscription content, log in to check access.
Access options
Buy single article
Instant access to the full article PDF.
US$ 39.95
Price includes VAT for USA
Subscribe to journal
Immediate online access to all issues from 2019. Subscription will auto renew annually.
US$ 99
This is the net price. Taxes to be calculated in checkout.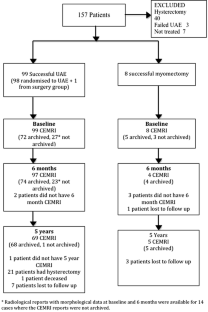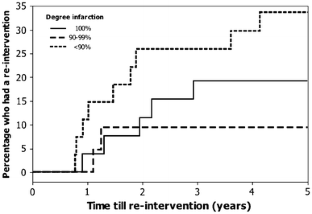 References
1.

Broder MS, Goodwin S, Chen G et al (2002) Comparison of long term outcomes of myomectomy and uterine artery embolisation. Obstet Gynecol 100(5 Pt 1):864–868

2.

Pelage JP, Guaou NG, Jha RC et al (2004) Uterine fibroid tumors: long-term MR imaging outcome after embolization. Radiology 230:803–809

3.

Katsumori T, Kasahara T, Kin Y, Nozaki T (2008) Infarction of uterine fibroids after embolization: relationship between postprocedural enhanced MRI findings and long-term clinical outcomes. Cardiovasc Intervent Radiol 31:66–72

4.

Kroencke TJ, Scheurig C, Poellinger A, Gronewold M, Hamm B (2010) Uterine artery embolization for leiomyomas: percentage of infarction predicts clinical outcome. Radiology 255:834–841

5.

Van der Kooij SM, Hehenkamp WJ, Volkers NA et al (2010) Uterine artery embolization vs hysterectomy in the treatment of symptomatic uterine fibroids: 5-year outcome from the randomized EMMY trial. Am J Obstet Gynecol 203(105):e1–e13

6.

Moss J, Cooper K, Khaund A et al (2011) Randomised comparison of uterine artery embolisation (UAE) with surgical treatment in patients with symptomatic uterine fibroids (REST trial): 5-year results. BJOG 118:936–944

7.

Kirby JM, Burrows D, Haider E et al (2011) Utility of MRI before and after uterine fibroid embolization: why to do it and what to look for. Cardiovasc Intervent Radiol 34:705–716

8.

REST Trial Investigators (2007). Uterine-Artery embolization versus surgery for symptomatic uterine fibroids. N Engl J Med 356:360–370

9.

Scheurig C, Gauruder-Burmester A, Kluner C et al (2006) Uterine artery embolization for symptomatic fibroids: short-term versus mid-term changes in disease-specific symptoms, quality of life and magnetic resonance imaging results. Hum Reprod 21:3270–3277
Acknowledgments
Funded by Chief Scientist Office, Scottish Government Health Directorates, St. Andrew's House, Regent Road, Edinburgh, EH1 3DG, Scotland, UK.
Conflict of interest
The authors declare that they have no conflict of interest.
About this article
Cite this article
Ananthakrishnan, G., Murray, L., Ritchie, M. et al. Randomized Comparison of Uterine Artery Embolization (UAE) with Surgical Treatment in Patients with Symptomatic Uterine Fibroids (REST Trial): Subanalysis of 5-Year MRI Findings. Cardiovasc Intervent Radiol 36, 676–681 (2013). https://doi.org/10.1007/s00270-012-0485-y
Received:

Accepted:

Published:

Issue Date:
Keywords
Arterial intervention

Embolization

Embolotherapy

Fibroid

Urogenital