Abstract
The subcutaneous venous access device (SVAD or "port") is a critical component in the care of patients with chronic disease. The modern SVAD provides reliable access for blood withdrawal and medication administration with minimal disruption to a patient's lifestyle. Because of improved materials and catheter technology, today's ports are lighter and stronger and capable of high-pressure injections of contrast for cross-sectional imaging. The majority of SVAD placement occurs in interventional radiology departments due to their ability to provide this service at lower costs, lower, complication rates, and greater volumes. Port-insertion techniques vary depending on the operator, but all consist of catheter placement in the central venous circulation followed by subcutaneous pocket creation and port attachment to the catheter with fixation and closure of the pocket. Venous access challenges occasionally occur in patients with central vein occlusions, necessitating catheterization of collateral veins or port placement in alternate locations. Complications of SVADs include those associated with the procedure as well as short- (<30 days) and long-term problems. Procedural and early complications are quite rare due to the near-universal use of real-time ultrasound guidance for vein puncture, but they can include hematoma, catheter malposition, arrhythmias, and pneumothorax. Late problems include both thrombotic complications (native venous or port-catheter thrombosis) and infections (tunnel or pocket infections or catheter-associated bloodstream infections). Most guidelines suggest that 0.3 infections/1000 catheter days is an appropriate upper threshold for the insertion of SVADs.
This is a preview of subscription content, log in to check access.
Access options
Buy single article
Instant access to the full article PDF.
US$ 39.95
Price includes VAT for USA
Subscribe to journal
Immediate online access to all issues from 2019. Subscription will auto renew annually.
US$ 99
This is the net price. Taxes to be calculated in checkout.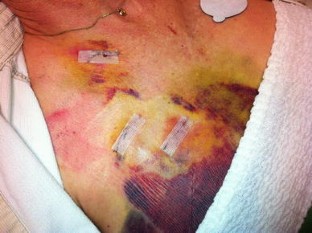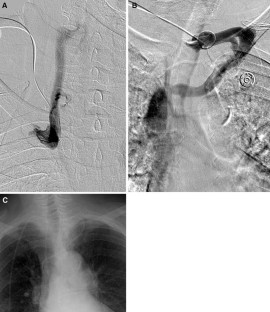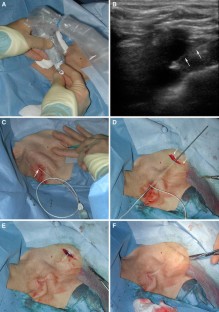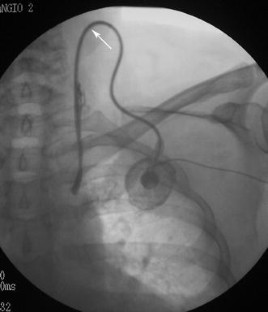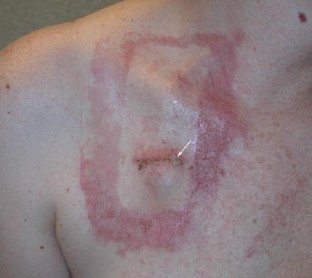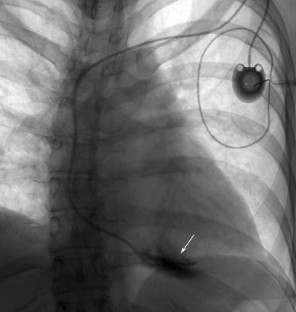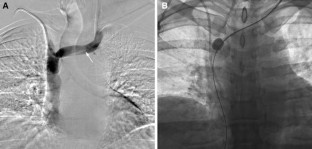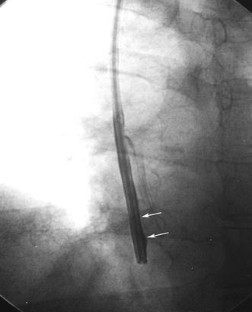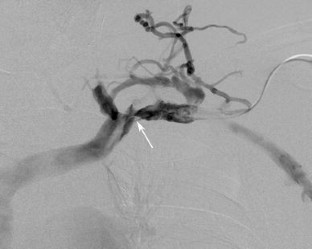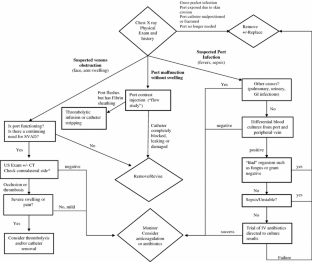 References
1.

Forssmann W (1929) Die Sondierung rechten Herzens. Klin Wochenschr 8:2080

2.

Aubaniac R (1952) Subclavian intravenous injection: advantages and technic. Presse Med 60(68):1456

3.

Stevens B, Barton SE, Brechbill M et al. (2000) A randomized prospective trial of conventional vascular ports vs. the Vortex "clear flow" reservoir port. JVAD

4.

Ryder MA (1995) Peripheral access options. Surg Oncol Clin North Am 4:395–427

5.

Foley MJ (1995) Radiologic placement of long-term central venous peripheral access system ports (PAS port): results in 150 patients. J Vasc Interv Radiol 6(2):255–262

6.

Vardy J, Engelhardt K, Cox K et al (2004) Long-term outcome of radiological-guided insertion of implanted central venous access port devices (CVAPD) for the delivery of chemotherapy in cancer patients: institutional experience and review of the literature. Br J Cancer 91(6):1045–1059

7.

Teichgräber UK, Kausche S, Nagel SN et al (2011) Outcome analysis in 3, 160 implantations of radiologically guided placements of totally implantable central venous port systems. Eur Radiol 21(6):1224–1232

8.

Haindl H, Müller H (1988) An atraumatic needle for the puncture of ports and pumps. Klin Wochenschr 66(20):1006–1009

9.

Müller H, Zierski J (1988) The Huber needle as a special cannula for the puncture of implanted ports and pumps: a mistake in multiple variations. Klin Wochenschr 66(19):963–969

10.

Biffi R, De Braud F, Orsi F et al (2001) A randomized prospective trial of central venous ports connected to standard open-ended or Groshong catheters in adult oncology patients. Cancer 92(5):1204–1212

11.

Hsieh CC, Weng HH, Huang WS et al (2009) Analysis of risk factors for central venous port failure in cancer patients. World J Gastroenterol 15(37):4709–4714

12.

Ong CK, Sudhakar KV, Lau GB et al (2010) Prospective randomized comparative evaluation of proximal valve polyurethane and distal valve silicone peripherally inserted central catheters. J Vasc Interv Radiol 21:1191–1196

13.

Maki DG, Kluger DM, Crnich CJ (2006) The risk of bloodstream infection in adults with different intravascular devices: a systematic review of 200 published prospective studies. Mayo Clin Proc 81:1159–1171

14.

Akahane A, Sone M, Ehara S et al. (2010) Subclavian vein versus arm vein for totally implantable central venous port for patients with head and neck cancer: a retrospective comparative analysis. Cardiovasc Intervent Radiol (in press)

15.

Ghandi RT, Getrajdman GI, Brown KT et al (2003) Placement of subcutaneous chest wall ports ipsilateral to axillary lymph node dissection. J Vasc Interv Radiol 14:1063–1065

16.

Erinjeri JP, Fong AJ, Kemeny NE et al (2011) Timing of administration of bevacizumab chemotherapy affects wound healing after chest wall port placement. Cancer 117(6):1296–1301

17.

Sansivero GE (2010) Features and selection of vascular access devices. Semin Oncol Nurs 26(2):88–101

18.

Ryan JM, Ryan BM, Smith TP (2004) Antibiotic prophylaxis in interventional radiology. J Vasc Interv Radiol 15:547–556

19.

Venkatesan AM, Kundu S, Sacks D (2010) Practice guideline for adult antibiotic prophylaxis during vascular and interventional radiology procedures. J Vasc Interv Radiol 21:1611–1630

20.

Denys GB, Uretsky BF, Reddy PS (1993) Ultrasound-assisted cannulation of the internal jugular vein: a prospective comparison to the external landmark-guided technique. Circulation 87:1557–1562

21.

Skolnick ML (1994) The role of sonography in the placement and management of jugular and subclavian central venous catheters. AJR Am J Roentgenol 163:291–295

22.

Contractor SG, Phatak TD, Klyde D et al (2009) Single-incision technique for tunneled venous access. J Vasc Interv Radiol 20(8):1052–1058

23.

Cil BE, Canyigit M, Peynircioglu B et al (2006) Subcutaneous venous port implantation in adult patients: a single center experience. Diagn Interv Radiol 12:93–98

24.

McNulty NJ, Perrich KD, Silas AM et al (2010) Implantable subcutaneous venous access devices: is port fixation necessary? A review of 534 cases. Cardiovasc Intervent Radiol 33(4):751–755

25.

Singer AJ, Thode HC Jr (2004) A review of the literature on octylcyanoacrylate tissue adhesive. Am J Surg 187(2):238–248

26.

Merrer J, De Jonghe B, Golliot F et al (2001) Complications of femoral and subclavian venous catheterization in critically ill patients: a randomized controlled trial. JAMA 286(6):700–707

27.

Hamilton HC, Foxcroft DR (2007) Central venous access sites for the prevention of venous thrombosis, stenosis and infection in patients requiring long-term intravenous therapy. Cochrane Database Syst Rev 3:CD004084

28.

Simpson KR, Hovsepian DM, Picus D (1998) Interventional radiologic placement of chest wall ports: Results and complications in 161 consecutive placements. J Vasc Interv Radiol 8:189–195

29.

Ballarini C, Intra M, Ceretti AP et al (1999) Complications of subcutaneous infusion port in the general oncology population. Oncology 56:97–102

30.

Dariushnia SR, Wallace MJ, Siddiqi NH et al (2010) Quality improvement guidelines for central venous access. J Vasc Interv Radiol 21:976–981

31.

Lyon SM, Given M, Marshall NL (2008) Interventional radiology in the provision and maintenance of long-term central venous access. J Med Imaging Radiat Oncol 52:10–17

32.

Bessoud B, de Baere T, Kuoch V et al (2003) Experience at a single institution with endovascular treatment of mechanical complications caused by implanted central venous access devices in pediatric and adult patients. AJR Am J Roentgenol 180:527–532

33.

Schwarz RD, Coit DG, Groeger JS (2000) Transcutaneously tunneled central venous lines in cancer patients: An analysis of device-related morbidity factors based on prospective data collection. Ann Surg Oncol 7:441–449

34.

NKF-K/DOQI (2001) Clinical practice guidelines for vascular access: Update 2000. Am J Kidney Dis 37(Suppl):S137–S181

35.

Marcy PY (2008) Central venous access: techniques and indications in oncology. Eur Radiol 18:2333–2344

36.

Yildizeli B, Lacin T, Batirel HF et al (2004) Complications and management of long-term central venous access catheters and ports. J Vasc Access 5(4):174–178

37.

Douard MC, Arlet G, Longuet P et al (1999) Diagnosis of venous access port-related infections. Clin Infect Dis 29(5):1197–1202

38.

Capdevila J, Planes AM, Palomar M et al (1992) Value of differential quantitative blood cultures in the diagnosis of catheter-related sepsis. Eur J Clin Microbiol Infect Dis 11(5):403–407

39.

Bouza E, Burillo A, Munoz P (2002) Catheter-related infections: diagnosis and intravascular treatment. Clin Microbiol Infect 8(5):265–274

40.

Biffi R, de Braud F, Orsi F et al (1998) Totally implantable central venous access ports for long-term chemotherapy. A prospective study analyzing complications and costs of 333 devices with a minimum follow-up of 180 days. Ann Oncol 9:767–773

41.

O'Grady NP, Alexander M, Dellinger EP et al (2002) Guidelines for the prevention of intravascular catheter-related infections. Am J Infect Control 30:476–489

42.

Faetkenhuer G, Buchheidt D, Cornely OA et al (2003) Central venous catheter (CVC)-related infections in neutropenic patients. Ann Hematol 82(2):140–152

43.

Hall K, Farr B (2004) Diagnosis and management of long-term central venous catheter infections. J Vasc Interv Radiol 15:327–334

44.

Beathard GB (2001) Catheter thrombosis. Semin Dial 14:441–445

45.

Hoshal VL Jr, Ause RG, Hoskins PA (1971) Fibrin sleeve formation on indwelling subclavian central venous catheters. Arch Surg 102:253–258

46.

Balestreri L, De Cicco M, Matovic M et al (1995) Central venous catheter-related thrombosis in clinically asymptomatic oncologic patients: a phlebographic study. Eur J Radiol 20:108–111

47.

De Cicco M, Matovic M, Balestreri L et al (1997) Central venous thrombosis: an early and frequent complication in cancer patients bearing long-term Silastic catheter. A prospective study. Thromb Res 86:101–113

48.

Daeihagh P, Jordan J, Chen J et al (2000) Efficacy of tissue plasminogen activator administration on patency of hemodialysis access catheters. Am J Kidney Dis 36:75–79

49.

Deitcher SR, Fesen MR, Kiproff PM et al (2002) Cardiovascular thrombolytic to open occluded lines—2 investigators. Safety and efficacy of alteplase for restoring function in occluded central venous catheters: Results of the cardiovascular thrombolytic to open occluded lines trial. J Clin Oncol 20(1):317–324

50.

Angle JF, Shilling AT, Schenk WG et al (2003) Utility of percutaneous intervention in the management of tunneled hemodialysis catheters. Cardiovasc Intervent Radiol 26:9–18

51.

Gray RJ, Levitin A, Buck D et al (2000) Percutaneous fibrin sheath stripping versus transcatheter urokinase infusion for malfunctioning well-positioned tunneled central venous dialysis catheters: a prospective, randomized trial. J Vasc Intervent Radiol 11:1121–1129

52.

Chew H, Wun T, Harvey DJ et al (2007) Incidence of venous thromboembolism and the impact on survival on breast cancer patients. J Clin Oncol 25(1):70–76

53.

Karthaus M, Kretzschmar A, Kroning H et al (2005) Dalteparin for prevention of catheter-related complications in cancer patients with central venous catheters: final results of a double-blind, placebo-controlled phase III trial. Ann Oncol 176:289–296

54.

Couban S, Goodyear M, Burnell M et al (2005) Randomized, placebo-controlled study of low-dose warfarin for the prevention of central venous catheter-associated thrombosis in patients with cancer. J Clin Oncol 23:4063–4069

55.

Kuo YS, Schwartz B, Santiago J, Anderson PS, Fields AL, Goldberg GL (2005) How often should a Port-a-Cath be flushed? Cancer Invest 25:582–585

56.

Vescia S, Baumgartner AK, Jacobs VR et al (2008) Management of venous port systems in oncology: a review of current evidence. Ann Oncol 19:9–15

57.

Bern M, Lokich J, Sabina R et al (1990) Very low doses of warfarin can prevent thrombosis in central venous catheters. Ann Intern Med 112:423–428

58.

Owens CA, Bui JT, Knuttinen MG et al (2010) Pulmonary embolism from upper extremity deep vein thrombosis and the role of superior vena cava filters: a review of the literature. J Vasc Interv Radiol 21:779–787

59.

Kaufman JA, Crenshaw WB, Kuter I et al (1995) Percutaneous placement of a central venous access device via an intercostal vein. Am J Roentgenol 164(2):459–460

60.

Ferral H, Bjarnason H, Wholey M et al (1996) Recanalization of occluded veins to provide access for central catheter placement. J Vasc Interv Radiol 7(5):681–685
Conflict of interest
Eric Walser is the sole author of this manuscript and has no conflicts of interest to declare.
About this article
Cite this article
Walser, E.M. Venous Access Ports: Indications, Implantation Technique, Follow-Up, and Complications. Cardiovasc Intervent Radiol 35, 751–764 (2012). https://doi.org/10.1007/s00270-011-0271-2
Received:

Accepted:

Published:

Issue Date:
Keywords
Venous port system

Central venous catheterization

Venous thrombosis