Abstract
The purpose of this study was to investigate differences in change of size and CT value between local recurrences and tumor-free areas after CT-guided radiofrequency ablation (RFA) of hepatic metastases during follow-up by means of dedicated software for automatic evaluation of hepatic lesions. Thirty-two patients with 54 liver metastases from breast or colorectal cancer underwent triphasic contrast-enhanced multidetector-row computed tomography (MDCT) to evaluate hepatic metastatic spread and localization before CT-guided RFA and for follow-up after intervention. Sixteen of these patients (65.1 ± 10.3 years) with 30 metastases stayed tumor-free (group 1), while the other group (n = 16 with 24 metastases; 62.0 ± 13.8 years) suffered from local recurrent disease (group 2). Applying an automated software tool (SyngoCT Oncology; Siemens Healthcare, Forchheim, Germany), size parameters (volume, RECIST, WHO) and attenuation were measured within the lesions before, 1 day after, and 28 days after RFA treatment. The natural logarithm (ln) of the quotient of the volume 1 day versus 28 days after RFA treament was computed: lnQ1//28/0volume. Analogously, ln ratios of RECIST, WHO, and attenuation were computed and statistically evaluated by repeated-measures ANOVA. One lesion in group 2 was excluded from further evaluation due to automated missegmentation. Statistically significant differences between the two groups were observed with respect to initial volume, RECIST, and WHO (p < 0.05). Furthermore, ln ratios corresponding to volume, RECIST, and WHO differed significantly between the two groups. Attenuation evaluations showed no significant differences, but there was a trend toward attenuation assessment for the parameter lnQ28/0attenuation (p = 0.0527), showing higher values for group 1 (–0.4 ± 0.3) compared to group 2 (–0.2 ± 0.2). In conclusion, hepatic metastases and their zone of coagulation necrosis after RFA differed significantly between tumor-free and local-recurrent ablation zones with respect to the corresponding size parameters. A new parameter (lnQ1//28/0volume/RECIST/WHO/attenuation) was introduced, which appears to be of prognostic value at early follow-up CT.
Access options
Buy single article
Instant access to the full article PDF.
USD 39.95
Price excludes VAT (USA)
Tax calculation will be finalised during checkout.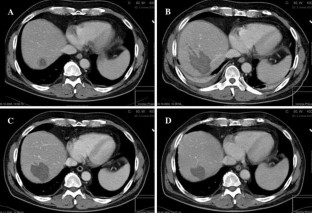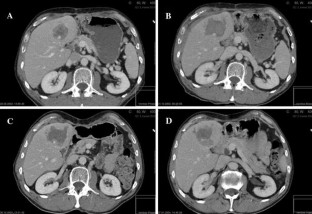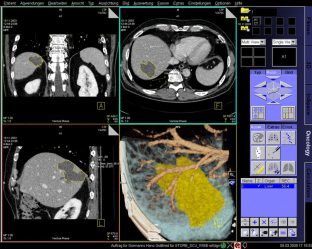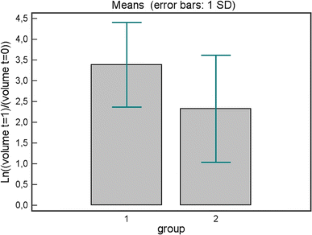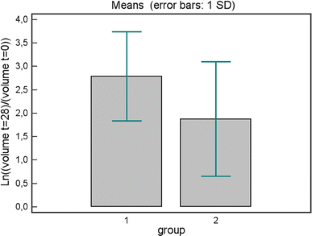 References
Mergo PJ, Ros PR (1998) Imaging of diffuse liver disease. Radiol Clin North Am 36:365–375

Boyle P, Ferlay J (2005) Cancer incidence and mortality in Europe, 2004. Ann Oncol 16:481–488

Landis SH, Murray T, Bolden S et al (1999) Cancer statistics, 1999. CA Cancer J Clin 49:8–31, 1

Greenlee RT, Hill-Harmon MB, Murray T et al (2001) Cancer statistics, 2001. CA Cancer J Clin 51:15–36

Hoe AL, Royle GT, Taylor I (1991) Breast liver metastases—incidence, diagnosis and outcome. J R Soc Med 84:714–716

McGhana JP, Dodd GD III (2001) Radiofrequency ablation of the liver: current status. AJR Am J Roentgenol 176:3–16

Rhim H, Lim HK, Kim YS et al (2008) Radiofrequency ablation of hepatic tumors: lessons learned from 3000 procedures. J Gastroenterol Hepatol 23:1492–1500

Buscarini E, Buscarini L (2004) Radiofrequency thermal ablation with expandable needle of focal liver malignancies: complication report. Eur Radiol 14:31–37

Mulier S, Ni Y, Miao Y et al (2003) Size and geometry of hepatic radiofrequency lesions. Eur J Surg Oncol 29(10):867–878

Kim YS, Rhim H, Cho OK et al (2006) Intrahepatic recurrence after percutaneous radiofrequency ablation of hepatocellular carcinoma: analysis of the pattern and risk factors. Eur J Radiol 59:432–441

Mahnken AH, Bruners P, Tacke JA et al (2009) CT-guided radiofrequency ablation of liver metastases from colorectal cancer. Dtsch Med Wochenschr 134:976–980

Abdalla EK, Vauthey JN, Ellis LM et al (2004) Recurrence and outcomes following hepatic resection, radiofrequency ablation, and combined resection/ablation for colorectal liver metastases. Ann Surg 239:818–825; discussion 825–827

Bruners P, Pfeffer J, Kazim RM et al (2007) A newly developed perfused umbrella electrode for radiofrequency ablation: an ex vivo evaluation study in bovine liver. Cardiovasc Interv Radiol 30:992–998

Veltri A, Sacchetto P, Tosetti I et al (2008) Radiofrequency ablation of colorectal liver metastases: small size favorably predicts technique effectiveness and survival. Cardiovasc Interv Radiol 31(5):948–956

Dromain C, de Baere T, Elias D et al (2002) Hepatic tumors treated with percutaneous radio-frequency ablation: CT and MR imaging follow-up. Radiology 223:255–262

Wormanns D, Kohl G, Klotz E et al (2004) Volumetric measurements of pulmonary nodules at multi-row detector CT: in vivo reproducibility. Eur Radiol 14:86–92

Marten K, Auer F, Schmidt S et al (2006) Inadequacy of manual measurements compared to automated CT volumetry in assessment of treatment response of pulmonary metastases using RECIST criteria. Eur Radiol 16:781–790

Fabel M, von Tengg-Kobligk H, Giesel FL et al (2008) Semi-automated volumetric analysis of lymph node metastases in patients with malignant melanoma stage III/IV—a feasibility study. Eur Radiol 18:1114–1122

Kuhnigk JM, Dicken V, Bornemann L et al (2006) Morphological segmentation and partial volume analysis for volumetry of solid pulmonary lesions in thoracic CT scans. IEEE Trans Med Imaging 25:417–434

Bornemann L, Dicken V, Kuhnigk JM et al (2007) OncoTREAT: a software assistant for cancer therapy monitoring. Int J Comput Assist Radiol Surg 1:231–242

Benson AB III (2007) Epidemiology, disease progression, and economic burden of colorectal cancer. J Manage Care Pharm 13:5–18

Pereira PL (2007) Actual role of radiofrequency ablation of liver metastases. Eur Radiol 17:2062–2070

Jakobs TF, Hoffmann RT, Schrader A et al (2008) CT-guided radiofrequency ablation in patients with hepatic metastases from breast cancer. Cardiovasc Interv Radiol [Epub ahead of print]

Park MH, Rhim H, Kim YS et al (2008) Spectrum of CT findings after radiofrequency ablation of hepatic tumors. Radiographics 28:379–390; discussion 390–392

Goldberg SN, Grassi CJ, Cardella JF et al (2005) Image-guided tumor ablation: standardization of terminology and reporting criteria. Radiology 235:728–739

Mulier S, Ni Y, Jamart J et al (2005) Local recurrence after hepatic radiofrequency coagulation: multivariate meta-analysis and review of contributing factors. Ann Surg 242:158–171

Paulet E, Aube C, Pessaux P et al (2008) Factors limiting complete tumor ablation by radiofrequency ablation. Cardiovasc Intervent Radiol 31:107–115

Kühl H, Stattaus J, Kühl B et al (2006) Radiofrequency ablation of malignant liver tumors: use of a volumetric necrosis-tumor ratio for local control. Fortschr Roentgenstr 178:1243–1249 [in German]

Prasad SR, Jhaveri KS, Saini S et al (2002) CT tumor measurement for therapeutic response assessment: comparison of unidimensional, bidimensional, and volumetric techniques initial observations. Radiology 225:416–419

Keil S, Behrendt FF, Stanzel S et al (2009) Semi-automated measurement of hyperdense, hypodense and heterogeneous hepatic metastasis on standard MDCT slices. Comparison of semi-automated and manual measurement of RECIST and WHO criteria. Eur Radiol 18:2456–2465
About this article
Cite this article
Keil, S., Bruners, P., Schiffl, K. et al. Radiofrequency Ablation of Liver Metastases—Software-Assisted Evaluation of the Ablation Zone in MDCT: Tumor-Free Follow-Up Versus Local Recurrent Disease. Cardiovasc Intervent Radiol 33, 297–306 (2010). https://doi.org/10.1007/s00270-009-9681-9
Received:

Revised:

Accepted:

Published:

Issue Date:

DOI: https://doi.org/10.1007/s00270-009-9681-9
Keywords
Hepatic metastases

Radiofrequency ablation

Automated evaluation