Abstract
The Amplatzer Vascular Plug II (AVP II) is a novel device for transcatheter vessel occlusion, for which only limited comparative data exist. Embolotherapy of the gastroduodenal artery (GDA) is essential before internal radiotherapy (SIRT) in order to prevent radiation-induced peptic ulcerations due to migration of yttrium-90 microspheres. The purpose of this study was to compare the vascular anatomical limitations, procedure time, effectiveness, and safety of embolization of the GDA with coils versus the AVP II. Fifty patients stratified for SIRT were prospectively randomized for embolization of the GDA with either coils or the AVP II. The angle between the aorta and the celiac trunk, diameter of the GDA, fluoroscopy time and total time for embolization, number of embolization devices, complications, and durability of vessel occlusion at follow-up angiography for SIRT were recorded. A t-test was used for statistical analysis. Embolizations with either coils or the AVP II were technically feasible in all but two patients scheduled for embolization of the GDA with the AVP II. In both cases the plug could not be positioned due to the small celiac trunk outlet angles of 17° and 21°. The mean diameter of the GDA was 3.7 mm (range, 2.2–4.8 mm) for both groups. The procedures differed significantly in fluoroscopy time (7.8 min for coils vs. 2.6 min for the AVP II; P < 0.001) and embolization time (23.1 min for coils vs. 8.8 min for the AVP II; P < 0.001). A mean of 6.0 ± 3.2 coils were used for GDA embolization, while no more than one AVP II was needed for successful vessel occlusion (P < 0.001). One coil migration occurred during coil embolization, whereas no procedural complication was encountered with the use of the AVP II. Vessel reperfusion was noted in only one patient, in whom coil embolization was performed. In conclusion, embolization of the GDA with the AVP II is safe, easy, rapid, and highly effective; only an extremely sharp-angled celiac trunk outlet represented an anatomical limitation for device deployment.
This is a preview of subscription content, log in to check access.
Access options
Buy single article
Instant access to the full article PDF.
US$ 39.95
Price includes VAT for USA
Subscribe to journal
Immediate online access to all issues from 2019. Subscription will auto renew annually.
US$ 99
This is the net price. Taxes to be calculated in checkout.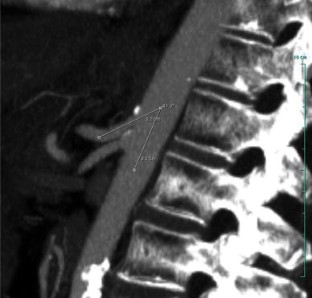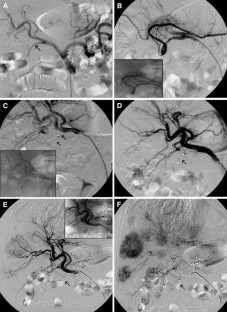 References
1.

Ricke J, Hildebrandt B, Miersch A, Nicolaou A, Warschewske G, Teichgräber U, Lopez Hänninen E, Riess H, Felix R (2004) Hepatic arterial port systems for treatment of liver metastases: factors affecting patency and adverse events. J Vasc Interv Radiol 15(8):825–833

2.

Arias Díaz J, Gómez Gutiérrez M, Torres-Melero J, Gallego Beuter JJ, Sanz López M, Rodríguez Sánchez JM, Balibrea Cantero JL (1994) Embolisation of the gastroduodenal artery for the treatment of massive haemorrhage in a patient with chronic pancreatitis. Eur J Surg 160(6–7):393–395

3.

Carrafiello G, Laganà D, Recaldini C, Mangini M, Lumia D, Giorgianni A, Leonardi A, Fugazzola C (2007) Combined percutaneous thrombin injection and endovascular treatment of gastroduodenal artery pseudoaneurysm (PAGD): case report. Emerg Radiol 14(1):51–54

4.

Carrafiello G, Laganà D, Dizonno M, Mangini M, Fugazzola C (2007) Endovascular ligature of splenic artery aneurysm with Amplatzer Vascular Plug: a case report. Cardiovasc Revasc Med 8(3):203–206

5.

Dönmez H, Men S, Dilli A, Soylu SO, Hekimoğlu B (2005) Giant gastroduodenal artery pseudoaneurysm due to polyarteritis nodosa as a cause of obstructive jaundice: imaging findings and coil embolization results. Cardiovasc Interv Radiol 28(6):850–853

6.

Irie T, Maeda M (2003) Placement of 10-millimeter Trufill platinum microcoils in the gastroduodenal artery for intraarterial implantation of a microcatheter-port system to treat liver tumors. J Vasc Interv Radiol 12(10):1215–1218

7.

Kueper MA, Ludescher B, Koenigsrainer I, Kirschniak A, Mueller K, Wiskirchen J, Koenigsrainer A (2007) Successful coil embolization of a ruptured gastroduodenal artery aneurysm. Vasc Endovascular Surg 41(6):568–571

8.

Sato N, Yamaguchi K, Shimizu S, Morisaki T, Yokohata K, Chijiiwa K, Tanaka M (1998) Coil embolization of bleeding visceral pseudoaneurysms following pancreatectomy: the importance of early angiography. Arch Surg 133(10):1099–1102

9.

Thamboo T, Tan KB, Wang SC, Salto-Tellez M (2003) Extra-hepatic embolisation of Y-90 microspheres from selective internal radiation therapy (SIRT) of the liver. Pathology 35(4):351–353

10.

Andersen PE, Kjeldsen AD (2007) Occlusion of pulmonary arteriovenous malformations by use of vascular plug. Acta Radiol 48(5):496–499

11.

Tuite DJ, Kessel DO, Nicholson AA, Patel JV, McPherson SJ, Shaw DR (2007) Initial clinical experience using the Amplatzer Vascular Plug. Cardiovasc Interv Radiol 30(4):650–654

12.

Taneja M, Lath N, Soo TB, Hiong TK, Htoo MM, Richard L, Fui AC (2008) Renal artery stump to inferior vena cava fistula: unusual clinical presentation and transcatheter embolization with the Amplatzer Vascular Plug. Cardiovasc Interv Radiol 31 (Suppl 2):S92–S95 (Epub 30 November 2007)

13.

Ringe KI, Weidemann J, Rosenthal H, Keberle M, Chavan A, Baus S, Galanski M (2007) Transhepatic preoperative portal vein embolization using the Amplatzer Vascular Plug: report of four cases. Cardiovasc Interv Radiol 30(6):1245–1247 (Epub 1 September 2007)

14.

Brountzos EN, Ptohis N, Grammenou-Pomoni M, Panagiotou I, Kelekis D, Gouliamos A, Kelekis N (2008) High-flow renal arteriovenous fistula treated with the Amplatzer Vascular Plug: implementation of an arterial and venous approach. Cardiovasc Interv Radiol [Epub ahead of print]

15.

Chaudhuri A, Tibballs J, Nadkarni S, Garbowski M (2007) Digital embolization due to partially uncovered left subclavian artery post TEVAR: management with Amplatzer Vascular Plug occlusion. J Endovasc Ther 14(2):257–259

16.

Chen SJ, Wang JK (2008) Coil embolisation for diffuse pulmonary arteriovenous malformations. Heart 94(5):596

17.

Cil B, Canyigit M, Ozkan OS, Pamuk GA, Dogan R (2006) Bilateral multiple pulmonary arteriovenous malformations: endovascular treatment with the Amplatzer Vascular Plug. J Vasc Interv Radiol 17(1):141–145

18.

Cil B, Peynircioğlu B, Canyiğit M, Geyik S, Ciftçi T (2008) Peripheral vascular applications of the Amplatzer Vascular Plug. Diagn Interv Radiol 14(1):35–39

19.

Ha CD, Calcagno D (2005) Amplatzer Vascular Plug to occlude the internal iliac arteries in patients undergoing aortoiliac aneurysm repair. J Vasc Surg 42(6):1058–1062

20.

Kessler J, Trerotola SO (2006) Use of the Amplatzer Vascular Plug for embolization of a large retroperitoneal shunt during transjugular intrahepatic portosystemic shunt creation for gastric variceal bleeding. J Vasc Interv Radiol 17(1):135–140

21.

Pattynama PM, Wils A, van der Linden E, van Dijk LC (2007) Embolization with the Amplatzer Vascular Plug in TIPS patients. Cardiovasc Interv Radiol 30(6):1218–1221

22.

Mangini M, Laganà D, Fontana F, Ianniello A, Nicotera P, Petullà M, Carrafiello G, Fugazzola C (2008) Use of Amplatzer Vascular Plug (AVP) in emergency embolisation: preliminary experience and review of literature. Emerg Radiol 15(3):153–160

23.

Rimon U, Heldenberg E, Golan G, Shinfeld A, Garniek A (2007) Amplatzer Vascular Plug: expanding the applications spectrum. Cardiovasc Interv Radiol 31 (Suppl 2):S84–S87 (Epub 28 April 2007)

24.

Widlus DM, Moeslein FM, Richard HM 3rd (2008) Evaluation of the Amplatzer Vascular Plug for proximal splenic artery embolization. J Vasc Interv Radiol 19(5):652–656

25.

Dorenberg EJ, Hafsahl G, Andersen R, Krohg-Sørensen K (2006) Recurrent rupture of a hypogastric aneurysm caused by spontaneous recanalization of an Amplatzer Vascular Plug. J Vasc Interv Radiol 17(6):1037–1041

26.

Maleux G, Pirenne J, Aerts R, Nevens F (2005) Case report: hepatic artery pseudoaneurysm after liver transplantation: definitive treatment with a stent-graft after failed coil embolisation. Br J Radiol 78:453–456

27.

Puppala S, Wood A (2008) Re: Initial clinical experience using the Amplatzer Vascular Plug. Cardiovasc Interv Radiol 31(2):444–445

28.

Ratnam LA, Walkden RM, Munneke GJ, Morgan RA, Belli AM (2008) The Amplatzer Vascular Plug for large vessel occlusion in the endovascular management of aneurysms. Eur Radiol 18(9):2006–2012 (Epub 17 April 2008)

29.

Pellerin O, Caruba T, Kandounakis Y, Novelli L, Pineau J, Prognon P, Sapoval M (2008) Embolization of the internal iliac artery: cost-effectiveness of two different techniques. Cardiovasc Interv Radiol 31(6):1088–1093 (Epub 9 July 2008)
About this article
Cite this article
Pech, M., Kraetsch, A., Wieners, G. et al. Embolization of the Gastroduodenal Artery Before Selective Internal Radiotherapy: A Prospectively Randomized Trial Comparing Platinum-Fibered Microcoils with the Amplatzer Vascular Plug II. Cardiovasc Intervent Radiol 32, 455–461 (2009). https://doi.org/10.1007/s00270-008-9498-y
Received:

Revised:

Accepted:

Published:

Issue Date:
Keywords
Amplatzer vascular plug

Celiac trunk

Coil

Gastroduodenal artery

Selective internal radiotherapy

Transarterial embolization