Abstract
Pelvic vein incompetence is common in patients with atypical varicose veins, contributing to their recurrence after surgery. Therefore, refluxing pelvic veins should be identified and treated. We present our experience with pelvic vein embolisation in patients presenting with varicose veins. Patients presenting with varicose veins with a duplex-proven contribution from perivulval veins undergo transvaginal duplex sonography (TVUS) to identify refluxing pelvic veins. Those with positive scans undergo embolisation before surgical treatment of their lower limb varicose veins. A total of 218 women (mean age of 46.3 years) were treated. Parity was documented in the first 60 patients, of whom 47 (78.3%) were multiparous, 11 (18.3%) had had one previous pregnancy, and 2 (3.3%) were nulliparous. The left ovarian vein was embolised in 78%, the right internal iliac in 64.7%, the left internal iliac in 56.4%, and the right ovarian vein in 42.2% of patients. At follow-up TVUS, mild reflux only was seen in 16, marked persistent reflux in 6, and new reflux in 3 patients. These 9 women underwent successful repeat embolisation. Two patients experienced pulmonary embolisation of the coils, of whom 1 was asymptomatic and 1 was successfully retrieved; 1 patient had a misplaced coil protruding into the common femoral vein; and 1 patient had perineal thrombophlebitis. The results of our study showed that pelvic venous embolisation by way of a transjugular approach is a safe and effective technique in the treatment of pelvic vein reflux.
Access options
Buy single article
Instant access to the full article PDF.
USD 39.95
Price excludes VAT (USA)
Tax calculation will be finalised during checkout.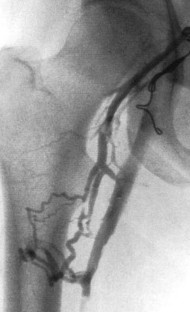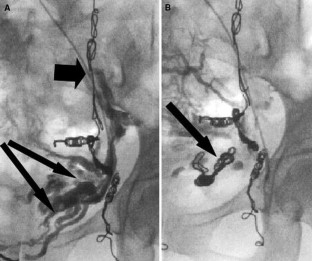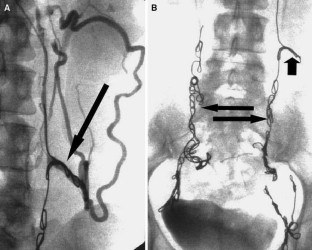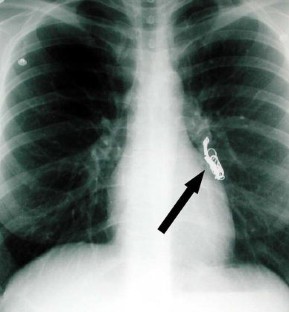 References
Perrin MR, Guex JJ, Ruckley CV et al (2000) Recurrent varices after surgery (REVAS): a consensus document. Cardiovasc Surg 8:233–245

Jones L, Braithwaite BD, Selwyn D et al (1996) Neovascularization is the principal cause of varicose vein recurrence: results of a randomized trial of stripping the long saphenous vein. Eur J Endovasc Surg 12:442–445

Fischer R, Linde N, Duff C et al (2001) Late recurrent sapheno femoral junction reflux after ligation and stripping the greater saphenous vein. J Vasc Surg 34:236–240

Hobbs JT (2005) Varicose veins arising from the pelvis due to ovarian vein incompetence. Int J Clin Pract 59:1195–1203

Labropoulos N, Touloupakis E, Giannoukas AD et al (1996) Recurrent varicose veins: investigation of the pattern and extent of reflux with color flow duplex scanning. Surgery 119:406–409

Perrin MR, Labropoulos N, Leon LR Jr (2006) Presentation of the patient with recurrent varices after surgery (REVAS). J Vasc Surg 43(2):327–334

Dodd H, Wright AP (1959) Vulval varicose veins in pregnancy. Br Med J 1:831–832

Dixon JA, Mitchell WA (1970) Venographic and surgical observations in vulvar varicose veins. J Surg Gynaecol Obstet 131:458–464

Hodgkinson CP (1953) Physiology of the ovarian veins during pregnancy. Obstet Gynecol 1:26–37

Park SJ, Lim JW, Ko YT et al (2004) Diagnosis of pelvic congestion syndrome using transabdominal and transvaginal sonography. Am J Roentgenol 182:683–688

Beard RW, Highman JH, Peare S et al (1984) Diagnosis of pelvic varicosities in women with chronic pelvic pain. Lancet 2:946–949

Creton D, Hennequin L, Kohler F et al (2007) Embolisation of symptomatic pelvic veins in women presenting with nonsaphenous varicose veins of pelvic origin―three-year follow-up. Eur J Vasc Endovasc Surg 34:112–117

Monedero JL, Ezpeleta SZ, Castro JC et al (2006) Embolization treatment of recurrent varices of pelvic origin. Phlebology 21:3–11

Cordts PR, Eclavea A, Buckley PJ et al (1998) Pelvic congestion syndrome: early clinical results after transcatheter ovarian vein embolization. J Vasc Surg 28:862–868

Geier B, Mumme A, von Rothenburg T et al (2006) Reflux patterns in patients with pelvic venous insufficiency and varicose veins. Society for Clinical Vascular Surgery, March 8–11, 2006, Las Vegas, NV, USA (Presented on March 9, 2006)

Kennedy A, Hemingway A (1990) Radiology of ovarian varices. Br J Hosp Med 44:38–42

Richardson GD, Beck TC, Mykytowycz M et al (1999) Pelvic congestion syndrome: diagnosis and treatment. Aust N Z J Phlebology 3:51–56

Capasso P, Simons C, Trotteur G et al (1997) Treatment of symptomatic pelvic varices by ovarian vein embolization. Cardiovasc Int Radiat 20:107–111

Richardson GD, Beckwith TC, Sheldon M (1991) Ultrasound windows for abdominal and pelvic veins. Phlebology 6:111–125

Coakley FV, Varghese SL, Hricak H (1999) CT and MRI of pelvic varices in women. J Comp Assist Tomogr 23:429–434

Gupta A, McCarthy S (1994) Pelvic varices as a cause for pelvic pain: MRI appearance. Magn Reson Imaging 12:679–681

Mathis BV, Miller JS, Lukens ML et al (1995) Pelvic congestion syndrome: a new approach to an unusual problem. Am Surg 61:1016–1018

Russ PD, Gullo G (2000) Pelvic varices diagnosed with endorectal surface coil magnetic resonance imaging: case report. Can Assoc Radiat J 51:23–27

Lechter A, Alvarez A (1985) Pelvic varices and gonadal veins. In: Negus D, Jantet G (eds) Phlebology 85. Libbey, London, UK, pp 225–228

Richardson GD, Driver B (2006) Ovarian vein ablation: coils or surgery? Phlebology 21:16–23

Edwards RD, Robertson IR, MacLean AB et al (1993) Pelvic pain syndrome: successful treatment of a case by ovarian vein embolisation. Clin Radiat 47:429–431

Venbrux AC, Chang AH, Kim HS et al (2002) Pelvic congestion syndrome (pelvic venous incompetence): impact of ovarian and internal iliac vein embolotherapy on menstrual cycle and chronic pelvic pain. J Vasc Interv Radiol 13:171–178

Maleux G, Stockx L, Wilms G et al (2000) Ovarian vein embolization for the treatment of pelvic congestion syndrome: long-term technical and clinical results. J Vasc Interv Radiol 11:859–864
About this article
Cite this article
Ratnam, L.A., Marsh, P., Holdstock, J.M. et al. Pelvic Vein Embolisation in the Management of Varicose Veins. Cardiovasc Intervent Radiol 31, 1159–1164 (2008). https://doi.org/10.1007/s00270-008-9402-9
Received:

Revised:

Accepted:

Published:

Issue Date:

DOI: https://doi.org/10.1007/s00270-008-9402-9
Keywords
Pelvic vein embolisation

Recurrent varicose veins

Vulval varices

Pelvic congestion syndrome