Abstract
Purpose
We evaluated the Gunther Tulip (GT) retrievable inferior vena cava (IVC) filter with regard to indications, filtration efficacy, complications, retrieval window, and use of anticoagulation.
Method
A retrospective study was performed of 147 patients (64 men, 83 women; mean age 58.8 years) who underwent retrievable GT filter insertion between 2001 and 2005. The indications for placement included a diagnosis of pulmonary embolism or deep venous thrombosis with a contraindication to anticoagulation (n = 68), pulmonary embolism or deep venous thrombosis while on anticoagulation (n = 49), prophylactic filter placement for high-risk surgical patients with a past history of pulmonary embolism or deep venous thrombosis (n = 20), and a high risk of pulmonary embolism or deep venous thrombosis (n = 10). Forty-nine of the 147 patients did not receive anticoagulation (33.7%) while 96 of 147 patients did, 82 of these receiving warfarin (56.5%), 11 receiving low-molecular weight heparins (7.58%), and 3 receiving antiplatelet agents alone (2.06%).
Results
Filter placement was successful in 147 patients (100%). Two patients had two filters inserted. Of the 147 patients, filter deployment was on a permanent basis in 102 and with an intention to retrieve in 45 patients. There were 36 (80%) successful retrievals and 9 (20%) failed retrievals. The mean time to retrieval was 33.6 days. The reasons for failed retrieval included filter struts tightly adherent to the IVC wall (5/9), extreme filter tilt (2/9), and extensive filter thrombus (2/9). Complications included pneumothorax (n = 4), failure of filter expansion (n = 1), and breakthrough pulmonary embolism (n = 1). No IVC thrombotic episodes were recorded.
Discussion
The Gunther Tulip retrievable filter can be used as a permanent or a retrievable filter. It is safe and efficacious. GT filters can be safely retrieved at a mean time interval of 33.6 days. The newly developed Celect filter may extend the retrieval interval.
Access options
Buy single article
Instant access to the full article PDF.
US$ 39.95
Tax calculation will be finalised during checkout.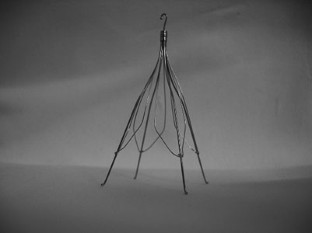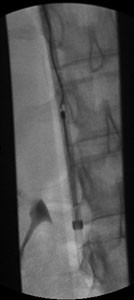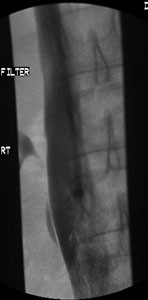 References
1.

Hann C, Streiff M (2005) The role of vena caval filters in the management of venous thromboembolism. Blood Rev 19:179–202

2.

Virchow RLK (1998) Thrombosis and emboli. Science History Publications, Canton, MA, USA

3.

Trouseau A (1865) Phlegmasia alba dolens. Clinique Medicale de l'hotel dieu de Paris, vol 3. Bailliere, Paris, pp 654–712

4.

Greenfield LJ, Proctor MC (2000) The percutaneous Greenfield filter: Outcomes and practice patterns. J Vasc Surg 32:888–893

5.

Stein PD, Kayali F, Olsen RE (2004) Twenty-one year trends in the use of inferior vena cava filters. Arch Intern Med 164:1541–1545

6.

Athanasoulis CA, Kaufmann JA, Halpern EF, et al. (2000) Inferior vena caval filters: Review of a 26 year single center clinical experience. Radiology 216:54–66

7.

Girard P (2002) Medical literature and vena cava filters: So far so weak. Chest 122:963–967

8.

Imberti D, Bianchi M, Farina A (2005) Clinical experience with retrievable vena cava filters: Results of a prospective observational multicenter study. J Thromb Haemost 3:1370

9.

Neuerburg JM, Gunther RW, et al. (1997) Results of a multicenter study of the retrievable Tulip Vena Cava Filter. Cardiovasc Intervent Radiol 20:10–16

10.

Terhaar OA, Lyon SM, Given MF, et al. (2004). Extended interval for retrieval of Gunther Tulip filters. J Vasc Interv Radiol 15:1257–1262

11.

Wallace Ml, et al. (2004) Use of inferior vena caval filters and survival in patients with malignancy. Cancer 101:1902–1907

12.

Rosenthal D, Wellons ED, Lai KM, et al. (2005) Retrievable inferior vena caval filters: Early clinical experience. J Cardiovasc Surg 45: 163–166

13.

Rectenwald JE (2005) Vena cava filters: Uses and abuses. Semin Vasc Surg 18:166–175

14.

Kaskarelis IS, Chlapoutaki M, Skarpalezos DE, et al. (2006) Clinical experience with Gunther temporary inferior vena cava filters. Clin Imaging 30:108–113

15.

Grande WJ, Trerotola SO, Reilly PM, et al. (2005) Experience with the recovery filter as a retrievable inferior vena cava filter. J Vasc Interv Radiol 16:1189–1193

16.

Lipman JC (2005) Removal of vena caval filter at 224 days. South Med J 98:556–558

17.

Joels CS, Sing RF, Heniford BT (2003) Complications of inferior vena cava filters. Am Surg 69:654–659

18.

Linkins LA, Choi PT, Douketis JD (2003) Clinical impact of bleeding in patients taking oral anticoagulant therapy for venous thromboembolism: A meta analysis. Ann Intern Med 163:1285–1293

19.

Kinney TB (2003) Update on inferior vena cava filters. J Vasc Interv Radiol 14:425–440

20.

Wicky S, Doenz F, Meuwly JY, et al. (2003) Clinical experience with retrievable Gunther Tulip vena caval filters. J Endovasc Ther 10:994–1000

21.

Neuerburg JM, et al. (1997) Results of a multicenter study of the retrievable Tulip vena cava filter: Early clinical experience. Cardiovasc Intervent Radiol 20:10–16

22.

Millward S, Oliva V, Bell SD, et al. (2001) Gunther Tulip retrievable vena cava filter: Results from the Registry of the Canadian Interventional Radiology Association. J Vasc Interv Radiol 12:1053–1058

23.

Neuerburg JM, Handt S, Beckert K, et al. (2001) Percutaneous retrieval of the Tulip vena cava filter: Feasibility, short and long-term changes. An experimental study in dogs. Cardiovasc Intervent Radiol 24:418–423

24.

Mohan CR, Hoballah JJ, Sharp WJ, et al (1998) Comparative efficacy and complications of vena caval filters. J Vasc Interv Radiol 9:594–601

25.

Decousus H, Leizorovicz, Parent F, et al (1998) A clinical trial of vena caval filters in the prevention of pulmonary embolism in patients with proximal deep vein thrombosis. Prevention du Risque d'Embolie Pulmonaire par Interruption Cave Study Group. N Engl J Med 338:409–441

26.

Crochet DP, et al. (1999) Long term follow up of Vena Tech LGM filter: predictors and frequency of caval occlusion. J Vasc Interv Radiol 10:137–142

27.

Asch MR (2002) Initial experience in humans with a new retrievable inferior vena cava filter. Radiology 225:835–844

28.

Gunther RW, et al. (2005) New optional IVC filter for percutaneous retrieval: In vitro evaluation of embolus capturing efficiency. Rofo 177:632–636
About this article
Cite this article
Looby, S., Given, M., Geoghegan, T. et al. Gunther Tulip Retrievable Inferior Vena Caval Filters: Indications, Efficacy, Retrieval, and Complications. Cardiovasc Intervent Radiol 30, 59–65 (2007). https://doi.org/10.1007/s00270-006-0093-9
Keywords
Filter design

Filter retrieval

Gunther Tulip filter

Pulmonary embolism

Retrieval interval

Thromboembolic disease