Abstract
Purpose
In light of the increasing use and acceptance of multislice computed tomography (MSCT) coronary angiography it was the purpose of this study to compare reconstruction intervals used in a routine ECG-pulsed MSCT coronary artery angiography setting with frequency controlled patients.
Methods
Examinations were performed on a Siemens Somatom Sensation 64 scanner with a total of 110 ml of contrast agent and ECG pulsing (interval from 40% to 70%) after oral application of a β-blocker if the heart rate was higher than 65 bpm. All human subjects were referred for the evaluation of suspected coronary artery disease. Coronary artery segments were evaluated by two experienced radiologists in a consensus reading. A ranking of diagnostic image quality (from 1 (no evaluation possible) to 5 (excellent image quality)) was statistically evaluated by Wilcoxon Signed Rank Test.
Results
In 45 patients (30 male, 15 female, age 63.8 ± 12.1 years) we detected a significant advantage of the 60% reconstruction interval over 40%, 50%, and 70% (for each p < 0.05). In cases of sudden arrhythmia or movement during the scan, additional reconstruction intervals within the ECG-pulsed reconstruction intervals remained necessary for diagnosis.
Conclusion
In a routine diagnostic setting with frequency controlled patients and ECG pulsing the 60% reconstruction interval can be considered superior for the initial diagnosis in 64-row multislice computed tomography coronary angiography. However, further information can be derived from various reconstruction intervals such as 40% and 70%.
Access options
Buy single article
Instant access to the full article PDF.
USD 39.95
Price excludes VAT (USA)
Tax calculation will be finalised during checkout.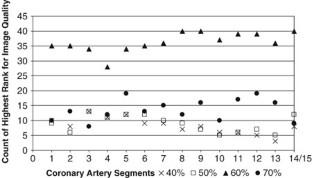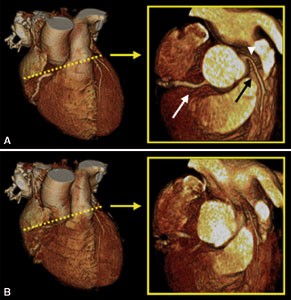 References
Wintersperger BJ, Nikolaou K (2005) Basics of cardiac MDCT: Techniques and contrast application. Eur Radiol 15(Suppl 2):B2–9

Nikolaou K, Flohr T, Knez A, et al. (2004) Advances in cardiac CT imaging: 64-slice scanner. Int J Cardiovasc Imaging 20:535–540

Mahnken AH, Buecker A, Wildberger JE, et al. (2004) Coronary artery stents in multislice computed tomography: In vitro artifact evaluation. Invest Radiol 39:27–33

Kruger S, Mahnken AH, Sinha AM, et al. (2003) Multislice spiral computed tomography for the detection of coronary stent restenosis and patency. Int J Cardiol 89:167–172

Schlosser T, Konorza T, Hunold P, Kuhl H, Schmermund A, Barkhausen J (2004) Noninvasive visualization of coronary artery bypass grafts using 16-detector row computed tomography. J Am Coll Cardiol 44:1224–1229

Kopp AF, Schroeder S, Kuettner A, et al. (2001) Coronary arteries: retrospectively ECG-gated multi-detector row CT angiography with selective optimization of the image reconstruction window. Radiology 221:683–688

Hong C, Becker CR, Huber A, et al. (2001) ECG-gated reconstructed multi-detector row CT coronary angiography: Effect of varying trigger delay on image quality. Radiology 220:712–717

Achenbach S, Giesler T, Ropers D, et al. (2003) Comparison of image quality in contrast-enhanced coronary-artery visualization by electron beam tomography and retrospectively electrocardiogram-gated multislice spiral computed tomography. Invest Radiol 38:119–128

Bley TA, Ghanem NA, Foell D, et al. (2005) Computed tomography coronary angiography with 370-millisecond gantry rotation time: Evaluation of the best image reconstruction interval. J Comput Assist Tomogr 29:1–5

Mahnken AH, Wildberger JE, Sinha AM, et al. (2002) Variation of the coronary calcium score depending on image reconstruction interval and scoring algorithm. Invest Radiol 37:496–502

Schlosser T, Hunold P, Schmermund A, et al. (2004) Coronary artery calcium score: influence of reconstruction interval at 16-detector row CT with retrospective electrocardiographic gating. Radiology 233:586–589

Mollet NR, Cademartiri F, van Mieghem CA, et al. (2005) High-resolution spiral computed tomography coronary angiography in patients referred for diagnostic conventional coronary angiography. Circulation 112:2318–2323

Seifarth H, Raupach R, Schaller S, et al. (2005) Assessment of coronary artery stents using 16-slice MDCT angiography: Evaluation of a dedicated reconstruction kernel and a noise reduction filter. Eur Radiol 15:721–726

Hoffmann MH, Shi H, Manzke R, et al. (2005) Noninvasive coronary angiography with 16-detector row CT: Effect of heart rate. Radiology 234:86–97

Giesler T, Baum U, Ropers D, et al. (2002) Noninvasive visualization of coronary arteries using contrast-enhanced multidetector CT: Influence of heart rate on image quality and stenosis detection. AJR Am J Roentgenol 179:911–916

Flohr T, Stierstorfer K, Raupach R, Ulzheimer S, Bruder H (2004) Performance evaluation of a 64-slice CT system with z-flying focal spot. Rofo 176:1803–1810

Trabold T, Buchgeister M, Kuttner A, et al. (2003) Estimation of radiation exposure in 16-detector row computed tomography of the heart with retrospective ECG-gating. Rofo 175:1051–1055

Austen WG, Edwards JE, Frye RL, et al. (1975) A reporting system on patients evaluated for coronary artery disease. Report of the Ad Hoc Committee for Grading of Coronary Artery Disease, Council on Cardiovascular Surgery, American Heart Association. Circulation 51:5–40

Sato T, Anno H, Kondo T, et al. (2005) Applicability of ECG-gated multislice helical CT to patients with atrial fibrillation. Circ J 69:1068–1073

Sanz J, Rius T, Kuschnir P, et al. (2005) The importance of end-systole for optimal reconstruction protocol of coronary angiography with 16-slice multidetector computed tomography. Invest Radiol 40:155–163

Hofmann LK, Zou KH, Costello P, Schoepf UJ (2004) Electrocardiographically gated 16-section CT of the thorax: cardiac motion suppression. Radiology 233:927–933

Willmann JK, Weishaupt D, Kobza R, et al. (2004) Coronary artery bypass grafts: ECG-gated multi-detector row CT angiography. Influence of image reconstruction interval on graft visibility. Radiology 232:568–577
About this article
Cite this article
Frydrychowicz, A., Pache, G., Saueressig, U. et al. Comparison of Reconstruction Intervals in Routine ECG-Pulsed 64-Row-MSCT Coronary Angiography in Frequency Controlled Patients. Cardiovasc Intervent Radiol 30, 79–84 (2007). https://doi.org/10.1007/s00270-006-0010-2
Published:

Issue Date:

DOI: https://doi.org/10.1007/s00270-006-0010-2
Keywords
Frequency controlled patients

Multislice computed tomography

MSCT coronary angiography

Reconstruction interval