Abstract
A Recovery filter (C.R. Bard, Tempe, AZ, USA) is a device for pulmonary embolism prophylaxis. There have been few case reports involving the migration of this particular filter or of a broken wire migrating to the heart. We report a case of right ventricular migration of a fractured wire from this filter in a patient who subsequently developed pericardial tamponade and required open heart surgery to extract the fractured wire. We discuss the current US Food and Drug Administration (FDA)-approved nonpermanent inferior vena cava filters and their reported complications. These complications can be life-threatening and may require immediate surgical intervention.
Access options
Buy single article
Instant access to the full article PDF.
US$ 39.95
Tax calculation will be finalised during checkout.
Subscribe to journal
Immediate online access to all issues from 2019. Subscription will auto renew annually.
US$ 79
Tax calculation will be finalised during checkout.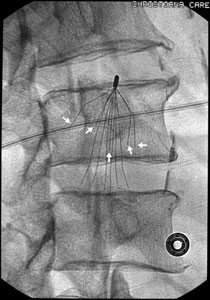 References
1.

Porcellini M, Stassano P, Musumeci A, et al. (2002) Intracardiac migration of nitinol Trapease vena cava filter and paradoxical embolism. Eur J Cardiothorac Surg 22:460–461

2.

Bochenek KM, Aruny JE, Tal MG (2003) Right atrial migration and percutaneous retrieval of a Günther tulip inferior vena cava filter. J Vasc Interv Radiol 14:1207–1209

3.

Izutani H, Lalude O, Gill IS, et al. (2004) Migration of an inferior vena cava filter to the right ventricle and literature review. Can J Cardiol 20:233–235

4.

Linsenmaier U, Rieger J, Schenk F, et al. (1998) Indications, management, and complications of temporary inferior vena cava filters. Cardiovasc Intervent Radiol 21:464–469

5.

Offner PJ, Hawkes A, Madayag R, et al. (2003) The role of temporary inferior cava filters in critically ill surgical patients. Arch Surg 138:591–595

6.

Murray RA (2002) Initial experience in humans with a new retrievable inferior vena cava filter. Radiology 225: 835–844

7.

Brountzos NE, Kaufman JA, et al. (2003) A new optional vena cava filter: Retrieval at 12 weeks in an animal model. J Vasc Interv Radiol 14:763–772

8.

Kercher K (2003) Overview of current inferior vena cava filters. Am Surg 69:643–648

9.

MAUDE Database Search http://www.accessdata.fda.gov/scripts/cdrh/cfdocs/cfMAUDE/search.cfm?searchoptions=1 (accessed September 28, 2005)

10.

Stein PD, Alnas M, et al. (2004) Outcome and complications of retrievable inferior vena cava filters. Am J Cardiol 94:1090–1093

11.

Rossi P, Arata FM, Bonaiuti P, et al. (1999) Fatal outcome in atrial migration of the Tempofilter. Cardiovasc Intervent Radiol 22:227–231
About this article
Cite this article
Saeed, I., Garcia, M. & McNicholas, K. Right Ventricular Migration of a Recovery IVC Filter's Fractured Wire with Subsequent Pericardial Tamponade. Cardiovasc Intervent Radiol 29, 685–686 (2006). https://doi.org/10.1007/s00270-005-0136-7
Keywords
Filter complication

Filter fracture

Interventional radiology

Pericardial tamponade

Retrievable IVC filters