Abstract
Purpose
We analyzed doses for various angiographic procedures using different X-ray systems in order to assess dose variations.
Methods
Dose-area product (DAP), skin doses from thermoluminescent dosimeters and air kerma measurements of 308 patients (239 diagnostic and 69 interventional) were assessed for five different angiographic units. All fluoroscopic and radiographic exposure parameters were recorded online for single and multiprojection studies. Radiation outputs of each X-ray system were also measured for all the modes of exposure using standard protocols for such measurements.
Results
In general, the complexity of the angiographic procedure was found to be the most important reason for high radiation doses. Skill of the radiologist, management of the exposure parameters and calibration of the system are the other factors to be considered. Lateral cerebral interventional studies carry the highest risk for deterministic effects on the lens of the eye. Effective doses were calculated from DAP measurements and maximum fatal cancer risk factors were found for carotid studies.
Conclusions
Interventional radiologists should measure patient doses for their examinations. If there is a lack of necessary instrumentation for this purpose, then published dose reports should be used in order to predict the dose levels from some of the exposure parameters. Patient dose information should include not only the measured quantity but also the measured radiation output of the X-ray unit and exposure parameters used during radiographic and fluoroscopic exposures.
This is a preview of subscription content, log in to check access.
Access options
Buy single article
Instant access to the full article PDF.
US$ 39.95
Price includes VAT for USA
Subscribe to journal
Immediate online access to all issues from 2019. Subscription will auto renew annually.
US$ 99
This is the net price. Taxes to be calculated in checkout.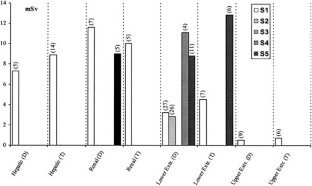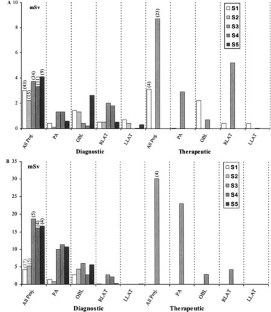 References
1.

Geise RA, O'Dea TJ (1999) Radiation dose in interventional fluoroscopic procedures. Appl Radiat Isotopes 50:173–184.

2.

Le Heron JC (1992) Estimation of effective dose to the patient during the medical X-ray examinations from measurement of the dose-area product. Phys Med Biol 37:2117–2126.

3.

International Electrotechnical Commission (2000) Medical electrical equipment. Part 2-43: Particular requirements for the safety of X-ray equipment for interventional procedures. IEC report 60601. Geneva, 606012–43

4.

McParland BJ (1998) A study of patient radiation doses in interventional radiological procedures. Br J Radiol 71:175–185.

5.

Bor D, Sancak T, Olgar T, et al. (2004) Comparison of effective doses obtained from dose-area product and air kerma measurements in interventional radiology. Br J Radiol 77:315–322

6.

Institute of Physics and Engineering in Medicine (1997) Recommended standards for the routine performance testing of diagnostic X-ray imaging systems. IPEM report no. 77. York

7.

McParland BJ (1998) Entrance skin dose estimates derived from dose-area product measurements in interventional radiological procedures. Br J Radiol 71:1288–1295.

8.

Jones DG, Wall BF (1985) Organ doses from medical X-ray examinations calculated using Monte Carlo techniques. NRPB report 186. HMSO, London

9.

Hart D, Jones DG, Wall BF (1994) Normalized organ doses for medical X-ray examinations calculated using Monte Carlo techniques. NRPB report NRPB-SR 262. HMSO, London

10.

Le Heron JC (1994) XDOSE X-ray radiography dosimetry program using NRPB SR-262 Organ Doses. National Radiation Laboratory, Christchurch. Ministry of Health, New Zealand.

11.

Ruiz-Cruces R, Garcia-Granados J, Diaz Ramero FJ, et al. (1998) Estimation of effective dose in some digital angiographic and interventional procedures. Br J Radiol 71:42–47.

12.

Steele HR, Temperton DH (1993) Patient doses received during digital subtraction angiography. Br J Radiol 66:452-456.

13.

European Commission (1996) European guidelines on quality criteria for diagnostic radiographic images. EUR 16260-EN Office for Official Publications of the European Communities, Luxembourg.

14.

European Commission (1998) Radiation protection in interventional radiology. ERPET (European Radiation Protection Education and Training Course). Complutense University and CIEMAT. Proceedings published by the EC (Ref. XII-237–98)

15.

Marshall NW, Noble J, Faulkner K (1995) Patient and staff dosimetry in neuroradiological procedures. Br J Radiol 68:495–501

16.

Bergeron P, Carrier R, Roy D, et al. (1994) Radiation doses to patients in neurointerventional procedures. AJNR Am J Neuroradiol 15:1809–1812.

17.

Mini RL, Schmid B, Schneeberger P, et al. (1999) Dose-area product measurements during angiographic X ray procedures. Radiat Prot Dosim 80:145–148.

18.

Ruiz-Cruces R, Perez-Martinez M, Martin-Palance A, et al. (1997) Patient dose in radiologically guided interventional vascular procedures: conventional versus digital systems. Radiology 205:385–393.

19.

Williams J (1997) The interdependence of staff and patient doses in interventional radiology. Br J Radiol 70:498–503.

20.

Kemerink GJ, Kicken PJH, Schultz FW, et al. (1999) Patient dosimetry in abdominal arteriography. Phys Med Biol 44:1133–1345.

21.

Kicken PJH, Koster D, Kemerink GJ (1999) Exposure conditions of patients in vascular radiology. Radiat Prot Dosim 86:129–137.

22.

Zoetelief J, Geleijns J, Kicken PJH, et al. (1998) Diagnostic reference levels derived from recent surveys on patient dose for various types of radiological examinations in the Netherlands. Radiat Prot Dosim 80:109–114.

23.

Hoskins PR, Gillespie J, Ireland HM (1996) Patient dose measurements from femoral angiography. Br J Radiol 69:1159–1164.

24.

Castellano IA, McNeil JG, Thorp NC, et al. (1995) Assessment of organ radiation doses and associated risk for digital femoral angiography. Br J Radiol 68:502–507.

25.

Gfirtner H, Giesse E, Schmidt T (1998) Dosimetric methods for and influence of exposure parameters on the establishment of reference doses for examinations using fluoroscopy. Radiat Prot Dosim 80:121–128.

26.

Vano E, Gonzales L, Fernandez JM, et al. (1995) Patient dose values in interventional radiology. Br J Radiol 68:1215–1220.

27.

Norbash AM, Busick D, Marks MP (1996) Techniques for reducing interventional neuroradiologic skin dose: tube position rotation and supplemental beam filtration. AJNR Am J Neuroradiol 17:41–49.

28.

Berthelsen P, Cederblad A (1991) Radiation doses to patients and personal involved in embolization of intracerebral arteriovenous malformation. Acta Radiol 32:492–497.

29.

O'Dea TJ, Geise RA (1997) Potential for radiation induced skin damage in neurological procedures: a review of 522 cases using automated dosimetry. Med Phys 24:969–970.

30.

Verdun FR, Capasso P, Valley JF, et al. (1999) Dose evaluation in fluoroscopy. Radiat Prot Dosim 80:139–141.

31.

Gkanatsios NA, Huda W, Peters KR (2002) Adult patient doses in interventional neuroradiology. Med Phys 29:717–723.

32.

International Commission on Radiological Protection (1991) 1990 recommendations of the International Commission on Radiological Protection. ICRP Publication 60. Ann ICRP 21–3
About this article
Cite this article
Bor, D., Toklu, T., Olğar, T. et al. Variations of Patient Doses in Interventional Examinations at Different Angiographic Units. Cardiovasc Intervent Radiol 29, 797 (2006). https://doi.org/10.1007/s00270-004-9223-4
Keywords
Dose-area product

Dosimetry

Interventional radiology