Abstract
We present a case of the rapid development and rupture of a mycotic celiac trunk aneurysm. Initially on multislice computed tomography (ms-CT) there was a normal celiac trunk with minimal haziness of the surrounding fat. Only 2 weeks later the patient went into hypovolemic shock due to a ruptured celiac aneurysm. Although aneurysms of the visceral arteries are rare, they are of major clinical importance as they carry a life-threatening risk of rupture. This case illustrates the use of ms-CT in detecting and evaluating visceral aneurysms, in order to prevent emergency operation.
Access options
Buy single article
Instant access to the full article PDF.
USD 39.95
Price excludes VAT (USA)
Tax calculation will be finalised during checkout.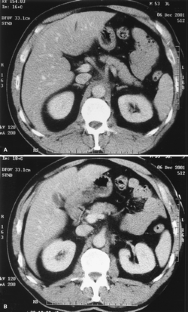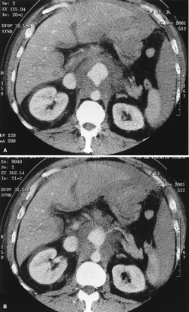 References
Stanley JC, Wakefield T, Graham LM, Whitehouse W (1986) Clinical importance and management of splanchnic artery aneurysms. J Vasc Surg 3:836-840

Viglione G, Abi Younes G, Coste P, Sabatier M, Dor V (1993) Mycotic aneurysm of the celiac trunk: Radical resection and reconstruction without prosthetic material. J Cardiovasc Surg 34:73-75

Stone WM, Abbas MA, Gloviczki P, Fowl RJ, Cherry KJ (2002) Celiac arterial aneurysms: A critical reappraisal of a rare entity. Arch Surg 137:670-674

Carr SC, Mahvi DM, Hoch JR, Archer CW, Turnipseed WD (2001) Visceral artery aneurysm rupture. J Vasc Surg 33:806-811

Werner K, Tarasoutchi F, Lunardi W, Marino JC, Grinberg M, Jatene AD (1991) Mycotic aneurysm of the celiac trunk and superior mesenteric artery in a case of infective endocarditis. J Cardiovasc Surg 32:380-383

Sueyoshi E, Sakamoto I, Hayashi K (2000) Aortic aneurysms in patients with Takayasu's arteritis: CT evaluation. AJR Am J Roentgenol 175:1727-1733

Kinney EV, Kaebnick HW, Mitchell RA, Jung MT (2000) Repair of mycotic paravisceral aneurysm with a fenestrated stent-graft. J Endovasc Ther 7:192-197

Hashemi H, Comerota AJ, Dempsey DT (1995) Foregut revascularisation via retrograde splenic artery perfusion after resection of a juxtaceliac mycotic aneurysm. J Vasc Surg 21:530-536

Carrel D, Cohle SD, Chapman AJ (1992) Fatal hemothorax from mycotic celiac artery aneurysm. Am J Forensic Med Pathol 13:233-237

Terrinoni V, Rengo M, Bianchi G, Lamazza A, Cosimati A, Bellini N (1995) Aneurysm of the celiac trunk: review of the literature and report of a clinical case. G Chir 16:191-194

Jacob T, Asher E, Hingorani A, Gunduz Y, Kallakuri S (2001) Initial steps in the unifying theory of the pathogenesis of artery aneurysm. J Surg Res 101:37-43

Moriwaki Y, Matsuda G, Karube N, Uchida K, Yamamoto T, Sugiyama M (2002) Usefulness of color Doppler ultrasonography (CDUS) and three-dimensional spiral computed tomographic angiography (3D-CT) for diagnosis of unruptured abdominal visceral aneurysm. Hepatogastroenterology 49:1728-1730
About this article
Cite this article
Serafino, G., Vroegindeweij, D., Boks, S. et al. Mycotic Aneurysm of the Celiac Trunk: From Early CT Sign to Rupture. Cardiovasc Intervent Radiol 28, 677–680 (2005). https://doi.org/10.1007/s00270-004-0011-y
Published:

Issue Date:

DOI: https://doi.org/10.1007/s00270-004-0011-y
Aneurysm, mycotic

Celiac trunk

Computed tomography

Rupture