Abstract
Iron meteorites record the evolutionary and cosmochemical processes of their parent bodies. Fe–Ni phases in iron meteorites show complex textures from various thermal histories of parent bodies as well as the phase relationships and crystal chemistry of Fe–Ni metal. Synchrotron radiation-based X-ray absorption fine structure spectra and X-ray diffraction were applied herein to the study of iron meteorite NWA 859 Fe, Ni, and Ge contents at the K-edge, since they are effective techniques in identifying crystal structures in iron meteorites. The bond distances of Fe and Ni in tetrataenite and kamacite were detected. Field-emission scanning electron microscopy and energy-dispersive spectroscopy were used to observe the petrological and chemical characteristics of the main minerals, kamacite and tetrataenite, and the trace mineral schreibersite. The tetrataenite phase and body-centered cubic kamacite formed a Widmanstätten pattern and cloudy zone. The extended X-ray absorption fine structure (EXAFS) analyses of NWA 859 and a single-crystal diffraction of tetrataenite show that it has a near-face-centered cubic (FCC) tetragonal structure with 12 nearest-neighboring Ni, Fe, and Ge atoms at distances of rNi-(Ni, Fe) = 2.5170(13) Å, rFe-(Ni, Fe) = 2.534(3) Å, and rGe-(Ni, Fe) = 2.524(5) Å, respectively. Moreover, the X-ray absorption near-edge structure (XANES) spectra suggest that the Ge in tetrataenite exhibits a specific local structure with coordination number 12, suggesting that a new local structure of Ge-(Ni, Fe) was first discovered in extraterrestrial material, forming a stable tetragonal structure at approximately 688–618 K. X-ray absorption fine structure (XAFS) is an efficient technique that could provide us further information about local atomic structures and forming conditions in extraterrestrial materials without damage.
Access options
Buy single article
Instant access to the full article PDF.
US$ 39.95
Tax calculation will be finalised during checkout.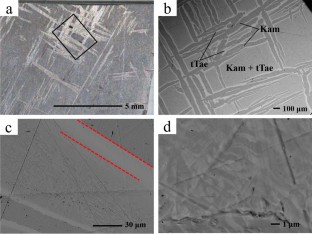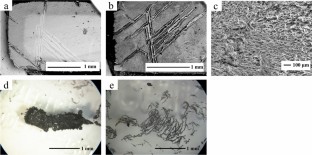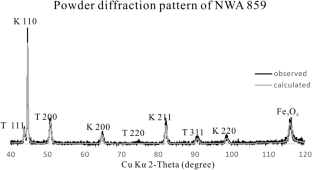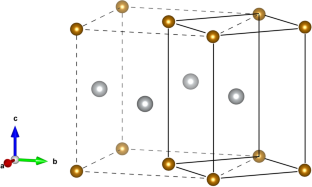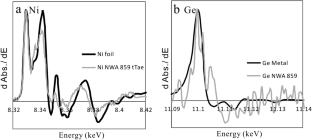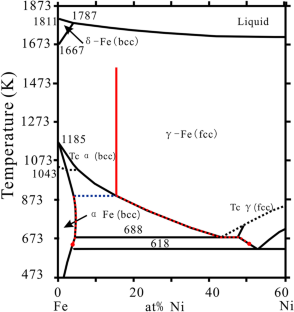 References
Albertsen JF, Nielsen HP, Buchwald VF (1983) On the fine structure of meteoritical taenite/tetrataenite and its interpretation. Phys Scr 27:314–320. https://doi.org/10.1088/0031-8949/27/4/015

Bayliss P (1990) Revised unit-cell dimensions, space group, and chemical formula of some metallic minerals. Can Mineral 28:751–755

Cacciamani G, De Keyzer J, Ferro R, Klotz UE, Lacaze J, Wollants P (2006) Critical evaluation of the Fe–Ni, Fe–Ti and Fe–Ni–Ti alloy systems. Intermet 14:1312–1325. https://doi.org/10.1016/j.intermet.2005.11.028

Clarke RS, Scott ERD (1980) Tetrataenite—ordered FeNi, a new mineral in meteorites. Am Mineral 65:624–630

Cressey G, Dent AJ, Dobson B, Evans A, Greaves GN, Henderson CMB, Hutchinson R, Jenkins RN, Thompson SP, Zhu R (1989) Atomic environments in iron meteorites using EXAFS (Extended X-ray absorption fine structure). Interstellar Dust 135:455

Dauphas N (2007) Diffusion-driven kinetic isotope effect of Fe and Ni during formation of the Widmanstätten pattern. Meteorit Planet Sci 42:1597–1613. https://doi.org/10.1111/j.1945-5100.2007.tb00593.x

D'Orazio M, Folco L (2003) Chemical analysis of iron meteorites by inductively coupled plasma-mass spectrometry. Geostand Geoanal Res 27:215–225. https://doi.org/10.1111/j.1751-908X.2003.tb00723.x

Howald RA (2003) The thermodynamics of tetrataenite and awaruite: a review of the Fe–Ni phase diagram. Metall Mater Trans A 34:1759–1769

Lovering JF, Nichiporuk W, Chodos A, Brown H (1957) The distribution of gallium, germanium, cobalt, chromium, and copper in iron and stony-iron meteorites in relation to nickel content and structure. Geochim Cosmochim Acta 11:263–278. https://doi.org/10.1016/0016-7037(57)90099-6

Maeda H (1987) Accurate bond length determination by EXAFS method. J Phys Soc Jpn 56:2777–2787. https://doi.org/10.1143/JPSJ.56.2777

Momma K, Izumi F (2011) VESTA 3 for three-dimensional visualization of crystal, volumetric and morphology data. J Appl Crystallogr 44:1272–1276. https://doi.org/10.1107/S0021889811038970

Nascimento FC, Foerster CE, Silva SLRd, Lepienski CM, Siqueira CJdM, Alves Junior C (2009) A comparative study of mechanical and tribological properties of AISI-304 and AISI-316 submitted to glow discharge nitriding. Mater Res 12:173–180. https://doi.org/10.1590/S1516-14392009000200011

Reuter K, Williams DB, Goldstein J (1989) Determination of the Fe–Ni phase diagram below 400 C. Metall Trans A 20:719–725

Schaudy R, Wasson JT, Buchwald VF (1972) The chemical classification of iron meteorites. VI. A reinvestigation of irons with Ge concentration lower than 1 ppm. Icarus 17:174–192. https://doi.org/10.1016/0019-1035(72)90053-X

Schwarcz HP, Scott SD, Kissin SA (1975) Pressures of formation of iron meteorites from sphalerite compositions. Geochim et Cosmochim Acta 39:1457–1466. https://doi.org/10.1016/0016-7037(75)90147-7

Scott ERD (1972) Chemical fractionation in iron meteorites and its interpretation. Geochim et Cosmochim Acta 36:1205–1236. https://doi.org/10.1016/0016-7037(72)90046-4

Skála R, Císařová I (2005) Crystal structure of meteoritic schreibersites: determination of absolute structure. Phys Chem Miner 31:721–732. https://doi.org/10.1007/s00269-004-0435-6

Swartzendruber LJ, Itkin VP, Alcock CB (1991) The Fe–Ni (iron-nickel) system. J Phase Equilibria 12:288–312. https://doi.org/10.1007/BF02649918

Takahashi Y, Shimizu H, Kagi H, Yoshida H, Usui A, Nomura M (2000) A new method for the determination of CeIII/CeIV ratios in geological materials; application for weathering, sedimentary and diagenetic processes. Earth Planet Sci Lett 182:201–207. https://doi.org/10.1016/S0012-821X(00)00250-8

Wai CM, Wasson JT (1979) Nebular condensation of Ga, Ge and Sb and the chemical classification of iron meteorites. Nature 282:790–793. https://doi.org/10.1038/282790a0

Wang L, Yoshiasa A, Okube M, Hiratoko T, Hu Y, Arima H, Sugiyama K (2013) Local structure of iron in tektites and natural glass: an insight through X-ray absorption fine structure spectroscopy. J Mineral Petrol Sci 108:130212. https://doi.org/10.2465/jmps.130212

Wasson JT (1967) The chemical classification of iron meteorites: I. A study of iron meteorites with low concentrations of gallium and germanium. Geochim Cosmochim Acta 31:161–180. https://doi.org/10.1016/S0016-7037(67)80043-7

Wasson JT (1970) The chemical classification of iron meteorites: IV. Irons with Ge concentrations greater than 190 ppm and other meteorites associated with group I. Icarus 12:407–423. https://doi.org/10.1016/0019-1035(70)90009-6

Wasson JT (2011) Relationship between iron-meteorite composition and size: compositional distribution of irons from North Africa. Geochim Cosmochim Acta 75:1757–1772. https://doi.org/10.1016/j.gca.2010.12.017

Wasson JT, Kimbeblin J (1967) The chemical classification of iron meteorites—II. Irons and pallasites with germanium concentrations between 8 and 100 ppm. Geochim Cosmochim Acta 31:2065–2093. https://doi.org/10.1016/0016-7037(67)90143-3

Xue S, Yang YL, Hall GS, Herzog GF (1997) Germanium isotopic compositions in Canyon Diablo spheroids. Geochim Cosmochim Acta 61:651–655. https://doi.org/10.1016/S0016-7037(96)00363-8

Yang J, Goldstein JI, Scott ERD (2007) Iron meteorite evidence for early formation and catastrophic disruption of protoplanets. Nat 446:888–891. https://doi.org/10.1038/nature05735

Yoshiasa A, Nagai T, Ohtaka O, Kamishima O, Shimomura O (1999) Pressure and temperature dependence of EXAFS Debye-Waller factors in diamond-type and white-tin-type germanium. J Synchrotron Radiat 6:43–49. https://doi.org/10.1107/S0909049598011947

Yoshiasa A, Ohtaka O, Sakamoto D, Andrault D, Fukui H, Okube M (2009) Pressure and compositional dependence of electric conductivity in the (Mg1− xFex) 1− δO (x = 0.01–0.40) solid-solution. Solid State Ion 180:501–505. https://doi.org/10.1016/j.ssi.2008.10.012
Acknowledgements
This study was performed under the Photon Factory Program Advisory Committee (PF-PAC) Nos. 2017G505, 2017G504, and 2018G037. We would like to thank the China Scholarship Council (CSC) (File No. 201908450035) for their scholarship support. We would also like to thank Editage (www.editage.com) for English language editing.
Additional information
Publisher's Note
Springer Nature remains neutral with regard to jurisdictional claims in published maps and institutional affiliations.
About this article
Cite this article
Shao, H., Isobe, H., Kitahara, G. et al. XAFS and XRD study on Fe, Ni, and Ge in iron meteorite NWA 859. Phys Chem Minerals 48, 11 (2021). https://doi.org/10.1007/s00269-021-01136-8
Received:

Accepted:

Published:
Keywords
Iron meteorite

XAFS

Local structure

Tetrataenite

Thermal history