Abstract
We have determined the P-V equation of state of Al-rich H-bearing SiO2 stishovite by X-ray powder diffraction at pressures up to 58 GPa using synchrotron radiation. The sample contained 1.8 wt% Al2O3 and up to 500 ppm H2O, and had a composition that would coexist with Mg-silicate perovskite in a subducted slab. By fitting a third-order Birch-Murnaghan equation of state to our compression data, we obtained a bulk modulus K T0=298(7) GPa with K′=4.3(5). With K′ fixed to a value of 4, the bulk modulus K T0=304(3) GPa. Our results indicate that Al3+ and H+ have a small effect on the elastic properties of stishovite. Compared with data obtained up to 43.8 GPa, peak intensities changed and we observed a decreased quality of fit to a tetragonal unit cell at pressures of 49 GPa and higher. These changes may be an indication that the rutile↔CaCl2 transition occurs between these pressures. After laser annealing of the sample at 58.3(10) GPa and subsequent decompression to room conditions, the cell volume is the same as before compression, giving strong evidence that the composition of the recovered sample is also unchanged. This suggests that Al and H are retained in the sample under extreme P-T conditions and that stishovite can be an agent for transporting water to the deepest lower mantle.
Access options
Buy single article
Instant access to the full article PDF.
USD 39.95
Price includes VAT (USA)
Tax calculation will be finalised during checkout.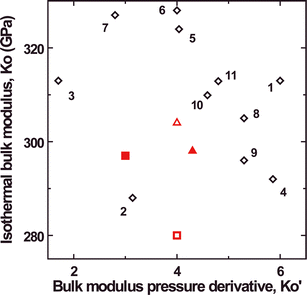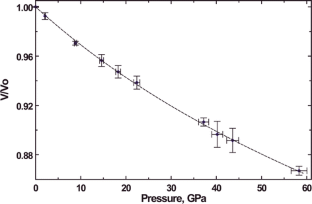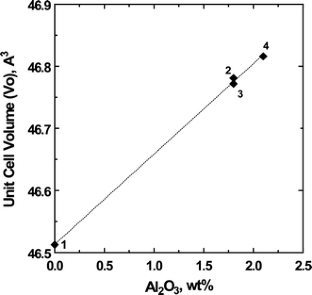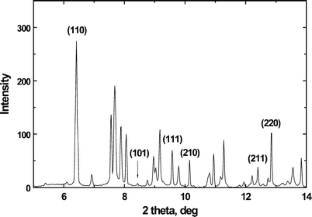 References
Andrault D, Fiquet G, Guyot F, Hanfland M (1998) Pressure-induced landau-type transition in stishovite. Science 282:720–724

Andrault D, Angel RJ, Mosenfelder JL, LeBihan T (2003) Equation of state of stishovite to lower mantle pressures. Am Miner 88:301–307

Chung JI, Kagi H (2002) High concentration of water in stishovite in the MORB system. Geophys Res Lett 29(21):2020. DOI 10.1029/2002GL015579

Cohen RE (1991) Bonding and elasticity of stishovite SiO2 at high pressure: linearized augmented plane wave calculations. Am Miner 76:733–742

Hirose K (2002) Phase transitions in pyrolitic mantle around 670-km depth: implications for upwelling of plumes from the lower mantle. J Geophys Res 107 (B4). DOI 10.1029/2001JB000597

Hirose K, Fei Y (2002) Subsolidus and melting phase relations of basaltic composition in the uppermost lower mantle. Geochim Cosmochim Acta 66(12):2099–2108

Holland TJB, Redfern SAT (1997) Unit Cell Refinement from Powder Diffraction Data: the Use of Regression Diagnostics. Mineral Mag 61:65–77

Irifune T, Ringwood AE (1993) Phase transformations in subducted oceanic crust and buoyancy relationships at depths of 600–800 km in the mantle. Earth Planet Sci Lett 117:101–110

Irifune T, Ringwood AE, Hibberson WO (1994) Subduction of continental crust and terrigenous and pelagic sediments: an experimental study. Earth Planet Sci Lett 126:351–368

Jolly L, Silvi B, and D'Arco P (1994) Periodic Hartree-Fock study of minerals: hexacoordinated SiO2 and GeO2 polymorphs. Eur J Miner 6:7–16

Keskar NR, Troullier N, Martins JL, and Chelikowsky JR (1991) Structural properties of SiO2 in the stishovite structure. Phys Rev 44:4081–4088

Larson AC, von Dreele RB (1988) GSAS manual Los Alamos National Laboratory, report LAUR, pp 86–748

Li B, Rigden S, Leibermann RC (1996) Elasticity of stishovite at high pressure. Phys Earth Planet Inter 96:113–127

Litasov KD, Ohtani E (2002) Phase relations and melt compositions in CMAS-pyrolite-H2O system up to 25 GPa. Phys Earth Planet Inter 134:105–127

Litasov KD, Ohtani E (2005) Phase relations in hydrous MORB at 18–26 GPa: Implications for heterogeneity of the lower mantle. Phys Earth Planet Inter 150:239–263

Litasov KD, Ohtani E, Langenhorst F, Yurimoto H, Kubo T, Kondo T (2003) Water solubility in Mg-perovskites and water storage capacity in the lower mantle. Earth Planet Sci Lett 211:189–203

Liu J, Zhang J, Flesh L, Li B, Weidner DJ, and Liebermann RC (1999) Thermal equation of state of stishovite. Phys Earth Planet Inter 112:257–266

Mao HK, Shu J, Hu J, and Hemley RJ (1994) Single-crystal X-ray Diffraction of Stishovite to 65 GPa. EOS Trans AGU Fall Met Suppl 75(44):662

Ono S (2003) Chemical composition of the Earth's lower mantle. Geochim Cosmochim Acta 67(18) A362 (S1)

Ono S, Ito E, Katsura T (2001) Mineralogy of subducted basaltic crust (MORB) from 25 GPa to 37 GPa and chemical heterogeneity of the lower mantle. Earth Planet Sci Lett 190:57–63

Ono S, Suto T, Hirose K, Kuwayama Y, Komabayashi T, Kikegawa T (2002) Equation of state of Al-bearing stishovite to 40 GPa at 300 K. Am Miner 87:1486–1489

Panero WR, Stixrude LP (2004) Hydrogen incorporation in stishovite at high pressure and symmetric bonding in δ-AlOOH. Earth Planet Sci Lett 221:421–431

Panero WR, Benedetti LR, Jeanloz R (2003) Transport of water into lower mantle: role of stishovite. J Geophys Res 108 (B1). DOI 10.1029/2002JB002053

Park KT, Terakura K, Matsui Y (1988) Theoretical evidence for a new ultra high-pressure phase of SiO2. Nature 336:670–672

Pawley AR, McMillan PF, Holloway JR (1993) Hydrogen in stishovite with implications for mantle water content. Science 261:1024–1026

Ross NL, Shu J, Hazen RM, Gasparik T (1990) High-pressure crystal chemistry of stishovite. Am miner 75:739–747

Shen G, Rivers ML, Wang Y, Sutton SJ (2001) A laser heated diamond cell system at the Advanced Photon Source for in situ x-ray measurements at high pressure and temperature. Rev Sci Instrum 72: 1273–1282

Sherman DM (1993) Equation of state and high pressure phase transitions of stishovite (SiO2): ab initio (periodic Hartree-Fock) results. J Geophys Res 98:11865–11873

Smyth JR, Swope RJ, Pawley AR (1995) H in rutile-type compounds: II. crystal chemistry of al substitution in h-bearing stishovite. Am Miner 80:454–456

Sugiyama M, Enso S, Koto K (1987) The crystal structure of stishovite under pressure up to 6 Gpa. Mineral J 13:455–466

Vanpeteghem CB, Jackson JM, Lakshtanov DL, Bass JD, Shen G, Prakapenka V, Litasov K, Ohtani E (2005) The equation of state of Al-Fe-rich MORB-related (MgSiO3)-perovskite (in press)

Weidner DJ, Bass JD, Ringwood AE, Sinclair W (1982) The single-crystal elastic moduli of stishovite. J Geophys Res 87:4740–4746
Acknowledgements
Authors would like to thank Stanislav Sinogeikin and Wolfgang Sturhahn for useful discussions and technical support during experiment. This research was supported by the National Science Foundation grant EAR-0135642 (to JDB). GSECARS is supported by the National Science Foundation—Earth Sciences (EAR-0217473), Department of Energy—Geosciences (DE-FG02-94ER14466)and the State of Illinois. Use of the APS was supported by the U.S. Department of Energy, Basic Energy Sciences, Office of Energy Research, under Contract No. W-31-109-Eng-38.
About this article
Cite this article
Lakshtanov, D.L., Vanpeteghem, C.B., Jackson, J.M. et al. The equation of state of Al,H-bearing SiO2 stishovite to 58 GPa. Phys Chem Minerals 32, 466–470 (2005). https://doi.org/10.1007/s00269-005-0016-3
Received:

Accepted:

Published:

Issue Date:
Keywords
Water in the mantle

High pressure

Synchrotron X-ray diffraction

Equation of state

Water-bearing stishovite