Abstract
Background
Guideline recommendations for preoperative chest radiographs vary to the extent that individual patient benefit is unclear. We developed and validated a prediction score for abnormal preoperative chest radiographs in adult patients undergoing elective non-cardiothoracic surgery.
Methods
Our prospective observational study recruited 703 adult patients who underwent elective non-cardiothoracic surgery at Ramathibodi Hospital. We developed a risk prediction score for abnormal preoperative chest radiographs with external validation using data from 411 patients recruited from Thammasat University Hospital. The discriminative performance was assessed by receiver operating curve analysis. In addition, we assessed the contribution of abnormal chest radiographs to perioperative management.
Results
Abnormal preoperative chest radiographs were found in 19.5% of the 703 patients. Age, pulmonary disease, cardiac disease, and diabetes were significant factors. The model showed good performance with a C-statistics of 0.739 (95% CI, 0.691–0.786). We classified patients into four groups based on risk scores. The posttest probabilities in the intermediate-, intermediate-high-, and high-risk groups were 33.2%, 59.8%, and 75.7%, respectively. The model fitted well with the external validation data with a C statistic of 0.731 (95% CI, 0.674–0.789). One (0.4%) abnormal chest radiograph from the low-risk group and three (2.4%) abnormal chest radiographs from the intermediate-to-high-risk group had a major impact on perioperative management.
Conclusions
Four predictors including age, pulmonary disease, cardiac disease, and diabetes were associated with abnormal preoperative chest radiographs. Our risk score demonstrated good performance and may help identify patients at higher risk of chest abnormalities.
This is a preview of subscription content,
to check access.
Access this article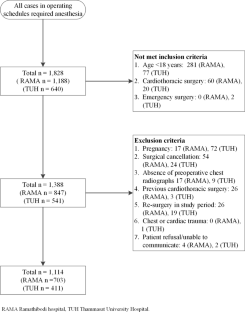 Similar content being viewed by others
References
Munro J, Booth A, Nicholl J (1997) Routine preoperative testing: a systematic review of the evidence. Health Technol Assess 1(i–iv):1–62

Schueller G, Herold CJ (2003) Lung metastases. Cancer Imaging 3:126–128

Joo HS, Wong J, Naik VN et al (2005) The value of screening preoperative chest x-rays: a systematic review. Can J Anaesth 52:568–574

Bouillot JL, Fingerhut A, Paquet JC et al (1996) Are routine preoperative chest radiographs useful in general surgery? A prospective, multicentre study in 3959 patients. Association des Chirurgiens de l'Assistance Publique pour les Evaluations medicales. Eur J Surg 162:597–604

Archer C, Levy AR, McGregor M (1993) Value of routine preoperative chest x-rays: a meta-analysis. Can J Anaesth 40:1022–1027

Bhuripanyo K, Prasertchuang C, Chamadol N et al (1990) The impact of routine preoperative chest X-ray in Srinagarind Hospital, Khon Kaen. J Med Assoc Thai 73:21–28

Ali IS, Khan M, Khan MA (2013) Routine preoperative chest x-ray and its impact on decision making in patients undergoing elective surgical procedures. J Ayub Med Coll Abbottabad 25:23–25

Sommerville TE, Murray WB (1992) Information yield from routine pre-operative chest radiography and electrocardiography. S Afr Med J 81:190–196

Rucker L, Frye EB, Staten MA (1983) Usefulness of screening chest roentgenograms in preoperative patients. JAMA 250:3209–3211

Tape TG, Mushlin AI (1988) How useful are routine chest x-rays of preoperative patients at risk for postoperative chest disease? J Gen Intern Med 3:15–20

Apfelbaum JL, Connis RT, Nickinovich DG et al (2012) Practice advisory for preanesthesia evaluation: an updated report by the American Society of Anesthesiologists Task Force on preanesthesia evaluation. Anesthesiology 116:522–538

Qaseem A, Snow V, Fitterman N et al (2006) Risk assessment for and strategies to reduce perioperative pulmonary complications for patients undergoing noncardiothoracic surgery: a guideline from the American College of Physicians. Ann Intern Med 144:575–580

O'Neill F, Carter E, Pink N et al (2016) Routine preoperative tests for elective surgery: summary of updated NICE guidance. BMJ 354:i3292

Card R, Sawyer M, Degnan B et al (2014) Perioperative protocol. Institutes for Clinical Systems Improvement

Young EM, Farmer JD (2017) Preoperative Chest Radiography in Elective Surgery: Review and Update. S D Med 70:81–87

Moons KG, Altman DG, Reitsma JB et al (2015) New Guideline for the Reporting of Studies Developing, Validating, or Updating a Multivariable Clinical Prediction Model: The TRIPOD Statement. Adv Anat Pathol 22:303–305

Vandenbroucke JP, von Elm E, Altman DG et al (2014) Strengthening the Reporting of Observational Studies in Epidemiology (STROBE): explanation and elaboration. Int J Surg 12:1500–1524

WHO Expert Consultation (2004) Appropriate body-mass index for Asian populations and its implications for policy and intervention strategies. Lancet 363:157–163

Miskovic A, Lumb AB (2017) Postoperative pulmonary complications. Br J Anaesth 118:317–334

Department of disease control Systematic screening for active TB and drug-resistant TB, Bangkok, Thailand, Aksorn graphic and design publishing limited, 2018;10.

Freeman WK, Gibbons RJ (2009) Perioperative cardiovascular assessment of patients undergoing noncardiac surgery. Mayo Clin Proc 84:79–90

Levey AS, Eckardt KU, Tsukamoto Y et al (2005) Definition and classification of chronic kidney disease: a position statement from Kidney Disease: Improving Global Outcomes (KDIGO). Kidney Int 67:2089–2100

Kristensen SD, Knuuti J, Saraste A et al (2014) 2014 ESC/ESA Guidelines on non-cardiac surgery: cardiovascular assessment and management: The Joint Task Force on non-cardiac surgery: cardiovascular assessment and management of the European Society of Cardiology (ESC) and the European Society of Anaesthesiology (ESA). Eur Heart J 35:2383–2431

Guyatt GH (2006) Determining prognosis and creating clinical decision rules. In: Haynes RB, Sackett DL, Guyatt GH et al (eds) Clinical epidemiology: how to do clinical practice research. Lippincott Williams & Wilkins (LWW), Philadelphia, pp 323–356

Moons KG, Donders RA, Stijnen T et al (2006) Using the outcome for imputation of missing predictor values was preferred. J Clin Epidemiol 59:1092–1101

Pencina MJ, D'Agostino RB Sr, D'Agostino RB Jr et al (2008) Evaluating the added predictive ability of a new marker: from area under the ROC curve to reclassification and beyond. Stat Med 27:157–172 (discussion 207–112)

Toll DB, Janssen KJ, Vergouwe Y et al (2008) Validation, updating and impact of clinical prediction rules: a review. J Clin Epidemiol 61:1085–1094

Thiboutot J, Yuan W, Park HC et al (2019) Current Advances in COPD Imaging. Acad Radiol 26:335–343

Bertoluci MC, Rocha VZ (2017) Cardiovascular risk assessment in patients with diabetes. Diabetol Metab Syndr 9:25

Garcia-Miguel FJ, Garcia Caballero J, Gomez de Caso-Canto JA (2002) Indications for thoracic radiography in the preoperative evaluation for elective surgery. Rev Esp Anestesiol Reanim 49:80–88

De la Matta MM, Herrera González A, López Conejos JA et al (2011) Utility of preoperative chest radiography in smokers undergoing transurethral resection of urinary bladder tumors. Rev Esp Anestesiol Reanim 58:203–210

Mikhael A, Patell R, Tabet M et al (2018) Chest X-ray prior to thyroidectomy: is it really needed? World J Surg 42:1403–1407

Weibman MD, Shah NK, Bedford RF (1987) Influence of preoperative chest X-rays on the perioperative manakement of cancer patients. Anesthesiology 67:A332–A332

Zamanipoor Najafabadi AH, Ramspek CL, Dekker FW et al (2020) TRIPOD statement: a preliminary pre-post analysis of reporting and methods of prediction models. BMJ Open 10:e041537

Heus P, Damen J, Pajouheshnia R et al (2018) Poor reporting of multivariable prediction model studies: towards a targeted implementation strategy of the TRIPOD statement. BMC Med 16:120

Riley RD, Ensor J, Snell KIE et al (2020) Calculating the sample size required for developing a clinical prediction model. BMJ 368:m441

Mangione CM, Barry MJ, Nicholson WK et al (2023) Screening for latent tuberculosis infection in adults: US preventive services task force recommendation statement. JAMA 329: 1487–1494
Funding
This research did not receive any specific grant from funding agencies in the public, commercial, or not-for-profit sectors.
Ethics declarations
Conflict of interest
The authors declare that they have no conflict of interest.
Ethical approval
The study was approved by the Human Research Ethics Committee of the Faculty of Medicine Ramathibodi Hospital and Thammasat University No. 1.
Additional information
Publisher's Note
Springer Nature remains neutral with regard to jurisdictional claims in published maps and institutional affiliations.
Rights and permissions
Springer Nature or its licensor (e.g. a society or other partner) holds exclusive rights to this article under a publishing agreement with the author(s) or other rightsholder(s); author self-archiving of the accepted manuscript version of this article is solely governed by the terms of such publishing agreement and applicable law.
About this article
Cite this article
Seangleulur, A., Thakkinstian, A., Supaopaspan, W. et al. Optimizing the Yield of Abnormal Preoperative Chest Radiographs in Elective Non-cardiothoracic Surgery: Development of a Risk Prediction Score and External Validation. World J Surg 47, 2698–2707 (2023). https://doi.org/10.1007/s00268-023-07146-7
Accepted:

Published:

Issue Date:

DOI: https://doi.org/10.1007/s00268-023-07146-7